The CrackBerry Chronicles
With Elaine Santore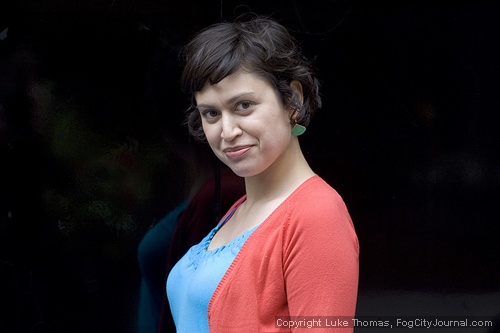 Photo(s) by Luke Thomas
July 31, 2007
Filipinos are having the Best Week Ever
Over the weekend, I expressed my confusion over the media's obsession with Supervisor Ed Jew. After some thought, I admitted, "Well, maybe if a Filipino person did something equally embarrassing, I would be obsessed, too."
Be careful what you wish for, y'all. YouTube clips of Cebu prisoners dancing to Michael Jackson's "Thriller," Queen's "Radio Gaga," and "I Will Follow Him" from "Sister Act" won the prestigious award of Best Week Ever on VH1. I've always wanted to win Best Week Ever. Maybe now I have a chance.
User "InsidiousMUSIC" said, "lmao, for about 4 minutes and 25 seconds...I was embarrassed for being a Filipino, but what these inmates are doing is good." The same can be said of anyone who's met me for the same span of time.
On the other hand, "cassondra123abc" said "this is why Filipinos ROCK! :]" and I agree. We've always been known for our superior song and dance skills. It was really only a matter of time before the rest of the world figured it out. Duh.
"Don't threaten me with a good time."
Last night, Luke Thomas, Hope Johnson, and I attended a fundraiser and open house for Alex Tourk's consulting firm, Ground Floor Public Affairs.
Proceeds from the event will go to the John Papan Memorial Scholarship Fund, for late bloomers and special education. John Papan was the son of former California Assemblymember and "Dean of the Assembly," Lou Papan. As of the time of publishing, Tourk and his staff collected over $1,000.
Tourk opened Ground Floor after stepping down as Mayor Gavin Newsom's campaign manager in February 2007, ending 13 years of public service. Clients include California First Lady Maria Schriver, the SF Giants, and San Francisco Connect. The new office is located in North Beach, right above the fabulous Tommaso's Ristorante Italiano.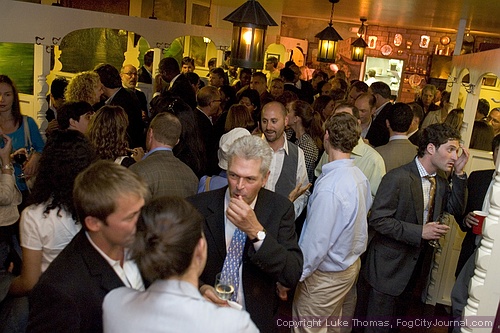 Packing 'em in at Tommaso's downstairs.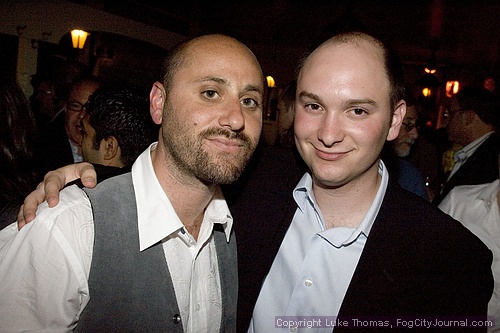 Alex Tourk and Ground Floor Chief Operating Officer, Jacob Saperstein.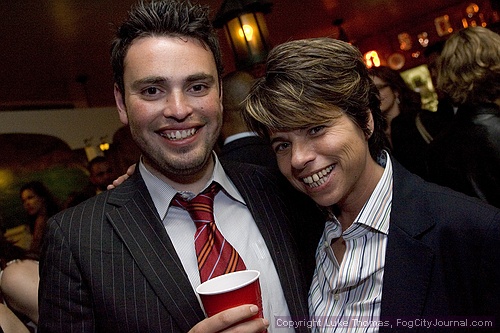 Ground Floor Field Organizer Patrick Collum with Colleen Crowley.
The office space was transformed into a bar, and Alex's desk served as a makeshift DJ booth. The event was packed with too many notables and boldfaced names to count, and Luke did his best to snap photos of everyone. All in all, the food was delicious, the conversations were delightful, and the people were quality. As Luke told Alex, "There's a lot of love in this room."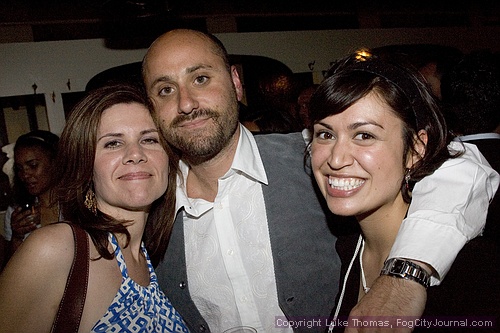 Hope Johnson, Principal/O.G. Alex Tourk, and Elaine Santore.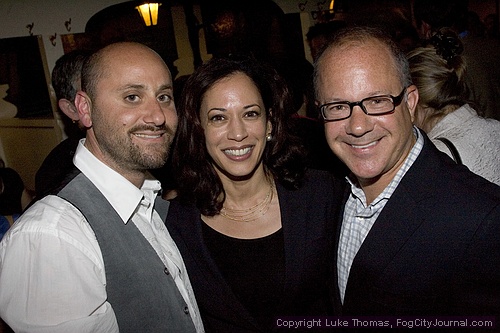 Alex Tourk, District Attorney Kamala Harris, and former Newsom Chief of Staff Steve Kawa.
I profiled Alex almost a year ago as one of my first assignments as an intern for 7x7 magazine. The assignment piqued my interest in San Francisco politics, and inspired me to start blogging for SFist. I give Alex credit for being the first person to treat me like a real journalist, and I'm not alone when I say that I wish the best for him and all his pursuits.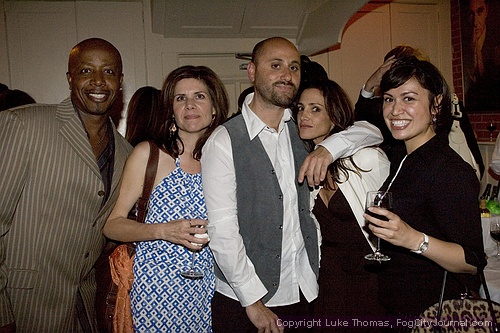 MC Hammer, Hope Johnson, Alex Tourk, radio host Emily Morse, and CrackBerry.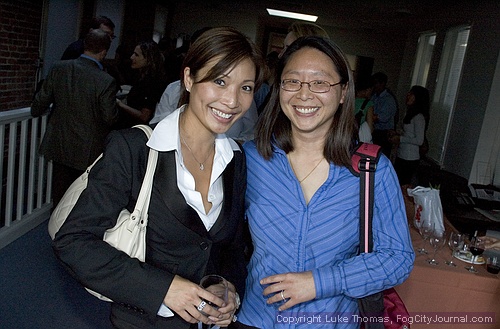 Alexis Wong, president and CEO of AGI Capital Group and Francis Tseih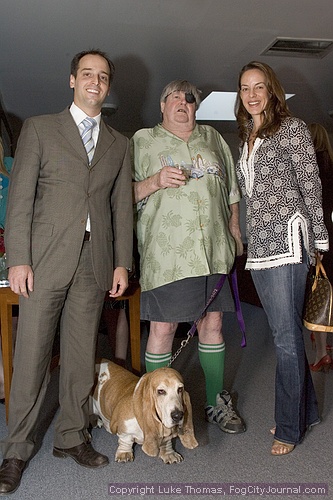 Police Commissioner Joe Alioto-Veronese, Warren Hincklel, and Julie Veronese.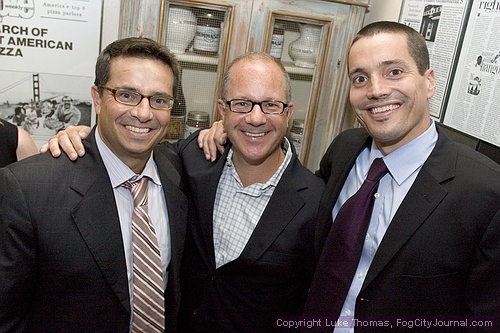 Mayor's Office Chief of Staff, Phil Ginsburg, Steve Kawa,
and Deputy Chief of Staff Wade Crowfoot.

Deputy Chief of Staff Stuart Sunshine and Alex Tourk.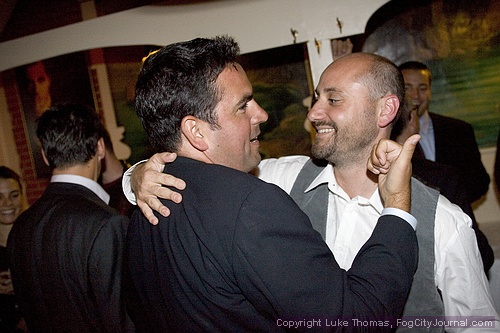 Newsom Communications Director Nathan Ballard and Alex Tourk.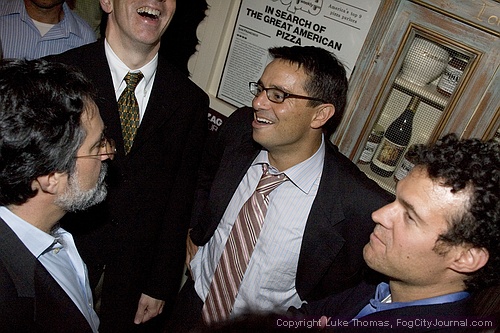 Board President Aaron Peskin to Phil Ginsburg: You're on my turf now, dude.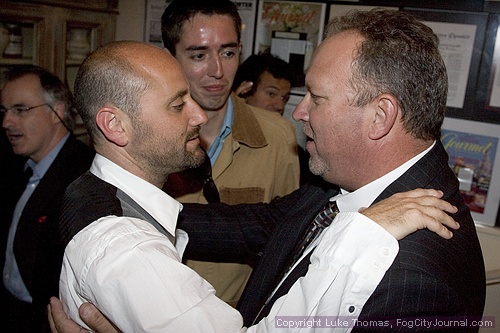 Alex Tourk, POA President Gary Delagnes, and Bob Brigham.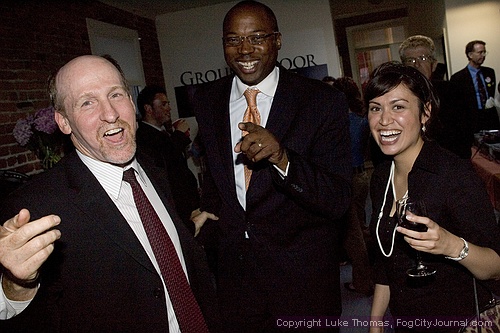 Peace in the Middle East: Elaine Santore and Andrew Ross.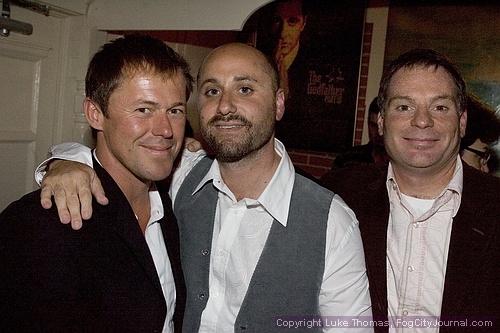 Karl Haas, Haas Construction (left).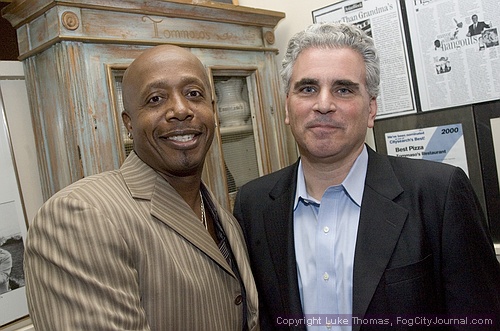 Mc Hammer with Newsom Campaign Manager Eric Jaye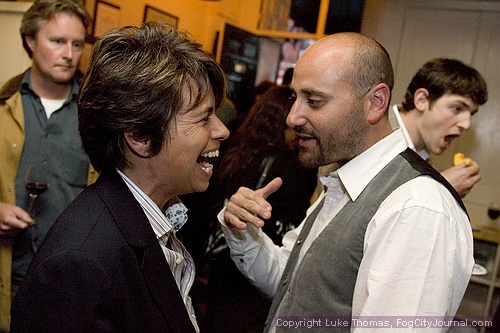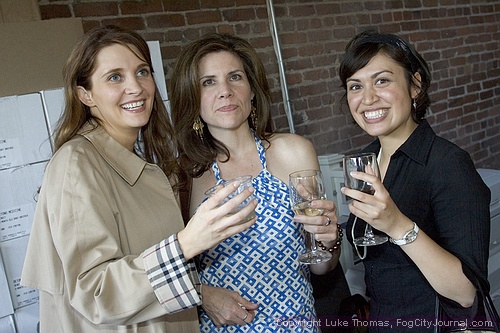 Blogger/fan of FCJ, Melissa Griffin.
CrackBerry Blind Item
Which city commission administratrix, who's been outed in the past for writing slanderous, racist, homophobic tripe on political message boards, continues to sink to new lows resurfacing cloaked as a misogynistic anonymous tipster on the city's most popular local blog?
Beware, sociopaths are incurable.
####