The CrackBerry Chronicles
With Elaine Santore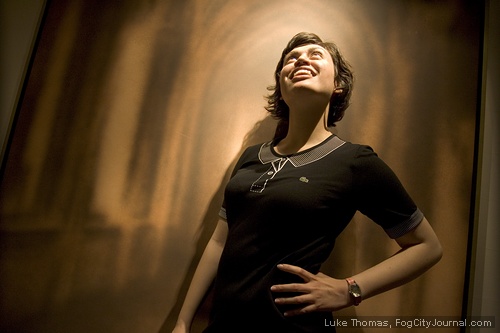 Photo(s) by Luke Thomas
August 20, 2007
First mayoral candidates debate: Minimal drama, major exposure
I'm a tough crowd politically. First of all, I usually show up late. (You know, because of Filipino Time.) The first mayoral candidates debate was no exception, even though Fog City Journal sponsored it. To be honest, I was expecting a trainwreck. I was expecting serious dramz, but not of the entertaining variety.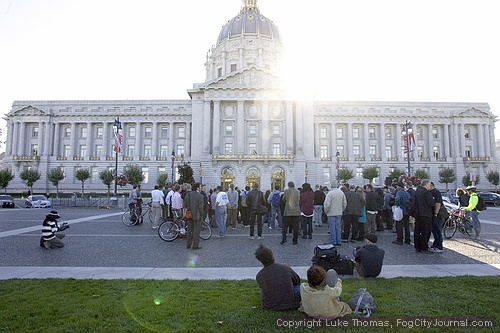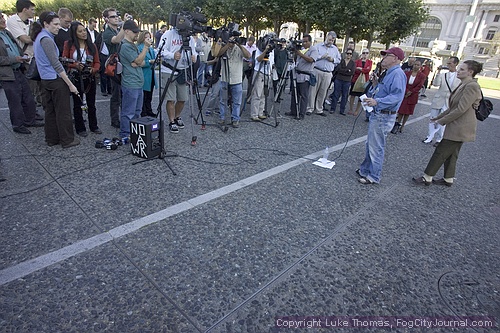 However, as I approached the scene, I was please to discover that there were more than eleven candidates present. The media showed up as well as at least 30 political wonks. There was even a cheerleader in the crowd.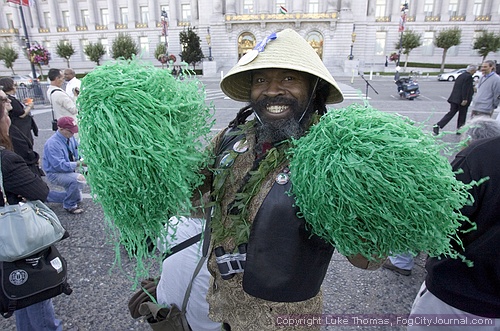 A television reporter came by while I was chatting with Hope Johnson and Sue Vaughan, and asked if we'd just "stumbled upon" the debate. I said, "We don't stumble upon anything anymore."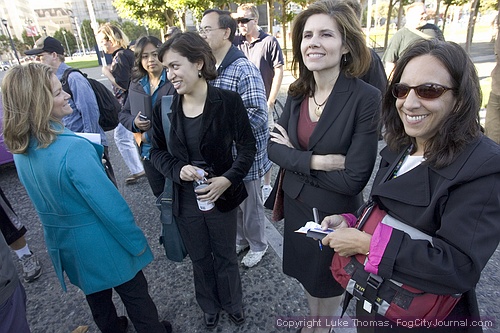 Elaine Santore, Hope Johnson, and Susan Vaughan.
The event was sponsored by Fog City Journal and organized by h. Brown and Josh Wolf, with a last-minute sound system provided by Grasshopper Alec Kaplan. Savannah Blackwell agreed to be the debate moderator at the last minute (it was originally supposed to be Luke Thomas, but who would take the photos?), and she did an amazing job despite having very little prep time.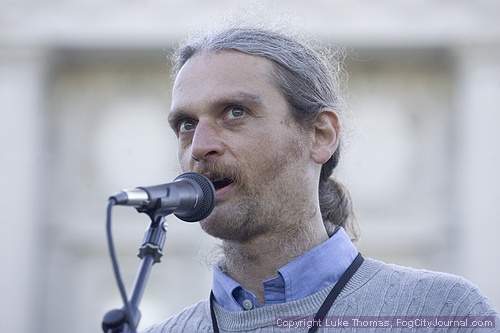 Grasshopper Alec Kaplan: "I want to legalize marijuana, make it fully legal
so we can collect taxes in a Greens for Peace program."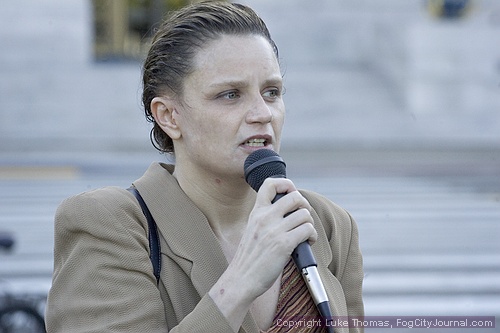 Pinch-hitter Savannah Blackwell: "Oh, do you want me to pretend to be Newsom?
I can do a really good job at that. You can ask me any question you like,
and I might actually answer it. Oh, yeah, you have to write it on an index card."
Steve Jones was wondering if Mayor Gavin Newsom would pop his head out the balcony at some point during the debate, but no such luck. As h. observed, Gavin's car was nowhere to be seen. Hope said that early in the debate, somebody in the mayor's office shut the windows.
Looks like somebody didn't want us to be there!
Candidate h. Brown spoke first. "The mayor refuses to face us all now, but eventually he'll have to face a couple," he said.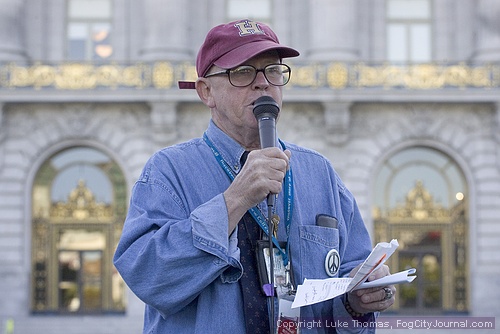 h. Brown: "If you want to change things, you have to start by firing every department head from there on down. The city's a disaster from public safety all the way to public housing." I've actually heard him say, "Phil Ginsburg - gone! Stuart Sunshine - gone!" And so on.
In the hours before the debate, two mayoral candidates stopped by Friday's Salon to introduce themselves. First came Bill Bob Whitmer who told us he'd be back every Friday, even after the election. Then came Lonnie Holmes, who impressed everyone with his passion for community work.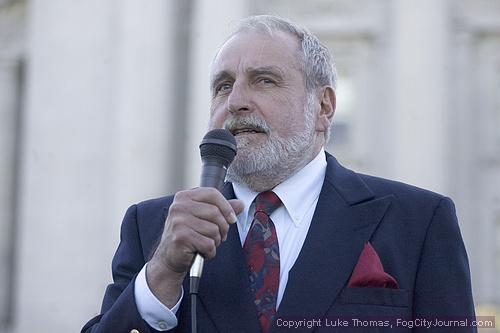 Educator Billy Bob Whitmer: "This is about a city I've lived in for forty years. Like you, I love it and I'm saddened. This is about having a mayor that will give us back our city."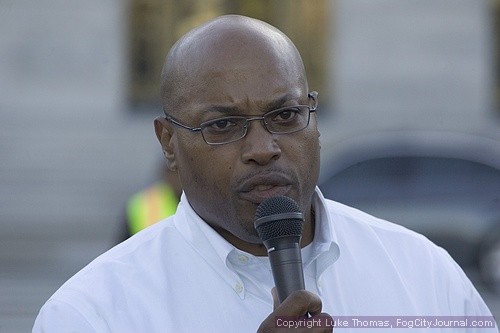 Lonnie Holmes: "We have over 110,000 small businesses. Some of these businesses employ a lot of people. In fact, they employ 55% of the San Francisco work force.
Some of these businesses are unique to our neighborhoods and if we begin to lose
our small businesses, then we will start to lose our uniqueness."
Despite a message from his campaign manager saying he would not attend, Tony Hall actually showed up. I spoke with Tony's son, David Hall, who's helping with his father's campaign. David expressed his frustration regarding fundraising, and a general lack of support from west side conservatives. "We're hoping something will break within the next couple weeks," David said.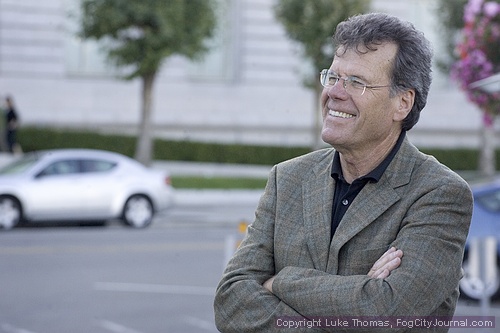 Tony Hall: "The city is being sold to the highest buyer, piece by piece …
What I'm gonna do as mayor is to provide a government based on honesty,
loyalty, integrity, and pride."
h. directed a question to Hall about Treasure Island which Hall described as "a set up." Hall added that he "would not sign the agreement that gave the exclusive right to negotiate with Lennar."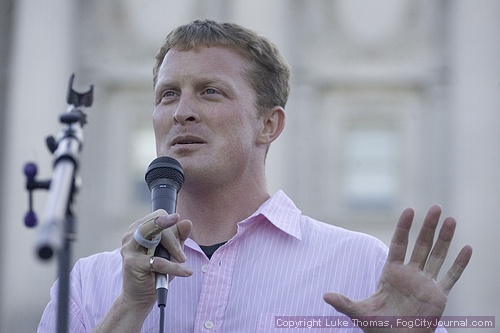 Quintin Mecke: "And I ask you, in this race, through this collaborative, and in the future,
to engage in the issues of this race and not just simply focus on the personalities.
Because it's going to be the issues in this race that will drive what happens on November 6, and I wouldn't be in this race if I didn't think that in some small way,
that on November 7, I could win this race."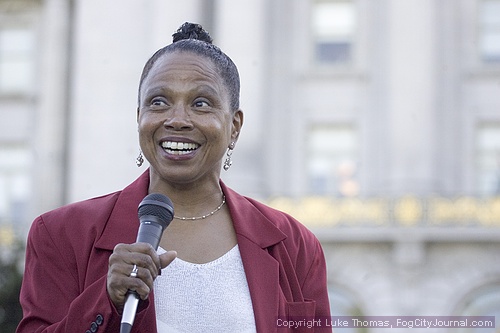 Doctor Ahimsa Porter Sumchai: "I am the first African American woman to run for mayor
in the city and county of San Francisco. Ahimsa means 'no killing.'
I am a product of public housing, public education."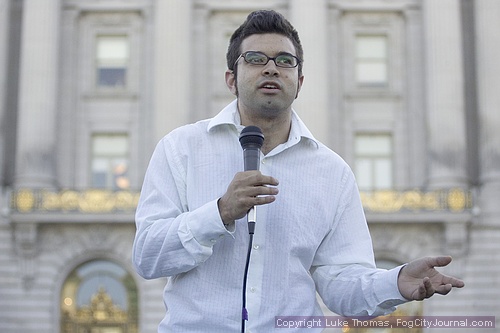 Josh Wolf: "As mayor, and even should I not be elected mayor, I'm hoping to develop
a community congress or something along the lines of what existed prior to Diane Feinstein as mayor, where the people of San Francisco really had a voice in determining the future
of their city. That, I think, is critical, I think we can do it now better now than we could
35 years ago because we have the ability to gather together locally,
and also through the internet."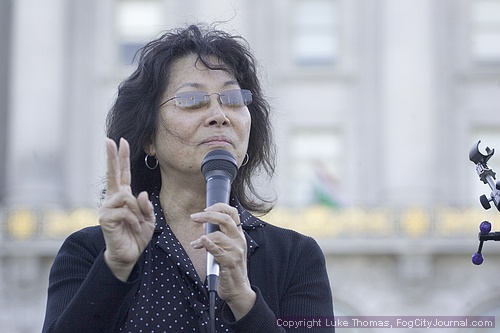 Opera singer Wilma Pang sang "Blowing in the Wind," and lamented the passion
for social issues that existed during the Summer of Love 40 years ago.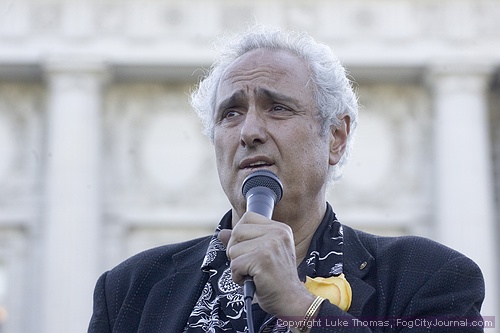 Harold Hoogasian: "I feel very strongly that our city is being raped by the machine."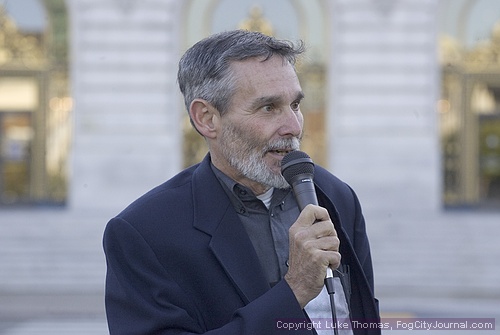 Writer George Davis is running on a single-issue platform,
specifically to designate areas of Golden Gate Park "clothing optional,
like the major urban parks in Europe."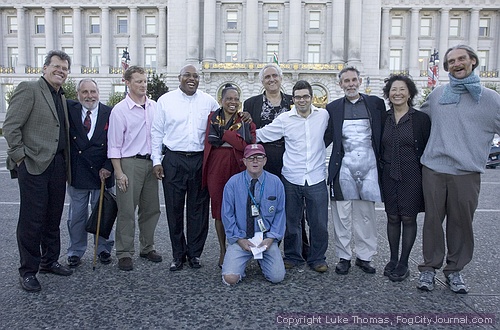 Yearbook photo: The Candidates' Collaborative 2007.
Here's a short YouTube clip of the beginning of the debate:

SF Mayor forum Aug. 17, 2007 by tpretesf
Duh News
Gavin Newsom got drunk at a party once, and stared at a woman's breasts.
Mayoral candidate George Davis likes getting naked. (NSFW)
New York (aka Tiffany Pollard) from VH1's "I Love New York" is a diva.
Siegfried and Roy are gay. Omg.
FCJ finally has a Facebook group!
In a shameless effort to appeal to a younger/hip demographic, Fog City Journal has started a group on Facebook. For those of you who aren't members of the societal cancer that is Facebook, you don't have to be a college student to join anymore (I'm talking to you, h!). Fellow CrackBerry addicts and smart phone users can also access Facebook mobile.
The group will allow us to conduct discussions and get feedback from readers before we switch to a more interactive template over the next couple weeks.
If we can get 1,000 people to join, I might even give y'all the real answer to last week's Blind Item. Or I'll just add you as a friend.
CrackBerry Blind Item
Which soon-to-be unemployed campaign maestro issued the following threat to an opposing mayoral candidate:
"When I get done working for ________, I'm gonna kick your ass!"
####