The CrackBerry Chronicles
With Elaine Santore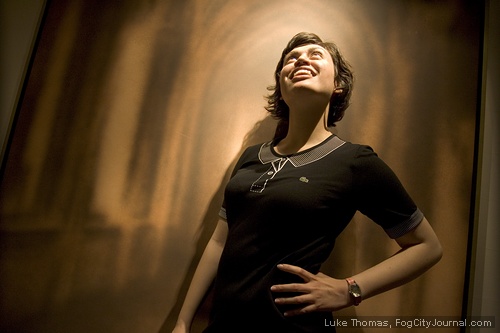 Photo(s) by Luke Thomas
September 17, 2007
Back to school
Last week was especially busy for yours truly. On Wednesday, I received a last-minute invite from resident Paris Hilton, Hope Johnson, for the Tony Bennett concert at Davies Symphony Hall.
I don't normally attend AARP-sponsored events, but Tony is a living legend and an amazing performer. And I wasn't the youngest person in the audience. The 90-minute set featured some of Tony's trademark hits and standards, including songs featured in his Emmy-winning TV special "Tony Bennett: An American Classic."
During the concert, Hope said, "This is something you can tell your grandchildren about someday!" But I don't think we can count Bennett out yet. At 81 years old, he still commands the stage with joy and true showmanship. His acoustic rendition of "Fly Me to the Moon" left audience members in tears, and "I Left My Heart in San Francisco" doesn't need any further endorsement from me.
Some readers may have the impression I have a phobia or distaste for senior citizens, but the complete opposite is true. Grandpa Santore celebrated his 90 th birthday last week, and he's the hardest working man I know. Even with my 9-9, 7 day/week schedule, Grandpa still makes me feel like a slacker. Similarly, h. Brown's fitness regimen is my weight-loss inspiration (no joke).
And anybody who knows me knows I only hate cougars, anyway. Duh. Hooray for AARP!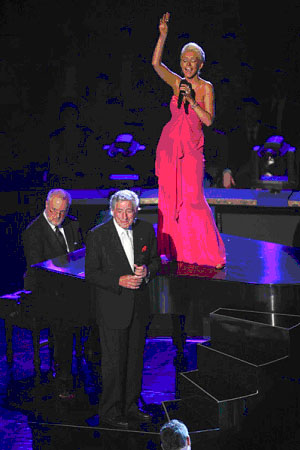 Even a sperminated Christina Aguilera couldn't upstage Tony Bennett
at last night's Emmys.
Photo by John Shearer for WireImage
If Wednesday's concert wasn't enough excitement, I received yet another last-minute invite on Thursday night when my friend Damion Matthews, editor of SFLuxe, reminded me of Amber Marie Bently's launch party for her new jewelry collection. Amber Marie is a jewelry designer and co-owner of Kamalaspa in Union Square. Hope came along as my plus-one, and Luke Thomas stayed home because jewelry isn't his cup o' tea.
Luke really missed out. You'll see the photos and a write-up on Damion's site later this week. Actress Tippi Hedron of "The Birds" fame made an appearance. Benefits from the launch party went to The Roar Foundation, an organization Hedron founded to educate the public about the treatment of exotic animals.
Damion introduced me to YouTube sensation Ysabella Brave, and we discussed her stalkers, fans, and haters. Apparently, Ysabella gets a lot of marriage proposals, mostly from married men. Check out her latest video, an original song called "Baby One."
Debates are for lovers
I still can't believe it's already September. As the mayoral election nears, each debate gets more entertaining. They don't get more popular, but they definitely get more interesting. Of course, Tony DeLorenzo was there last Friday to immortalize the event.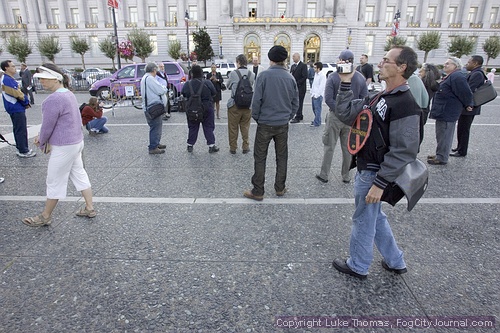 Tony DeLorenzo (foreground)
The debate was slightly upstaged by the continued confusion surrounding Mayor Gavin Newsom's "housecleaning." Communications Director Nathan Ballard attempted to explain the situation to members of the press, but even Ballard's BFF, Cecelia Vega, wasn't feelin' it.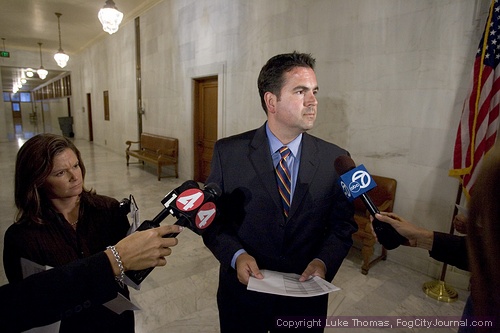 Communications Director Nathan Ballard.
That reporter chick is NOT buying what he's selling.
The Mayor's Office was kind enough to distribute the list of resignation letters they'd received. Thankfully, Director of Public Health, Dr. Mitch "Broad Discretion" Katz and Police Chief Heather Fong were on the list. Glaringly absent: Housing Authority Executive Director Gregg Fortner didn't get the memo; District Attorney Kamala Harris (aka the "Female Obama") is exempt.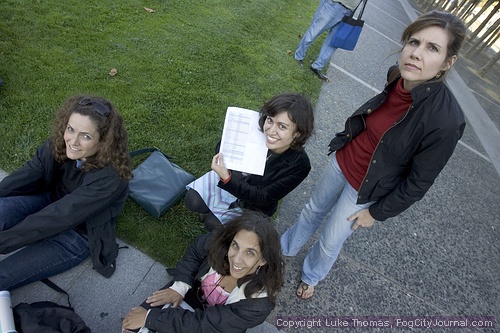 Elaine Santore poses lovingly with the resignation list.
From left: hot bitches Karen Babbit, Susan Vaughan, and Hope Johnson (aka Paris).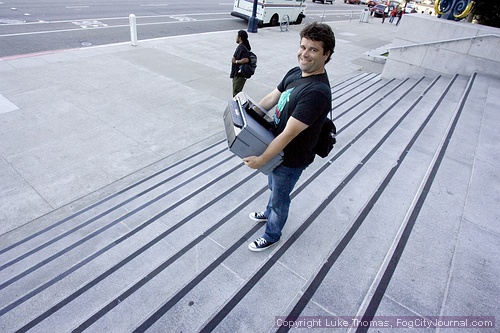 Jeremy does some City Hall housecleaning of his own.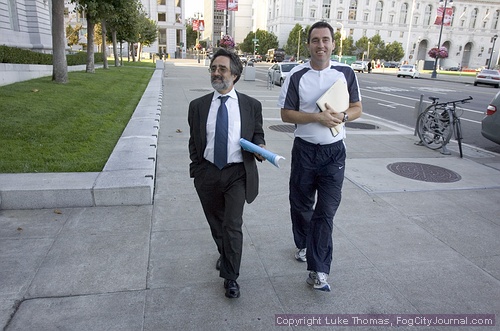 Supervisor Aaron Peskin with RBA chieftain Sean Keighran.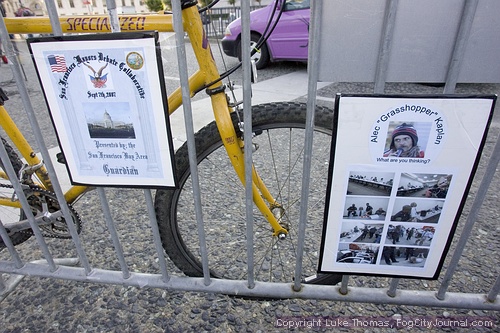 Grasshopper Alec Kaplan's renegade cab: still making the rounds.
The debate got a surprise visit from the mysterious mayoral candidate, Michael Powers of the Power Exchange. (Luke missed the photo-op because he was too busy chatting with Aaron Peskin.)
Powers said that he admired what the Candidates Collaborative was trying to do with the debates. He also said that he's a reader of Fog City Journal, and that he'll be coming out with some campaign material within the next few weeks.
Powers was very articulate, and I appreciated him introducing himself to me. However, he seemed to think that I was running the debate. In reality, all I do is show up late, gossip, and wait for the after-party at the Temple Bar, which is always the shit.
For those of y'all who didn't show up: good luck being popular.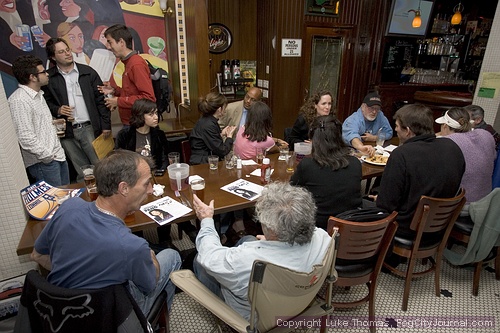 Even Josh Sabatini of the Examiner showed up.
(Dude with the glasses, second from the left.) Holler!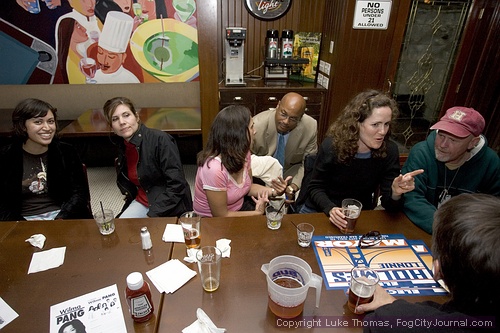 Elaine Santore, Hope Johnson, Susan Vaughan, mayoral candidate Lonnie Holmes,
Karen Babbit, and h. Brown.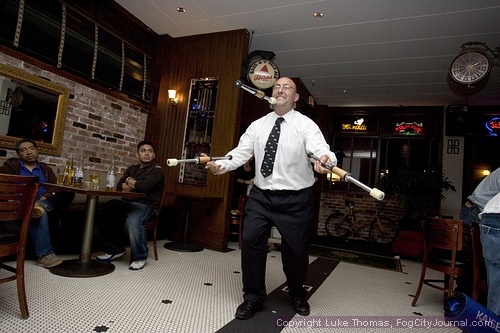 Kenny the Clown. Despite my best efforts, I could not look away.
CrackBerry Blind Item
Which City commission employee was observed driving a city-owned Toyota Prius after a round of drinks on a Saturday night?
####