The CrackBerry Chronicles
With Elaine Santore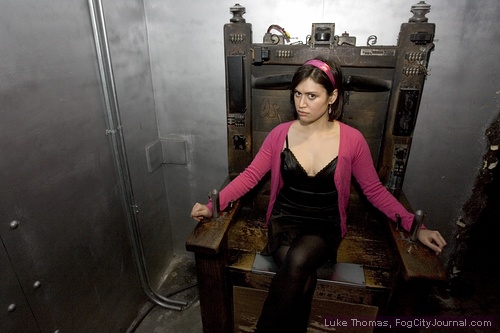 Fog City Journal staff writer and convicted attention whore, Elaine Santore.
Photo(s) by Luke Thomas
January 2, 2008
Peace out, 2007!
Fog City Journal toasted the end of 2007 with the ladies of Code Pink (and some dudes here and there) for Global Exchange's Imagine Peace 2008 event at the Wax Museum in Fisherman's Wharf. The last time I'd been inside the Wax Museum was sometime in the early nineties with my dad. The museum has since been remodeled, with new additions from sports, entertainment, and politics (hey, Willie Brown!) Throughout the night, I had a tough time determining the real people from the wax figures, and vice versa.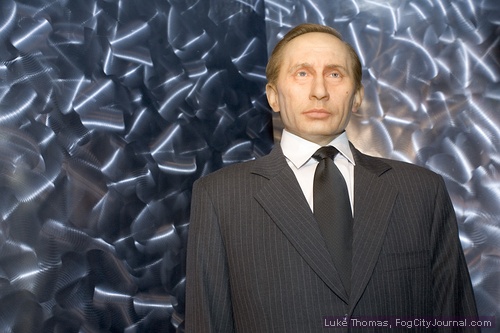 Time magazine's Person of the Year, Vladimir Putin.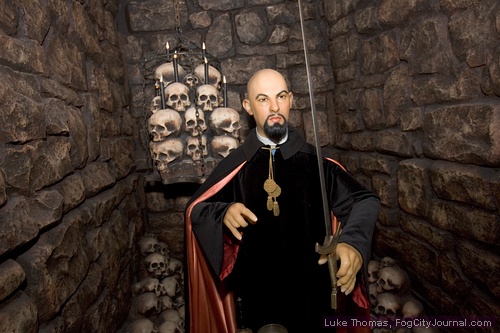 Marc Salomon grew a beard for the occasion.
A very life-like Medea Benjamin greeted us at the door in a lovely pink strapless gown, and she wasted no time hitting the dance floor. Medea made headlines in December during her trip to Pakistan, where she and fellow Code Pink member Tighe Barry were arrested, had their visas revoked, and were eventually deported back to the US. During the party, she said President Pervez Musharraf was implicated in the death of former Prime Minister Benazir Bhutto.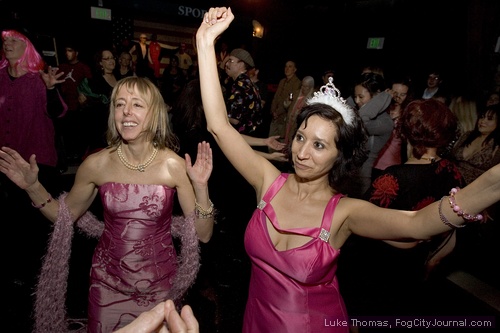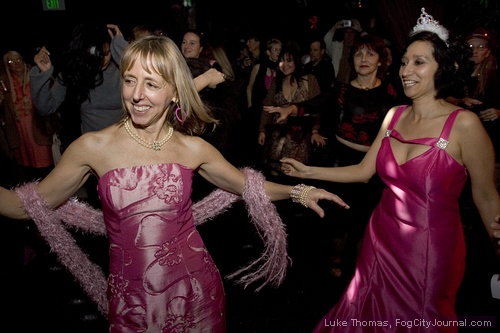 Code Pink's Medea Benjamin and Nancy L. Mancias.
Usual suspects Sue Vaughan, Sasaneh Solaimani, and Rick Hauptman volunteered for the event, and Rick made sure I had plenty of SoloRosa Rose in my glass. How did Rick guess my weakness for girlie wine, and pink drinks in general? Don't worry, Mom, there was plenty of yummy food courtesy of La Mediterranee.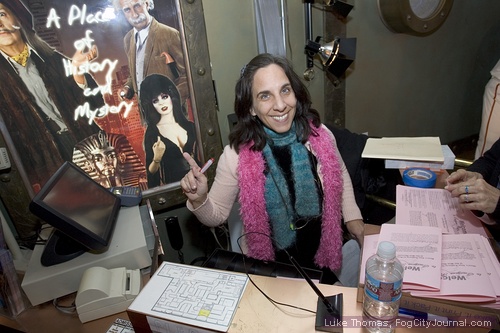 Tireless progressive Wonder Woman, Sue Vaughan, pondering a possible run in District 1.
Oh, yes, back to the party. Peace-loving party people danced with wild abandon to performances by Hyim and the Fat Foakland Orchestra, Average Dyke Band, and drummer Tony Mayfield (who claims he's the son of Curtis Mayfield, which the Mayfield family denies).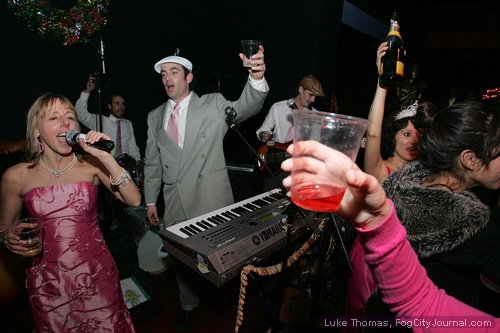 Hyim and the Fat Foakland Orchestra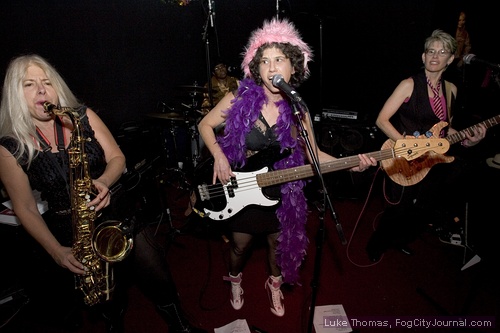 Average Dyke Band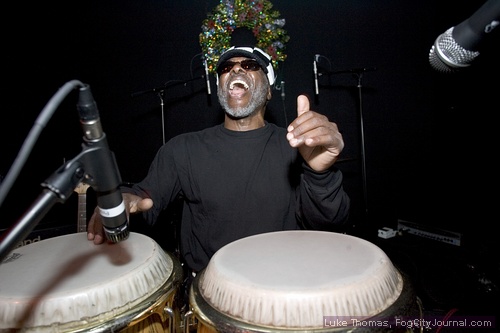 Tony Mayfield
Assemblymember Mark Leno arrived just before midnight, fresh from a trip to Florida, only to run into a creepily-realistic wax figure of his boss, Governor Arnold Schwarzenegger. Mark said, "Medea, you're going to have to trust me that I'm wearing something pink. I'm keeping my trousers on." Medea found him a pink scarf that went perfectly with his sporty attire.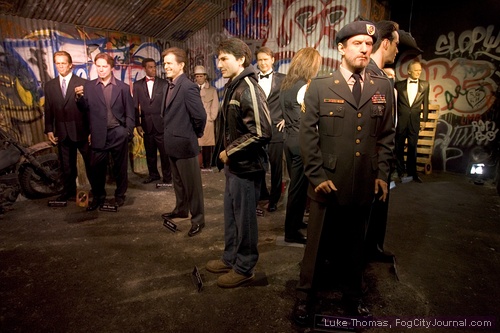 Governor Arnold Schwarzenegger (far left), failed to negotiate an actual party invite.
There's always next year, Arnold.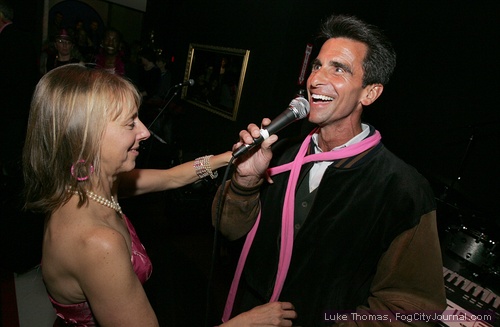 A tanned to the crisp Mark Leno ties one on with Medea Benjamin.
Mark looked into his crystal ball: "I have some predictions for 2008, call me Polyanna, eternal optimist. Some great things are going to happen. We're going to get rid of the republicans out of the white house. I think we can all agree upon that. I'm also going to predict that the California Supreme Court is going to issue a decision on the issue of marriage equality that we are going to like." Marriage for everyone!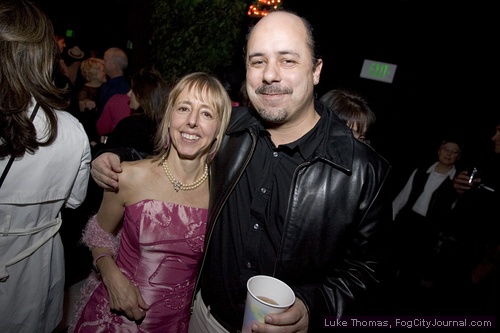 Medea Benjamin with School Board President
and District 9 candidate, Mark Sanchez.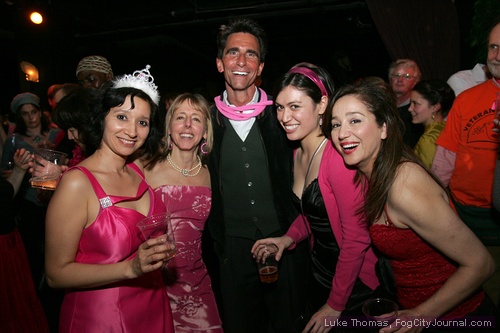 Mark Leno: Converted?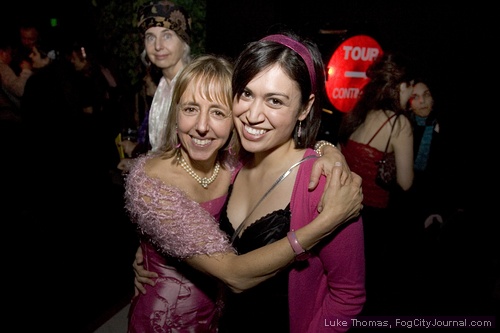 Medea Benjamin and Elaine Santore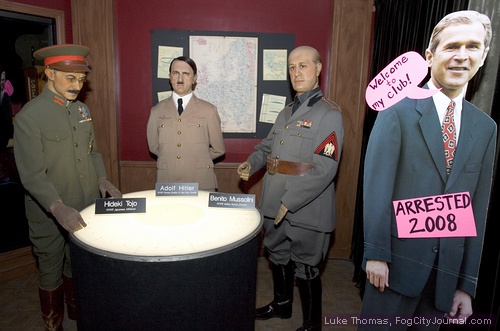 President George Bush welcomes New Year's revelors to his club for dictators.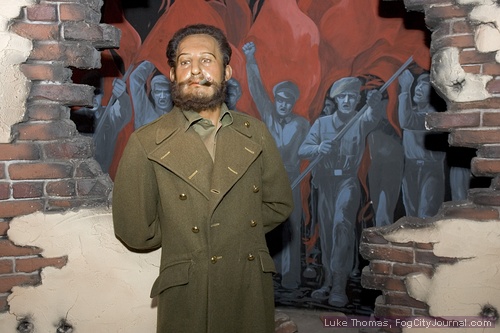 Fidel Castro: Not dead yet, Perez Hilton!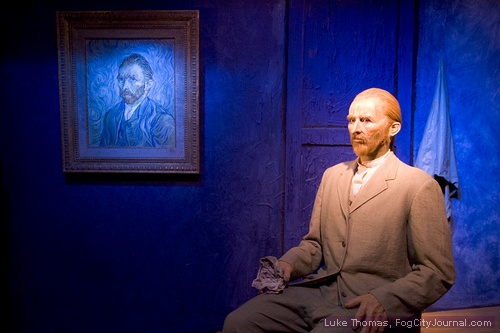 For Big Brother and BFF Aaron: Vincent Van Gogh.

Powerful women in history.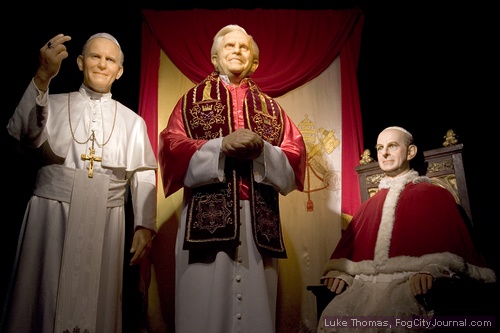 Pope Benedict XVI with Pope John Paul II and Pope John Paul I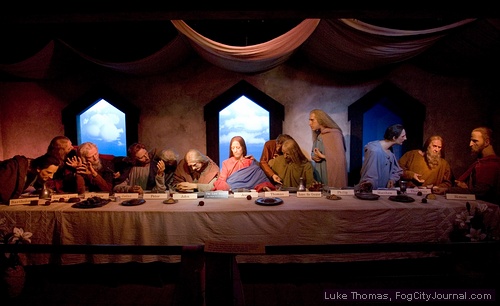 The Last Supper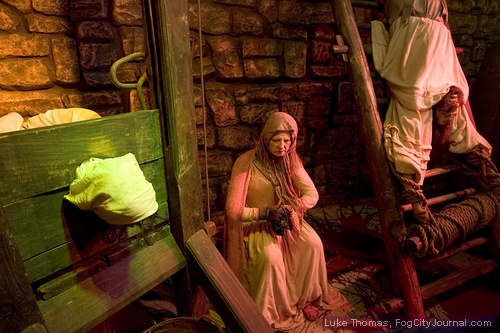 Christian civilization.
"The role of First Lady will now be played by..."
My CrackBerry buzzed at about 7 p.m. on New Year's Eve. It was Karen Babbitt, calling to say Mayor Gavin Newsom and Jennifer Siebel got engaged. My first reaction? "I'm surprised they've lasted this long." Impressive. Seriously.
Meanwhile, angry San Franciscans were blowin' up the comments section of SFGate. People really, really don't like Jennifer. They don't seem to like Gavin that much, either. Here's one of my favorite comments:
JimmyHoffaBush wrote:
Man that's one really, really white couple...literally. I see buckets and buckets of SPF 340 in their future. My guess is Gav picked her for her brains, or lack there of, i.e., she won't run off like the smart one. Congrats just the same. Everyone deserves a chance to be happy.
- Posted 12/31/2007
I agree. Nothing against Gaviffer, but gossiping about a wedding between two rich heterosexual white people doesn't interest me right now. Fog City Journal probably won't be invited because Gavin is still pissed at Luke for reasons unspecified, and has now taken to giving nasty looks to the camera.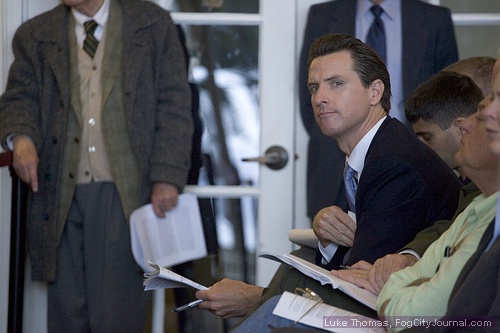 Mayor Gavin Newsom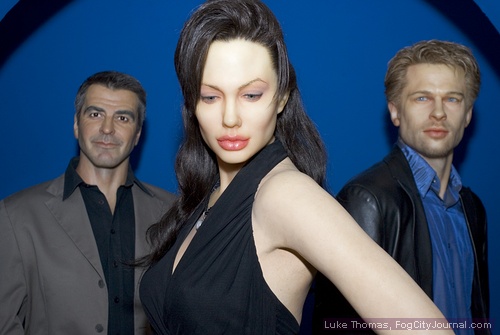 Jennifer Siebel's ex, George Clooney (far left, with Brad "Brangelina" Pitt),
declined to comment on the Siebel-Newsom nuptials.
Note to Gaviffer: if it makes you feel any better, my mom thinks you guys make a nice couple. Congrats, kids!
Happy Birthday, Mom!
It's my mom's birthday today. I won't disclose her age, but she looks about twenty years younger. Dad, Big Brother and I are truly blessed.
I love you, Mom!

For all the Filipino moms out there...
####