The CrackBerry Chronicles
With Elaine Santore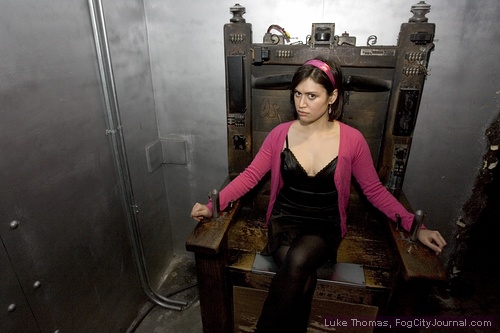 Photo(s) by Luke Thomas
January 8, 2008
Happy Birthday to ME! (1/7/08)
The day I've dreaded for twelve months finally arrived. I guess I can't be demure about my age because I made the grave mistake of disclosing that information a long time ago. Since then, it's become an issue and I don't know why.
Over the past year, I've had my age thrown back in my face many times. ("She thinks she's gonna be twenty-five forever!"  "When I was twenty-five, I thought I knew everything, too.") Even worse, I once had an angry reader retract an insult after they discovered my age saying, "I didn't realize..." Didn't realize you were an insecure blowhard? I did.
Whatevs, I'd rather have people talking about me than not talking about me. Hate mail beats being flooded with junk mail offers for penile implants, which is most of my mail, anyway. True story.
It's my BFF Aaron's birthday, too! Tiffany Pollard, aka New York from VH1's I Love New York, had her birthday Sunday and Kristin Cavallari from Laguna Beach just celebrated her twenty-first. And we can't forget Sue Vaughan, Bob Brigham, my mom and about a half dozen members of my extended family who are also Capricorns. Love them all.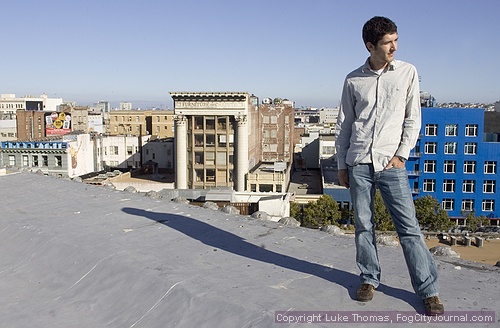 BFF/CrackBerry twin Aaron, aka "The Hoff."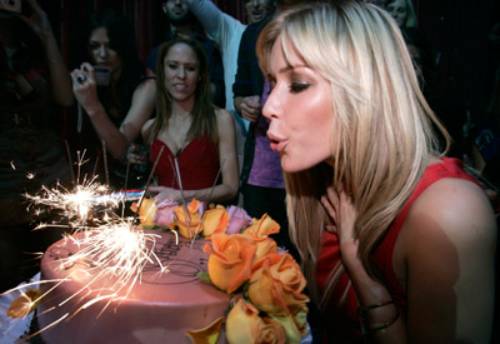 Laguna Beach alum Kristin Cavallari celebrates her twenty-first birthday at LAX January 5, 2008 in Las Vegas. Please put Kristin on The Hills because, as Big Brother says, "Unlike Heidi Montag, Kristin's breasts are real." 
Photo courtesy Chris Weeks for WireImage.com.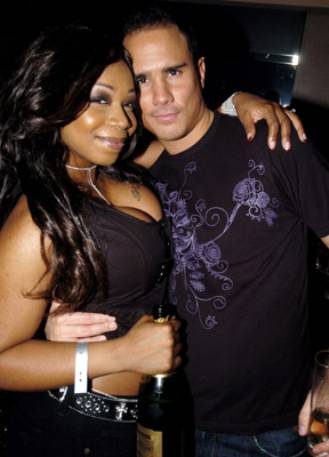 Tiffany Pollard aka "New York" with I Love New York 2 winner and fiancé Tailor Made. Hopefully Tailor Made bought her some nice shit for her birthday,
or we're looking at I Love New York 3.
Photo courtesy Seth Browarnik for WireImage.com.
Here's to offending even more people in my twenty-fifth year!

Good Life
Hillary Clinton: I left my mojo in Des Moines
First off, shout-out to all my people in the Midwest for getting some political action during the Iowa caucuses. Our very own Tanene Allison braved the blistering cold to campaign for presidential candidate Barack Obama, and I'm obviously jealous.
Other props go to District Attorney and Obama buddy Kamala Harris for donning jeans and fleece to do some old-fashioned door knocking in the heartland. Word has it she even bought pizza for Obama's campaign headquarters just like a normal person. She blended in so well, Iowans wondered who she was. "Oh, that's the DA." Crazy.
Despite my harsh criticism of Kamala in the past, she can pick up her Hapa Pass at Fog City Journal HQ whenever she wants.
If Barack wins the presidency, will he take Kamala with him to Washington D.C.? Hmmm…
Negative props go to (you guessed it) Mayor Gavin Newsom. Hillary made a huge mistake by sending the Gavster to stump for her in rural Iowa. My guess is the people he spoke with had no idea who he was, and did what all Midwesterners do when they meet somebody mildly deviant: smile, nod, and be polite.
In terms of the youth vote, about a third of the University of Iowa student body is Chicago and "Chicago-area" refugees, which probably helped Obama considerably. Kids will listen to celebs like Scarlett Johansson and Oprah Winfrey, but will they go to the polls?
According to caucus numbers, old people do not like Obama. This could be a huge problem because old people love to vote. Obama needs to make old people love him. Maybe Obama needs to surround himself with some famous old people. Some suggestions: Paul Newman, Jack Nicholson and Jane Fonda.
No, scratch Jane Fonda. A lot of old people hate her for the whole "Hanoi Jane" thing.
New Hampshire should be in the bag for Obama because of Nicole Derse. If he doesn't take New Hampshire, it would be embarrassing, but not as embarrassing as Hillary losing Iowa. She lost face in front of everyone by finishing third, then tsk-tsked the whole thing. Whatevs, we all know she poured millions of dollars into Iowa, and can't believe her ass lost by that much. Embarrassing.
Next, Hillary went on a televised debate in New Hampshire a couple days later and continued to lose it. The shouting and general negative attitude was not a good look for her at all. The good news for Hillary: Chelsea Clinton showed up, and her hair looked great.
The question remains: if Obama does get the Democratic nomination, whom will he choose as a running mate? Luke Thomas thinks he'll choose presidential candidate John Edwards (always a bridesmaid, never a bride), but a friend of mine mentioned Dianne Feinstein as a possibility, and I pretty much lost my lunch.
I will NOT be subjected to DiFi's ancient, stretched-out St. John knits for four years. It's too much for my shallow heart to bear.
Birthday Blind Item
Which King of the Kool-Aiders and Newsom fluffer was warned about his theft of copyright material (from the San Francisco Chronicle, no less)? The traffic whore also steals copy from the AP, Washington Post, and other national publications regularly.
####