Labor leader among new candidates
in School Board race
No new contenders in District 4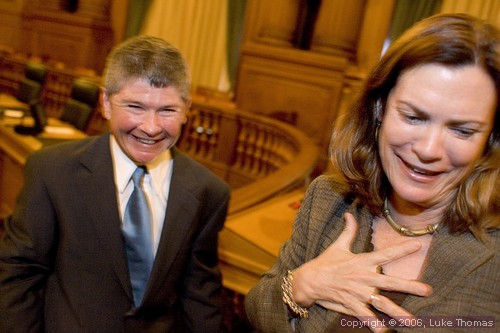 President of SEIU Local 790 Jose Mooney (right) filed her candidacy for San Francisco School Board Monday, just two days before the final deadline passed today at 5.00 p.m.
File photo (7/14/6)
Photo(s) by Luke Thomas
August 16, 2006, 5:30 p.m.
Final deadline for District 4 Supervisor and School Board contenders to file candidacy for the November election closed at 5:00 p.m. today. Filing deadline was extended for five days beyond deadline in other races because two incumbents are not seeking re-election to the School Board, and the incumbent supervisor in District 4, Fiona Ma, is not running.
Two new School Board candidates filed this week, and no new candidates filed during the five-day extension period.
Jose Mooney, president of SEIU Local 790, joined School Board hopefuls on Monday.
Lisa Fineberg today submitted filing declaration for School Board today.
Validation of Fineberg required petition signatures will be completed Thursday, Elections Department officials reported.
FINAL CANDIDATE LIST AS REPORTED BY ELECTIONS DEPARTMENT

SCHOOL BOARD
Joel Britton
James M. Calloway
Lisa Fineberg
Bayard Fong
Shirley Forehand
James Huey
Dan Kelly
Omar Khalif
Jane Kim
Kimberley M. Knox
Kim-Shree Maufas
Hydra Mendoza
Josie Mooney
Wilma Pang
Giselle Quezada-Brandt
Rick Reynolds
Roger Schulke
Bob Twomey
Boots Whitmer
Richard Van Loon
Mauricio Vela

COMMUNITY COLLEGE BOARD
Johnnie Carter
Anita Grier
Johnny Knadler
John Rizzo
Bruce Wolfe
Lawrence Wong

DISTRICT 2 SUPERVISOR

Michela Alioto-Pier
Vilma Guinto-Peoro

DISTRICT 4 SUPERVISOR

Douglas Chan
Ron Dudum
David Ferguson
Edmund Jew
Patrick Maguire
Jaynry Mak
Houston Zheng

DISTRICT 6 SUPERVISOR

Rob Black
Chris Daly
George Dias
Matthew Drake
Villiam Dugovic
Manuel Jimenez
Davy Jones
Robert Jordan

DISTRICT 8 SUPERVISOR

Bevan Dufty
Alix Rosenthal
Starchild

DISTRICT 10 SUPERVISOR

Sala Haquekyah
Rodney Hampton, Jr.
Marie Harrison
Espanola Jackson
Dwayne Jusino
Sophenia Maxwell
Charlie Walker

PUBLIC DEFENDER

Jeff Adachi

BART DIRECTOR DISTRICT 8

James Fang
Emily Drennen

ASSESSOR-RECORDER
Phil Ting
####