HALL DEMANDS REAPPOINTMENT
TO DISTRICT 7 SEAT
District 7 Supervisor Sean Elsbernd
points to voters November choice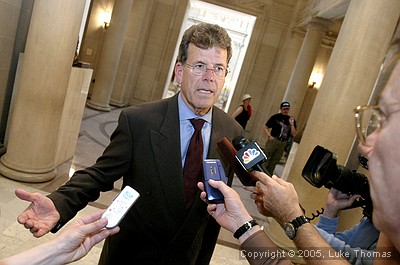 Photo(s) by Luke Thomas
Copyright fogcityjournal.com 2005
October 13, 2005, 3:00 p.m.
Tony Hall this afternoon demanded Mayor Newsom reappoint Hall as District 7 supervisor, following Hall's termination yesterday as executive director of the Treasure Island Development Authority (TIDA).
District 7 Supervisor Sean Elsbernd responded by noting November voters choice supercedes Hall's demand.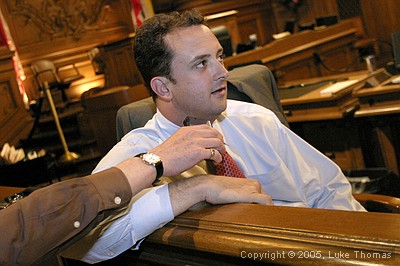 I always had the utmost respect for Supervisor Hall's opinion, executive Director Hall's opinion, now in this case Mr. Hall's opinion, but the opinion of the 16,000 residents of District 7 who cast their votes for me in the election in November outweighs his opinion, Elsbernd told the Sentinel.
Hall hand delivered his demand by letter to a receptionist in the Mayor's Office at 2:40 p.m. today.
Text of the letter follows:
Dear Mayor Newsom,
As you know, when I agreed to resign my seat on the Board of Supervisors and serve, at your request, as the Executive Director of the Treasure island Development Authority, I did so based on the belief that the job and its responsibilities were clearly defined in a job description provided to me by your Chief of Staff, Steve Kawa. Indeed, Mayor Newsom, subsequent to that provision, you looked me in the eye and confirmed this belief.
I took the job as Executive Director because I believed, based on your assurance, that I would have the latitude to negotiate the best possible deal on behalf of the people of San Francisco, with the U.S. Navy and Darius Anderson, your chosen development partner. As a result of my decision, you were afforded the opportunity to appoint my replacement.
Clearly, it was never your intent to live up to that promise, and it is obvious that your word means nothing. Consequently, I hereby demand to be reinstated as the Supervisor representing District Seven. In consideration, I would be willing to discuss a means by which I would forego receiving the severance package now payable to me as a result of your decision to terminate me without cause.
I look forward to hearing from you.
(Signed Tony Hall)
Editors Note: Hall Fired story, click here

####