B.O.S. HOGs Win City Hall Bragging Rights over Mayoral Mo' Better Blues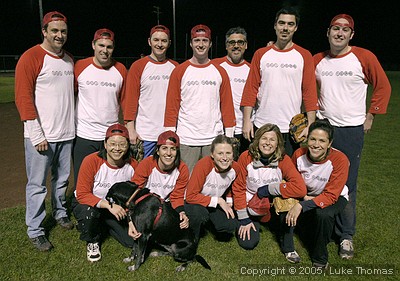 Joyous B.O.S. Hog victors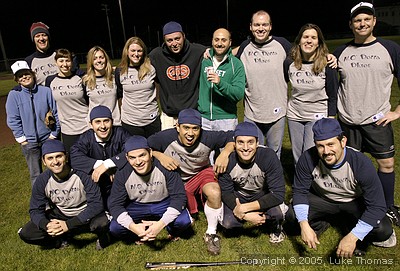 Valiant in defeat, Mo' Better Blues.
Photo(s) by Luke Thomas
By Boe Hayward
December 6, 2005


The B.O.S HOGs remained undefeated with a trouncing of the Mayor's Mo' Better Blues squad 9-5 on a cold Monday night at Fort Scott Field #1 in the Presidio. The HOGs had defeated the Blues in a scrimmage on November 21, but the official victory was even sweeter.
The HOGs were again paced by Supervisor Sean Elsbernd, who belted two home runs and racked up five RBIs. Elsbernd is leading the league with 9 home runs on the season. Right Fielder Sarah Ballard expressed the feeling of her entire team, exclaiming "I love Sean Elsbernd" after his dominant performance.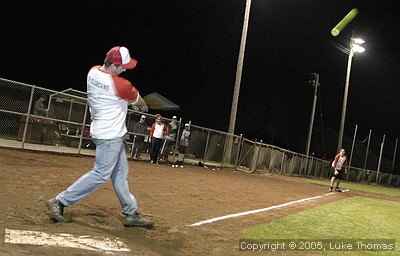 District 7 Super-slugger Sean Elsbernd fires a two-run homer into unchartered sky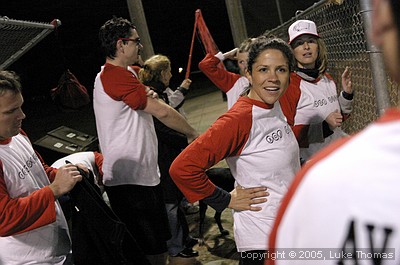 Sarah Ballard and fellow team mates rejoice after Elsbernd dismantling of Blues outfielders.
"It is great to have the win, but our team is looking to forward to the playoffs," said a modest Elsbernd, who put the Super in Supervisor with his outstanding play.

Boris Delepine also starred for the victorious HOGs. He played a solid first base, sometimes stretching his lanky frame to amazing lengths, and he also contributed at the plate with a single and triple.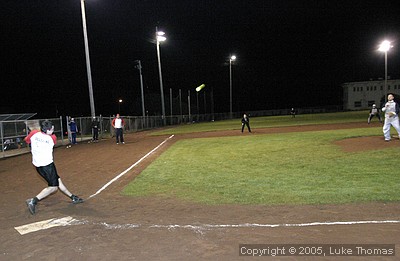 HOGs phenom Boris Delepine adds to the irrepressible R.B.I tally
"Operation Softball Connect was in full effect," said a pugnacious Delepine.
On the other side of the diamond, the Mayor's Board Liaison and team captain Wade Crowfoot tried to explain the Blues's crushing defeat. "Softball is a perplexing game, a game that can break your heart," mourned Crowfoot, "and our heart was broken as we were beaten once again by a stronger team."

The game-recorded for posterity by honorary HOG Jamie McGoldrick-included numerous moments worthy of the highlight reel. Mayoral spokesperson Peter Ragone struck out and was left speechless, for once. HOG Rob Black, wearing shorts despite the chilly air, sacrificed his knee on the way to third base. And HOG Cassandra "C-Squared" Costello started the HOGs off with an excellent single.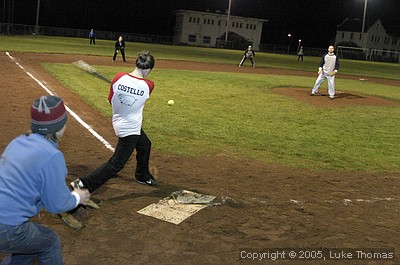 Cassandra "C-Squared" Costello leads the HOGs with
a precision single to left field.
But beyond Elsbernd's power-hitting, the HOGs played excellent defense to get the win. Boe Hayward pitched seven solid innings and credited the win to the defense behind him. "Our defense played great and I am thankful for that they kept our lead intact."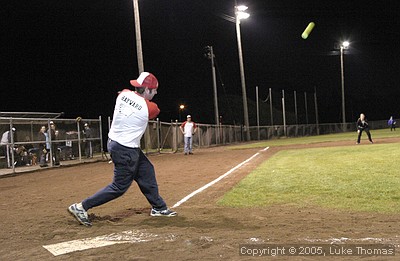 Boe Hayward lifts a gravity defying boomer
Hayward's seven innings of 5-run ball gave him his league leading 5th win of the season. Hayward leads the league with 5 wins and told reporters that he is "thankful for the offensive support and grateful to be part of a winning organization."

HOGs John Gavin, Cassandra "C-Squared" Costello, John Avalos, and Lisa Williams-Black all earned gold gloves in a defensive showing that would have made Cooperstown proud.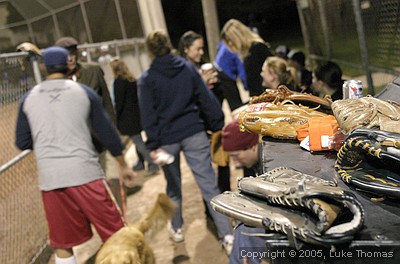 Golden gloves
Amanda "Doozer" Kahn was the designated hitter for the HOGs and Mirkarimi aide Regina Dick-Endrizzi led a solid cheering squad from the bench.

The HOGs finished the regular season with an undefeated record of 6-0-1 and eagerly await the playoffs.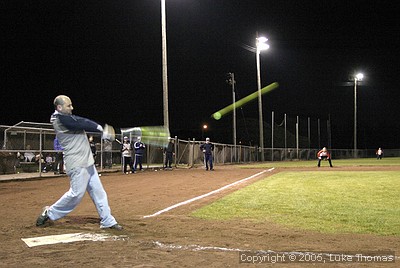 Mayor's office Deputy Chief of Staff, Alex Tourk, streaks a ball that, seemingly, bounces back. It was one of those nights for the Blues.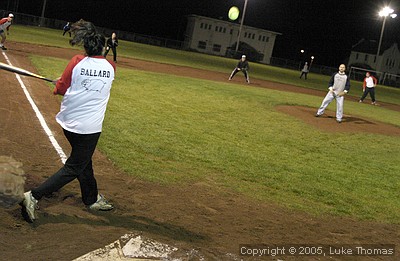 Sarah Ballard hikes a clever popper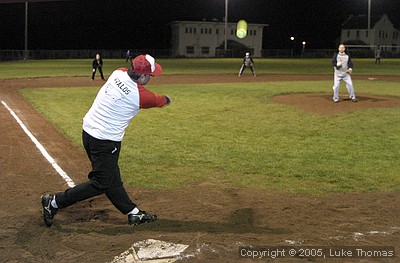 John Avalos follows Ballard's popper with a cross-legged
scissor-motion swinger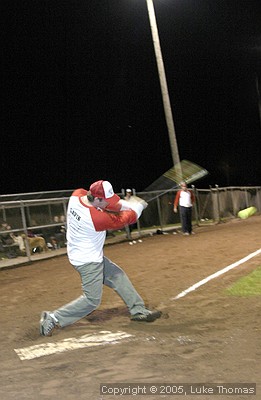 Eslbernd fires another routine ballistic homer...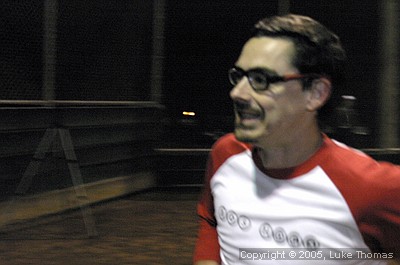 ... brings home Le Boris Delepine...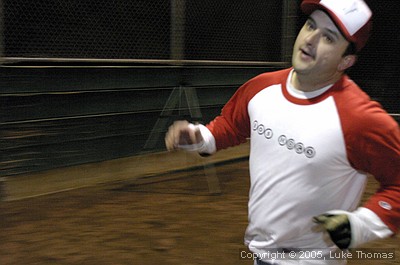 ... and the MVP himself.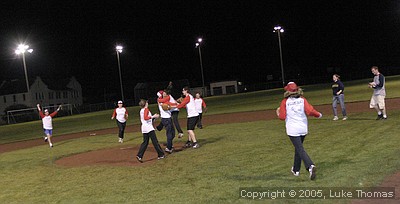 Game over, HOGs go hogwild.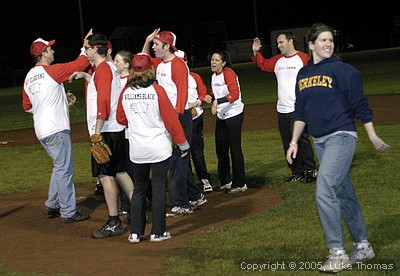 High fivin' HOGs endorphin rush...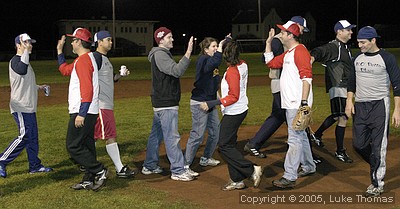 ... slap some skin with their valiant opponents.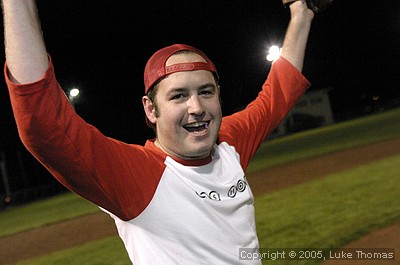 Captain Boe Hayward Fantastic, ecstatic by the Hog's pristine
unbeaten record

NOTES
Members of the Mayor's office were gracious in defeat paying for post game beers at the Final Final. Losing team Mayor's office Captain Crowfoot told reporters that "little could be done to stop this juggernaut."

Jamie McGoldrick was lent his video talent to the HOGs, taping the game that might be Oscar worth according to early reviews.

Supervisors McGoldrick and Mirkarimi also showed to route on their team. Supervisor Mirkarimi let fans know that there is no "I in team and the HOGs showed what it takes to put together a winner."
STATS
Home Runs 2 Elsbernd (9)
Win - Hayward 5-0-1
Boe Hayward, Boris Delepine, Judson True and Sarah Ballard contributed to this report
Pat Murphy's view from the bleachers

####