San Francisco labor leaders
denounce federal intimidation of immigrant workers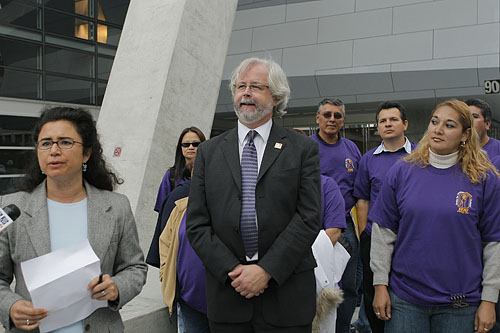 San Francisco labor leaders Renee Saucedo (left) of the San Francisco Day Labor Program and Tim Paulson of the San Francisco Labor Council, led a rally Wednesday to protest alleged intimidation of immigrant workers by federal agents.
Photo(s) by John Han
By John Han

October 13, 2007
Labor leaders held a press conference Wednesday outside of the new 7th St. Federal Building in San Francisco to protest alleged intimidation of immigrant workers by the Bush Administration.
San Francisco Day Labor Program Executive Director Renee Saucedo said Immigration and Customs Enforcement (ICE) agents have been deployed by the Bush administration to intimidate and harass janitors during protests against companies who skirt local employment laws.
"I was here to witness one incident," Saucedo said. "ICE agents came out in the middle of a peaceful picket that the janitors' union was having here in front of the new federal building. They came with rifles and tear gas. They didn't use it, but they came out with it."
SEIU Local 87 janitors have been holding protests in front of the federal building because a new company had been awarded a contract to provide janitorial services for the building. According to Tim Paulson, Executive Director of the San Francisco Labor Council, the company violated City law requiring new companies to re-hire janitors from the former contractor.
The law, known as The Displaced Worker Protection Act, requires new companies to hire workers from the former contractor for a minimum of 90 days.
Paulson said SEIU Local 87 workers were told that they no longer had jobs.
"Not only was there an outrage that janitors were just thrown on the street like yesterday's trash, but when they protested, the ICE agents came out with guns and were intimidating the workers out here," Paulson reported. "The federal government was being used to intimidate the workers' rights to protest their layoffs."
SEIU Local 87 member Terasita Navarro said she was at the protest last week. She said the ICE agents were "pushing janitors and trying to force us to leave the grounds."
####