Lynne Stewart Bay Area speaking tour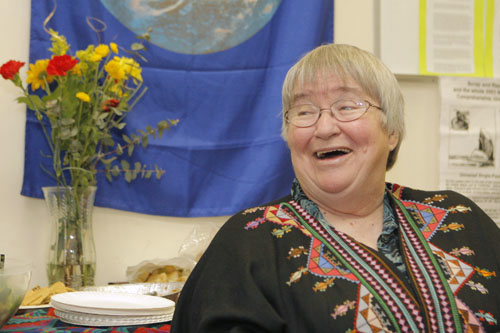 Lynn Stewart
Photo by John Han
By John Han
February 7, 2008
Disbarred defense attorney Lynne Stewart, who was convicted in 2005 on conspiracy charges, visited San Francisco Wednesday during a speaking tour.
Stewart, 67, was sentenced to 28 months in federal prison in 2006 for allegedly passing messages from her client Sheik Omar Abdel Rahman to members of an Egyptian militant Islamic group known as al-Gama'a al-Islamiyya, a group labeled a terrorist organization by the United States.
Stewart's reduced sentence is a relief to her and her supporters, but they are appealing the court's conviction and are seeking a reversal of the decision or a new trial.
"We're now waiting," Stewart said to a small group of supporters and members of the Gray Panthers, a political action group, in San Francisco yesterday.
"We have no idea when a decision will come," Stewart added.
Federal prosecutors had requested the court impose a maximum sentence of 30 years, and are also appealing the decision arguing the reduced sentence is too lenient.
Stewart is scheduled to return to the Bay Area February 23 for a five-day speaking tour to include mass rallies in San Francisco, Berkeley. and Palo Alto.
For more details, call (415) 255-1085.
--
####