Security Officers Union to take to the streets,
rally for living wage and healthcare benefits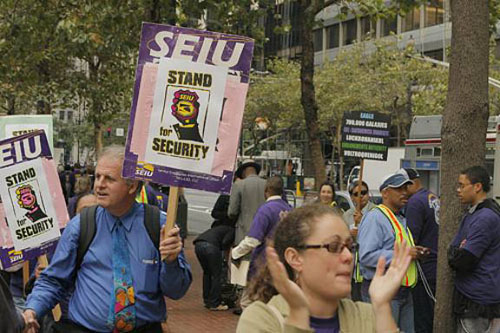 The SEIU Local 24/7 Security officers' union will hold a weeklong rally
beginning September 24. The union is calling for a living wage and healthcare benefits.
Photos by John Han
By John Han

September 18, 2007
Bay Area Security Officers Union SEIU Local 24/7 will take to the streets next week in an action to secure a living wage and healthcare benefits.
SEIU Local 24/7 workers are the lowest paid workers in the commercial property services industry, making less than building engineers, window cleaners, janitors, and parking attendants.
The average income for a security officer in the Bay Area is less than $24,000 per year.
Human rights activists, students, community leaders, ministers and congregations have scheduled a one-week rally at One Front St. at the corner of Front and Market St. beginning September 24.
Rallies are scheduled to take place between 12-2pm and 4-6pm daily. Morning rallies are also scheduled to occur between 7:30-9am.
The rallies will take aim at the largest property owners in San Francisco, including Morgan Stanley and Shorenstein and Hines, to compensate security officers with a living wage and decent healthcare benefits.
On Saturday SEIU Local 24/7 voted overwhelmingly to authorize an unfair labor practice strike if necessary.
"We are ready to strike," said Bay Area security officer Marcia Duncan. "If that's what it's going to take then we are ready."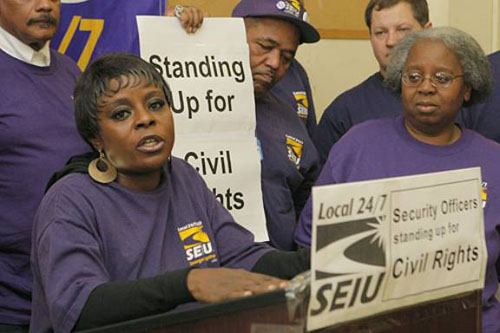 Bay Area security guard Marcia Duncan
SEIU Local 24/7's vote has been endorsed by the San Francisco Labor Council.
State Senator Carol Migden, Supervisors Chris Daly and Michaela Alioto-Pier are in support of the union's action.
####