Bay Area security officers begin weeklong strike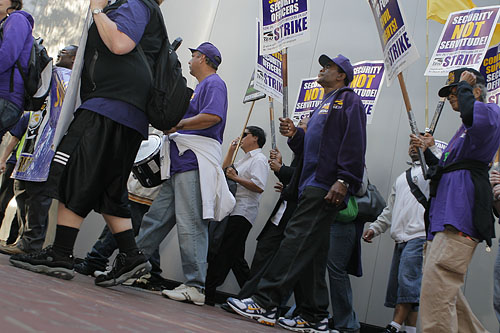 Demanding a fair wage increase and healthcare benefits,
SEIU Local 24/7 union members began a weeklong strike
in downtown San Francisco yesterday.
Photos by John Han
By John Han

September 25, 2007
Security officers' union SEIU Local 24/7 began a weeklong strike in downtown San Francisco yesterday to protest what they say are unfair labor practices.
The union is demanding a fair wage increase and healthcare benefits.
Organizers from across the country and local elected officials joined the strikers in support of the union action.
"I've come down here to support my brothers and sisters here in San Francisco who are being treated unfairly," said Donald Killings, a union organizer from New York. "I feel they need a better contract."
The union's contract with private security companies expired in June. Negotiations for a new contract have so far failed to produce a new agreement.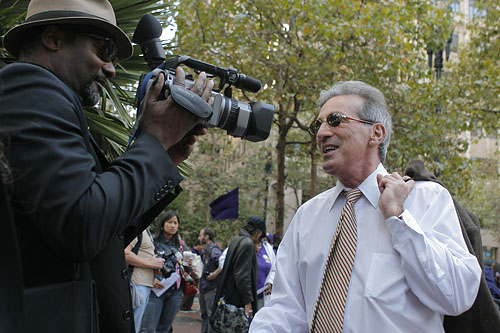 San Francisco Supervisor Tom Ammiano attended the rally.
Security officers in the Bay Area have historically been the lowest paid property services workers in the industry, earning five dollars less per hour than janitors.
Many work two, and sometimes three jobs, to make ends meet.
"We deserve to not have to work multiple jobs," said Oakland resident Gwen Williams, a security guard working for Universal Protection Services in San Francisco. "We need to spend time with our families and we need the wages to meet our financial needs."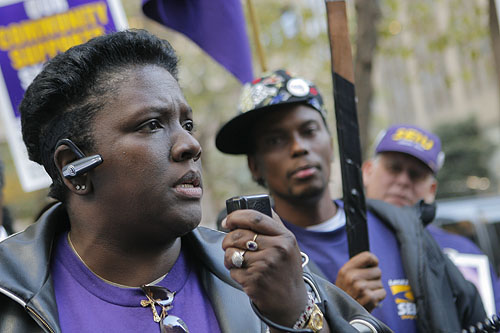 Gwen Williams, SEIU 24/7 security officer.
Oakland Assemblymember Sandre Swanson said the union's demand for a fair wage increase and health benefits is an issue of "basic human rights."
"Why should the case be that if you arrest someone and they go to jail, they have better healthcare than you?" Swanson appealed. "That's hypocrisy, and we have to correct that."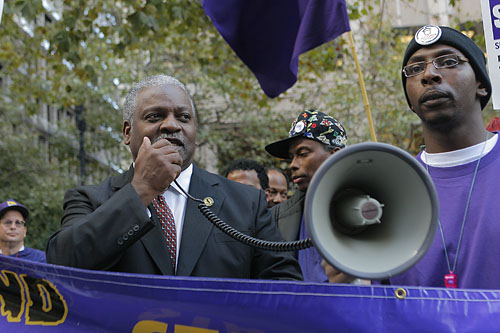 California Assemblymember Sandre Swanson
According to SEIU spokesperson Gina Bowers, there are up to fourteen buildings in San Francisco's Financial district where union security officers had gone on strike.
Bowers said other unions are honoring the picket line including janitors, window cleaners and construction workers.
"This morning there were guys in hard hats and helmets that came up, saw the picket lines and turned around and left," Bowers said.
She said the real issue is recognizing that security officers are being left behind.
"It's not good for anyone in our community if there's people that work full-time and they still can't make ends meet," Bowers said.
The San Francisco Board of Supervisors is expected to vote on a resolution later today in support of the SEIU 24/7 union demands.
####