Activists perform waterboarding demonstration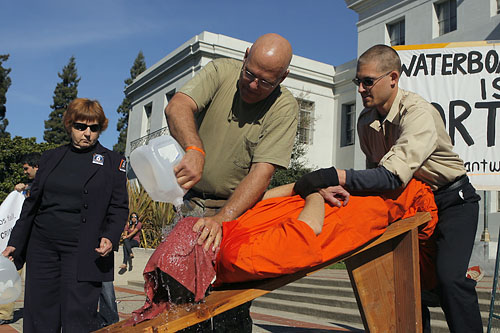 Gulf War veteran Joe Tougas, dressed in Guantanamo Bay detention camp garb, volunteered to be waterboarded during a demonstration at UC Berkeley yesterday to demonstrate that the practice is a severe form of inhumane torture.
Photos by John Han
By John Han

November 15, 2007
Activists staged a waterboarding demonstration Wednesday at UC Berkeley in response to newly appointed Attorney General Michael Mukasey's claim that he does not know if waterboarding is torture or not.
Mukasey said in October during his confirmation hearing that he didn't know what was involved in the technique and that "If waterboarding is torture, torture is not constitutional."
Waterboarding is a torture technique that simulates drowning in a controlled environment. It consists of immobilizing an individual on his or her back, with the head inclined downward, and pouring water over the face to force the inhalation of water into the lungs.
Joe Tougas, a Gulf War veteran and member of the anti-war group World Can't Wait, volunteered to play the part of a terror suspect under interrogation and subjected to the drowning practice. He was handcuffed, hooded and forced onto a wooden board. A towel was placed over his face while five gallons of water was poured over the towel to simulate waterboarding.
"It's probably one of the most invasive things I've ever experienced," Tougas said. He described the experience as "a sudden and total loss of control of your body."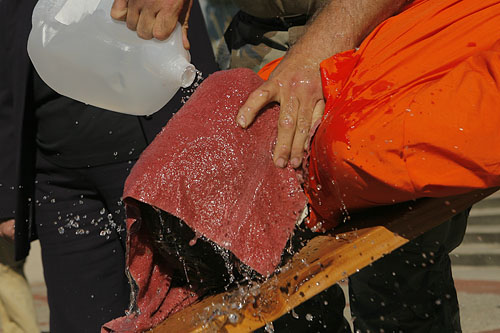 To prevent actual drowning, a plastic sheath was placed underneath the towel to prevent water from going through Tougas' nose and mouth, and entering his lungs..
"Not being able to see, not being able to move, not being able to breath while being upside down, and people are holding you down and yelling and screaming at you, is an utterly horrifying experience," Tougas said.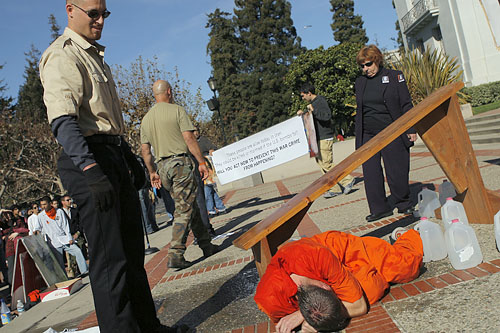 Mukasey was officially sworn in as the 81st US Attorney General Wednesday. Senators Charles Schumer (D-NY) and Dianne Feinstein (D-CA) were among Mukasey's supporters.
During the confirmation hearing, Mukasey would not unequivocally state whether he believed waterboarding should be condemned as torture.
"There seems to be some confusion among our politicians, the new Attorney General, and among a lot of journalists about whether waterboarding is torture," said Giovanni Jackson, a student organizer with World Can't Wait. "Some people describe it as 'simulated drowning'. In fact what it is, is real drowning. It's real torture. It's not an, 'enhanced' interrogation technique."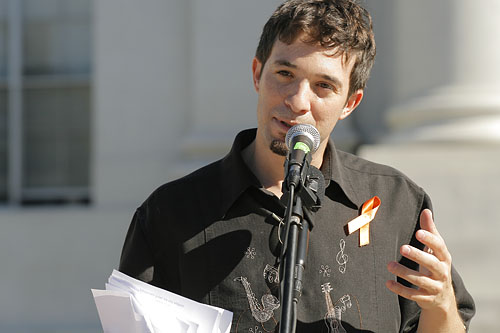 Giovanni Jackson, World Can't Wait
Jackson said Americans are "too passive" about speaking out against anti-constitutional torture crimes committed by the US government.
"Silence plus torture equals complicity," Jackson said. "Far too many people in this country are complicit with what's going on. We have to break out of our comfort zones. We have to start confronting the reality of what our government is doing and start acting on that."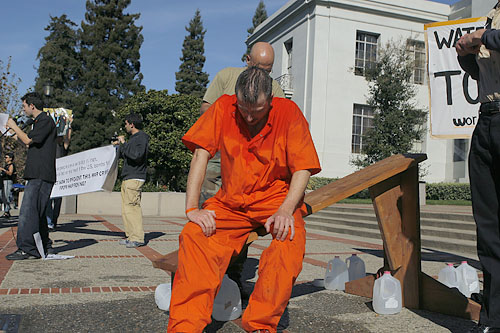 ####