John Swett Elementary School dumps new books preceding possible closure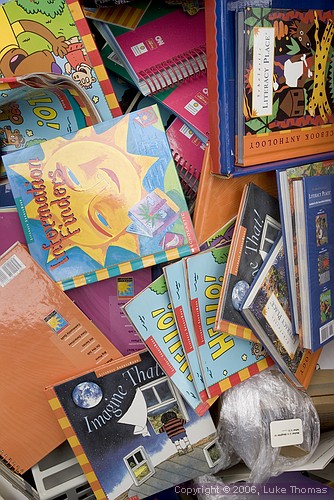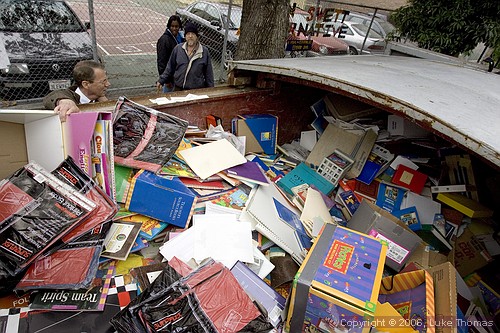 Dumpster outside John Swett Elementary containing new and used books, unopened officeware and, we're told, musical instruments at the bottom of the pile.
Photo(s) by Luke Thomas
By Pat Murphy and Luke Thomas
April 25, 2006, 2:00 p.m.
Startled parents this morning retrieved new books and musical instruments discarded by school officials in a John Swett Elementary School dumpster.
Many discarded items were in new unopened packaging.
Discarding school supplies this morning preceded a scheduled 7:00 p.m. School Board meeting tonight considering acceptance of $660,000 in City funds to keep John Swett open.
Four members of the seven-person School Board have indicated refusal of the $660,000 City allocation. Tonight's meeting will hear community input on the issue.
One parent discovered "carts and carts of school supplies being hauled to the dumpster" early today in front of John Swett.
She telephoned Ali Blum, also a parent who heads the School Community Network of District 5, who quickly alerted other parents who captured the scene on camera.
"It's a travesty," Blum told the Sentinel.
""They don't have money to keep John Swett open but they have the money to close it."
Blum said the School District had been intent on closing John Swett, as indicated by school closure criteria and a school document recommending John Swett facilities instead be used as School District offices.
"One school closure criterion called for schools to be closed if they were under 75% capacity (in school enrollments)," explained Blum.
"John Swett capacity was 81%.
"A second criteria for closure was having under 250 students enrolled.
"And John Swett had 239 students," Blum recalled.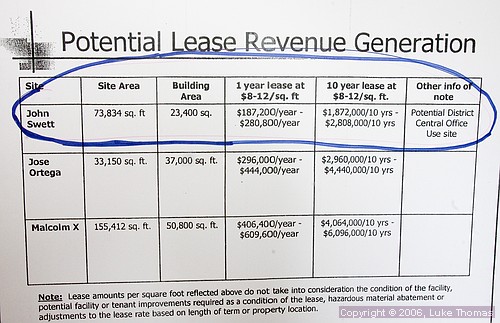 According to Blum, school officials pledged to incorporate the John Swett arts program into John Muir Elementary School located 1.5 miles from Swett. The pledge was reneged in currents plans, Blum complained.
A 6:00 p.m. rally and press conference urging the School Board to accept City funding for John Swett will be led by Supervisors Ross Mirkarimi and representatives of Assemblymen Mark Leno and Leland Yee.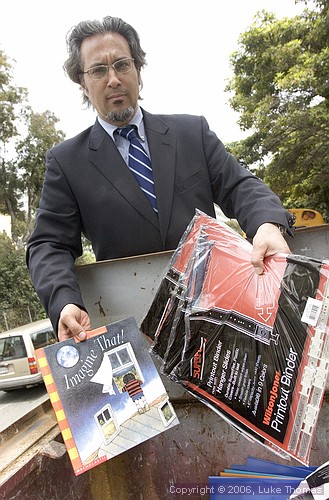 District 5 Supervisor Ross Mirkarimi holds up an unused book
entitled "Imagine That!", discovered wastefully discarded earlier today
in the dumpster outside John Swett Elementary School.
####