Circumspect Supervisor introduces legislation to save John Swett Elementary

Levers suspicion at school board motivation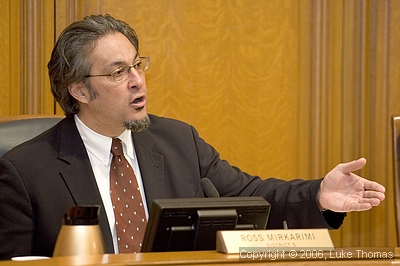 Supervisor Ross Mirkarimi
Photo(s) by Luke Thomas
January 25, 2006
District 5 Supervisor Ross Mirkarimi announced legislation yesterday during the Board of Supervisor's meeting, co-sponsored by Supervisor Daly and Supervisor Ammiano, to save John Swett Elementary from closure.
The SFUSD school board voted 4-3 on January 19 to merge John Swett Elementary with John Muir Elementary.
The announcement comes on the heels of Monday's Government Audit and Oversight Committee meeting which heard Mirkarimi's ordinance appropriation request for $5.3 million from the City's general fund to help stave off school closures.
During Monday's meeting Mirkarimi leveled suspicion at the school board's motivation to close John Swett.
"You don't penalize a school like John Swett simply because it has the misfortune of being across the street from the administrative school offices, and it's the administrative offices who have the desire for more posh settings," Mirkarimi stated.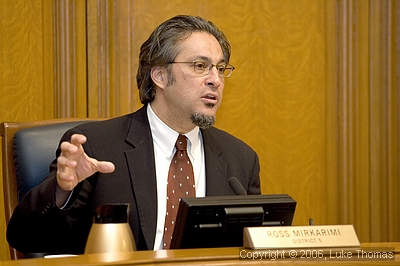 With revelopment projects in Hayes Valley expected to increase population growth in District 5, coupled with John Swett Elementary's 81% enrollment, Mirkarimi called into question the school board's long range thinking.
"There's no plan unto itself... that shows the absolute myopic shameful shutdown of John Swett where it had 81% enrollment, and it is on the back yard of Hayes Valley/Octavia Boulevard which is repopulating in great strength. If you were to tell me this is about declining enrollment, I would say that you are absolutely nuts," Mirkarimi said emphatically.
Contacted by telephone for comment, school board member Mark Sanchez told the Sentinel that the school board considered moving their administrative offices into John Swett Elementary in December 2005.
"That's what the staff wants to do with it," Sanchez said, referring to John Swett Elementary.
Sanchez, who voted against the merger, said the criteria for merging or closing schools was, "never spelled out clearly."
Sanchez reported that the school board is paying $700,000 per year to lease offices on Harrison and 6th Street which he believes the SFUSD does not need, more so if John Swett Elementary becomes the new SFUSD adminstrative offices.
"I have been proposing the closure of the Harrison/6th Street offices, but so far my proposal is being ignored.
"The bottom line is we have to save money", Sanchez concluded..
####