Fallay a free man
District Attorney files motion to dismiss case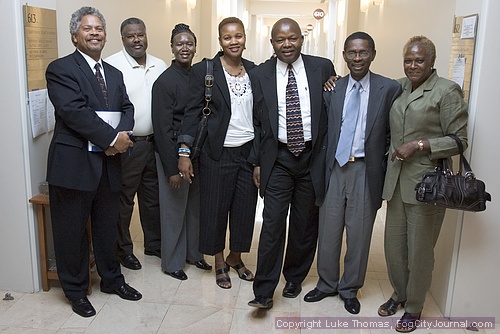 Augustine "Gus" Fallay (center) with his family and Defense Attorney Randall Knox (far left) moments after the District Attorney filed a motion to dismiss all charges against the former Department of Building Inspection Manager.
Photo(s) by Luke Thomas
By Tamara Barak
June 19, 2007
Prosecutors will not retry a former San Francisco Department of Building official whose corruption trial ended in a hung jury last month.
The San Francisco district attorney's office today entered a formal motion in court not to retry the case against Augustine "Gus" Fallay, according to Debbie Mesloh, spokeswoman for District Attorney Kamala Harris.
"Based on the evidence at trial and discussions with the jurors, the district attorney's office believes that retrying this case would not produce a different verdict and is not warranted as Mr. Fallay is no longer employed as a public official," Mesloh said in a written statement.
On May 15, San Francisco Superior Court Judge Ernest Goldsmith declared a mistrial after the jury found Fallay, 48, not guilty of four counts against him, and announced they were deadlocked on the remaining 29 counts. Jurors had deliberated for a day and a half.
Fallay, who was arrested in August 2005, faced more than 20 years in prison if convicted.
Prosecutors charged that Fallay, 48, solicited and accepted bribes over 12 years, including a $50,000 loan, payments of cash and services for home improvements and meals.
Fallay was acquitted on three charges involving accepting meals as bribes, and one charge of insurance fraud, according to the district attorney's office.
His attorney, Randy Knox, claimed that his client was set up by an unscrupulous loan broker who blackmailed Fallay after the building inspection manager refused to grant him favors.
Following Tuesday's hearing, Knox spoke to reporters and said: "I think that this case is a reflection of what happens when agents go into an investigation with a pre-conception of what they expect to find, and because of that pre-conception they don't scrutinize the quality of the evidence that they are able to obtain."
"I think any objective assessment of Tony Fu's credibility should have given everybody pause, but it didn't. The jury has vindicated my client, as I said it would, from the very beginning," Knox added.
Assistant District Attorney Marc Katz referred reporters questions to the District Attorney Spokesperson Debbie Mesloh.
Nilka Julio, a representative for Local 21, said the union will work with Fallay to get him reinstated at the Department of Building Inspection.
Fallay said he was happy to be vindicated on all charges.
"I am happy, of course," Fallay said, "but I am angry too."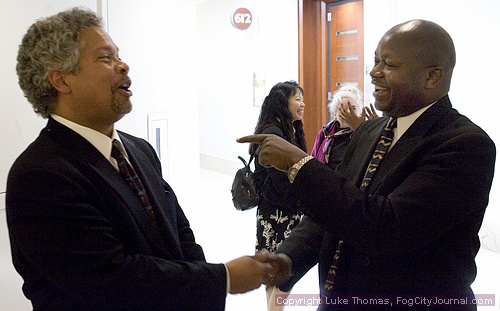 Luke Thomas contributed to this report.
####