Sheriff's Department celebrates grand opening
of Women's Reentry Center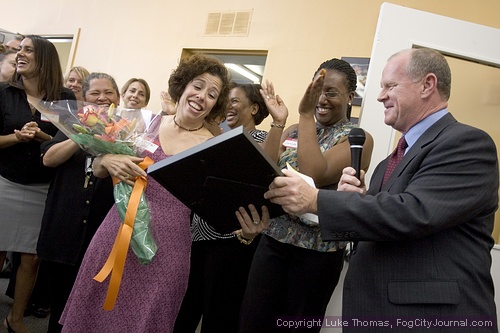 Sheriff Michael Hennessey presents Program Coordinator Karen Levine and staff
with a certificate of recognition yesterday for their efforts in launching the Sheriff's Department's Women's Reentry Center. The center provides transitional support services
for ex-offenders in an effort to reduce recidivism rates.
Photo(s) by Luke Thomas
By Luke Thomas
September 28, 2007
The San Francisco Sheriff's Department celebrated the grand opening of the Women's Reentry Center yesterday.
The program, which gets its funding from private fundraising efforts as well as local, state and federal sources, provides women ex-offenders with transitional support services including housing assistance, substance abuse programs, employment referrals, healthcare and legal assistance. The program also offers personal development classes to help ex-offenders get their lives back on track.
As many as 1,000 women per year are released from the San Francisco County Jail, and an average of 55 percent will be rearrested within the first twelve months of release.
"In California, there are ten to fifteen thousand women in state prison, and a like number in county jails up and down the state," said Sheriff Michael Hennessey who was instrumental in getting the program up and running. "Every day we have 350 or so women in the San Francisco County Jail and, with rare exception, they all come back into the communities and they all have severe problems they have to face."
"We want them to be able to come here to take advantage of the services that are going to be available," Hennessey added.
During opening speeches Program Administrator Sunny Schwartz praised Hennessey's vision in recognizing the necessity for post-incarceration support services.
"If it wasn't for this man we would not be standing here, and we would not have a stitch of dignified effective programs," Schwartz said. "Because of his leadership, we are able to begin to put the word 'justice' back into the justice system."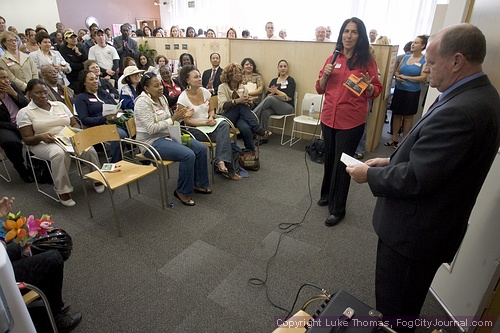 Program Administrator Sunny Schwartz
Public Defender Jeff Adachi, who created the Clean Slate program to help ex-offenders erase their criminal records, said: "I've had the opportunity to work with the Sheriff and his staff, [sic] who are dedicated to looking at reentry in a new and different way."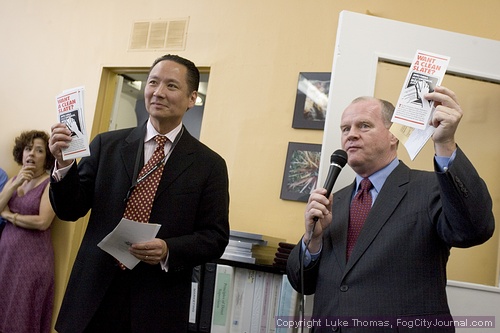 Public Defender Jeff Adachi
District 10 Supervisor Sophie Maxwell, who represents an underserved district comprised of predominantely low-income minorities, said, "There's no other way for us to go than to make sure people who have been incarcerated have a leg up," she said. "This is where our priority should be and where the money should go."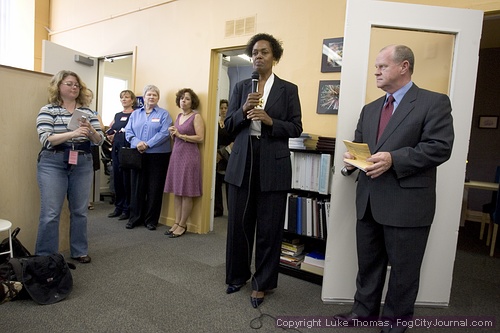 Supervisor Sophie Maxwell
"If the justice system wants people to be accountable to it, then we must be accountable to the people," said Program Director Karen Levine. "If we want folks to follow the rules - and hold themselves accountable for trespassing on other people - then we better, for God's sake, provide every single opportunity to make sure that women and children have every chance they can get.
"As women come out and try to be parents to their children, let's support them in getting legal help. Let's support them in getting housing. Let's support them in getting childcare and going to City College, or going to Stanford, or going to Mills, and putting their children in schools and raise them so they're never going to see 850 Bryant, ever," Levine exclaimed.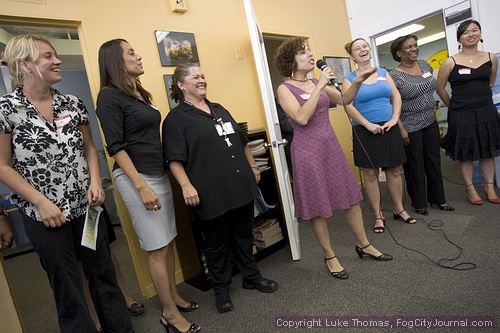 Program Coordinator Karen Levine with reentry support services staff.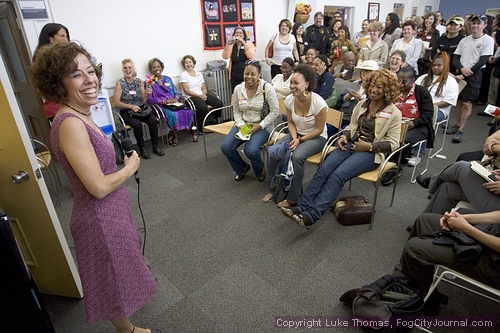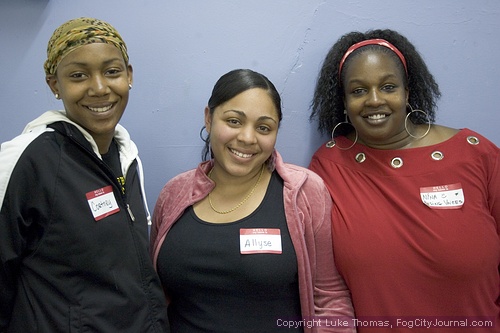 Ex-offenders turned virtuoso poets Cortney, Allyse and Nina.
Keep up the good work, girls. We're proud of you.
####