THE MUSIC MAN
With Seán Martinfield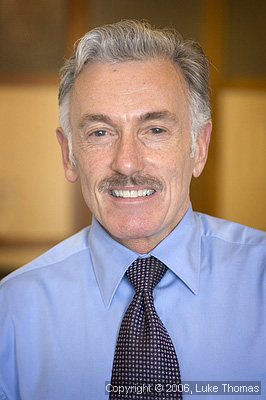 Seán Martinfield
Photo(s) by Luke Thomas
Let The Season Begin!
September 6, 2006
Every San Franciscan can be proud of its rich and abundant Musical Scene. Every day of every year some variety of live music is happening somewhere in our treasured City, offering Harmony for everyone of every age and persuasion - in corner bars and restaurants, bookstores, neighborhood churches, community playhouses, the brightly-lit professional stages, south of Market and North Beach cabarets, even the technically-challenged platforms of MUNI. This week the ever-growing magnificence of our Civic Center will again be ablaze as classical music lovers everywhere focus their attention on the Gala Openings of the San Francisco Symphony and Opera.
On Wednesday night, one of the most celebrated conductors in the world - our own Michael Tilson-Thomas - raises his baton on the first of a series of programs that extends until June. The Opening Night concert features Mikhail Glinka's Overture to Ruslan and Ludmila, renowned German violinist Christian Tetzlaff in Igor Stravinsky's Violin Concerto in D major, and Antonin Dvorák's Symphony No. 8 in G major.
Friday evening, newly installed General Director David Gockley will proudly eye the beginning of his reign over the San Francisco Opera. The 2006-07 Season, also extending into June, boasts ten crowd-pleasing operas beginning with Giuseppi Verdi's opulent ear-buster Un Ballo In Maschera ("A Masked Ball"). Decked out in 18th Century Swedish couture and in the court of King Gustav III, the newly-slenderized and internationally acclaimed dramatic soprano Debra Voigt teams up with tenor Marcus Haddock who marks his long-awaited San Francisco debut. The following night Conductor Donald Runnicles whisks everyone off to Johann Strauss' 19th Century Vienna and his glitteringly perfect Die Fledermaus. Not to be confused with the 1959 screaming cinematic thriller "The Bat" (starring the arrogantly suave Vincent Price and haughtily dominating Agnes Moorehead - remember "Bewitched"?), this ever-popular operetta dovetails with the Opening Night Thriller in that it is yet another tale of confused identities, costumed parties, confounding and compounding infidelities.
These musical adventures are not the confines of the Rich and Famous! Come Sunday afternoon at 1:30 pm, Opera In The Park returns to Sharon Meadow in Golden Gate Park. As with the recent and resounding success of the Summer (Return of the Divas) Concert in Dolores Park, this annual and free outdoor concert will feature arias and operatic excerpts performed by the artists from the Opera's fall season and will be accompanied by the San Francisco Opera Orchestra. Arrive early to get the best viewing spot, bring a blanket, pack a contest-type-lunch, and thrill to the most gloriously demanding music ever written for the human voice. Then add October 6th and Rigoletto (and another picnic basket) to your Cultural Calendar. As with the unprecedented success of this summer's Opening Night simulcast of Madama Butterfly, Mr. Gockley again brings the San Francisco Opera free-of-charge to Civic Center Plaza and, simultaneously, to the Frost Amphitheatre at Stanford University.
Want more high-falutin' Classical freebies? On Friday the 22nd at noon, Conductor MTT brings the Symphony to Yerba Buena Gardens for the annual Free Outdoor Concert. Also on-going, local classical radio station KDFC 102.1 offers free access to the San Francisco Symphony by way of its weekly Tuesday night broadcasts captured live from Louise M. Davies Symphony Hall. No black ties required.
Stay tuned for my reviews.

####