SI SE PUEDE! - San Francisco May Day immigration rally draws thousands in protest of immigration bill HR 4437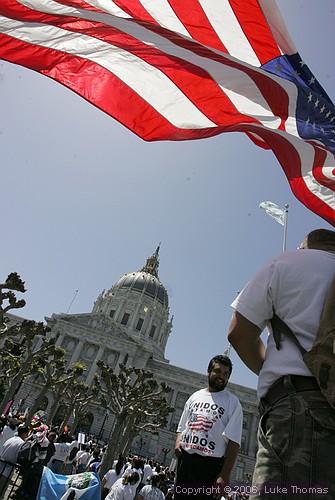 A May Day immigration rally participant
waves the flag of the country
he has made his home.
Photo(s) by Luke Thomas
May 1, 2006
Shareen Singh, 21, gets off the subway at Embarcadero Station with 250 other students from San Francisco State University. They walked out of class to participate in Monday's immigrant rights rally, which is one of the many "A Day Without Immigrants" rallies occurring nationwide.
Singh travels on the bustling escalator and joins the thousands of people already lined up at the Justin Herman Plaza, a sea of white shirts flowing amidst combined American flags and Mexican flags.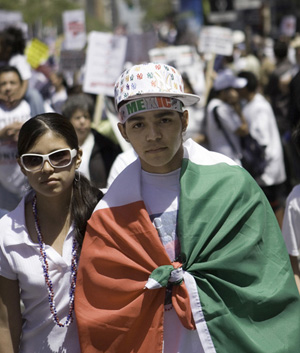 Photo by Sean Posey
55,000 Bay Area residents rallied in San Francisco on Monday against House Resolution 4437, an immigration bill which would make all undocumented immigrants felons and require all employers to verify the immigrant statuses of their employees.
They gather from all walks of life, different backgrounds, different social classes, different races and ethnicities, and different national residency statuses to stand up for the rights of 11 million Americans nationwide.
"The turnout is phenomenal," Singh said. "This is history."
May 1 traditionally is a day for international solidarity of workers, which made Monday a good day to host a rally for the rights of immigrants, said organizer Richard Becker of Act Now to Stop War and End Racism.
The first major immigrant rights rally relating to HR 4437 took place in Chicago on March 10 with a half a million people, followed by another immigration rally in San Francisco, Los Angeles on March 25 with a million people, Becker said. Similar rallies on May 1 took place in Los Angeles, Houston, Chicago, New York, Atlanta and Miami with large turnouts.
The San Francisco rally calls for the immediate legalization of all undocumented workers, the halting of legislation that would criminalize illegal immigrants, demilitarization of U.S.-Mexican borders and civil rights and civil liberties for all, said Federico Chavez, administrative law judge for the Unemployment Insurance Appeals Board in Oakland.
"Hoy marchamos, mañana votamos," Chavez said. "Today we march and tomorrow we vote. This event has moved so many locals to participate in electoral politics and some for the first time because it's an issue that affects so many people and our national economy."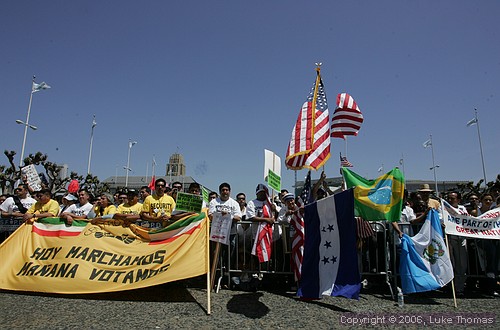 Hundreds of local organizations worked together early last month to mobilize participants, organizer Maria Hall said. Marchers were recommended to wear white clothing because the color is the universal symbol of peace.
Although most of the crowd wore white, Singh and friend Sagar Panekh, 18, stood out clad in South Asian clothing, Singh wore a flowing yellow salwar kameez. Panekh wore a black kurtah, traditional South Asian men's garb, with gold embroidery.
"This issue has to do with all immigrants, not just those from Mexico," Panekh said. "America is a melting pot of immigrants."
Panek also wore a black NBA cap and Singh had a nose ring.
"I think that it demonstrates the dualities of our identities," Panekh said. "We are proud of both our national and ethnic heritages."
Locals throughout the Bay Area also took time off to attend the rally, flooding the BART gates at the Embarcadero station early Monday morning.
"My ancestors were forced to come here to the United States as slaves," said Taranda Jones, 12, a student at Adams Middle School in Richmond, Calif. "They were not enemies of the state and neither are my friends."
Participants marched down Market Street from the Embarcadero Center to Civic Center in front of City Hall early afternoon. Bay Area city officials and candidates joined the rally to express their support.
"This legislation aims to undo the very assets that make our nation great," Supervisor Ross Mirkarimi said. "We should reject the politicians that choose to reject us and create a new vision of how we want to claim this country."
Aimee Allison, Green Party candidate for Oakland's City Council, pledged that she would push for legislation that would prevent the city's law enforcement from arresting illegal immigrants if the federal ordinance passed.
"They may pass this heinous legislation on the federal level but we refuse to follow it on the local level," Allison said.
San Francisco Mayor Gavin Newsom made a similar declaration on April 7.
"San Francisco stands in strong opposition to the rhetoric coming out of Washington D.C.," Newsom said. "We're not going to put up with the bigotry and racial profiling."
Local community organizations voiced out their support at the rally.
"We stand in solidarity with our fellow immigrants," said Eric Mar, spokesman for Chinese for Affirmative Action.
Not everyone attending supported amnesty. Alameda resident Craig vande Moortel also carried a picket sign with an American flag. But his message was different: Come here legally like my ancestors did.
"My Belgian ancestors came here through Ellis Island like cattle and they fought in World War I to earn their rights to be American," Moortel said. "These immigrants may be good people but they are also depleting the national social security system."
Moortel's comments concerned middle school teacher Jean Bell from the San Francisco Community School. Bell said she is of German descent.
"Every ethnic group, even the Europeans, went through a period of discrimination," Bell said. "It's a very short-sighted idea to identify oneself as an American and then believing that it gives them the authority to label who is not American."
Fellow elementary school teacher Lisa Bishop said the benefits that immigrants provide to the United States outweigh the costs.
"They help improve the nation by contributing their energy, enthusiasm, hard work, compassion and humility," Bishop said. "They also keep our country in touch with the global policies that affect us all."
Jesus Urista carried a picket sign listing the history of America's immigration, dating back to 1607 with the first European immigrants in America.
"We are a nation of immigrants," Urista said. "It's important for everyone to fight for everyone's right to be here."
Urista, an immigrant from Mexico, said he has been living in the city for over 29 years and is now a U.S citizen.
At 5 p.m., the wave of white shirts, national flags and picket signs flowed to grounds of the San Francisco Federal Building on Larkin Street. They filled the street with their presence amidst trumpets, whistles and bullhorns.
The rally's turnout meant a lot to Hermenio Caamal, 22, a local short-order cook. Caamal is among the 11 million illegal immigrants who would be deemed felons if HR 4437 passes.
Caamal said he came to the United States from Mexico in 1996.
"This is a country that gives so many rights to it people," Caamal said. "I hope that I can become a citizen too and have those rights."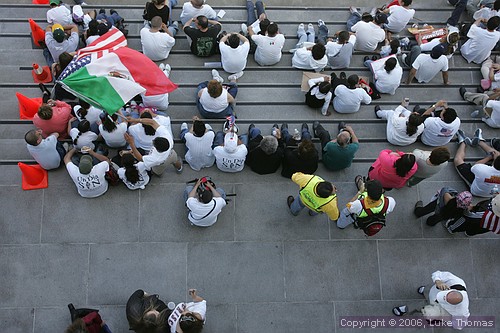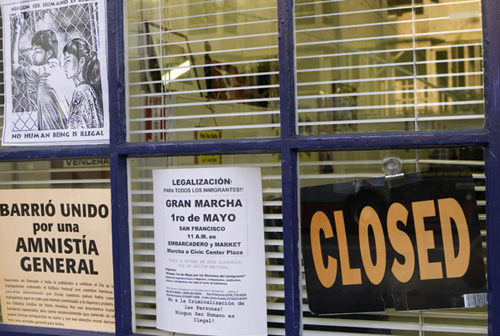 Photo by Sean Posey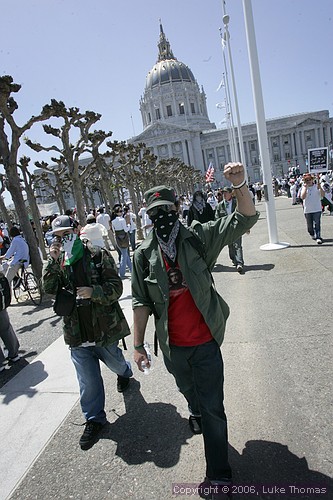 ####