Weekly Mayoral Debates Continue Friday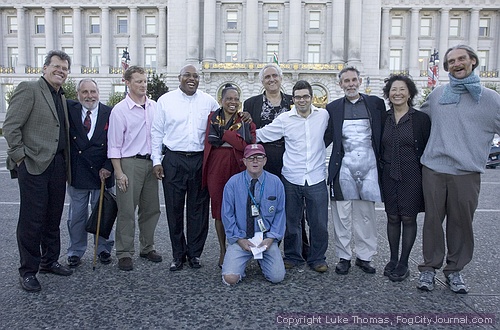 Mayoral candidates (from left to right) Tony Hall, Billy Bob Whitmer, Quintin Mecke,
Lonnie Holmes, Ahimsa Porter Sumchai, h. brown, Harold Hoogasian, Josh Wolf, George Davis, Wilma Pang and Grasshopper Kaplan.
Photo by Luke Thomas
From the campaign to elect Josh Wolf
August 30, 2007
SAN FRANCISCO - Following the success of the past two Candidates Collaborative debates, this Friday, Aug. 31, the San Francisco mayoral candidates will again gather at 5 p.m. in front of City Hall. Eleven of the 14 candidates are expected to attend. The debates, organized by the 2007 Mayoral Candidates Collaborative, will continue every Friday until the election in November.
The debate will start at 5 p.m. and run until 6:30 p.m. Beyond Chron is sponsoring this Friday's debate, and it will be moderated by Paul Hogarth. Each candidate will be given three minutes to introduce him or herself. The Candidates will then be provided with an opportunity to pose a question to Mayor Newsom, which will be presented to him in written form in the event that he does not attend. Hogarth will then ask the candidates where they stand on specific issues by a show of hands as well as ask specific questions to each candidate. The debate will conclude with the moderator taking questions from the audience for specific candidates or the entire panel.
Live Streaming on the Internet
For those unable to attend, collaborative will attempt to stream the debate live on the internet at www.sfdemocracy.net and FogCityJournal.com. Last week's trial-run, was unfortunately not successful as the municipal wi-fi provided for City Hall Plaza was not working. Calls to the City have not been returned.

About the Collaborative
The origins of the Candidates Collaborative can be traced back to the 2004 District Five Board of Supervisors' race when "Diamond Dave" Whitaker envisioned a forum through which candidates could unite around the issues they share, build alliances and provide a forum for all the candidates. With the help of Julian Davis' leadership, the first Candidates Collaborative proved an amazing success and nearly all of the 22 candidates participated, including Supervisor Ross Mirkarimi.
Host a debate
A representative from a different media outlet will present each debate in the series. Outlets interested in hosting a future debate are encouraged to contact Josh Wolf to schedule a forum session.
####