11th Candidates Collaborative Debate
to be held in the Castro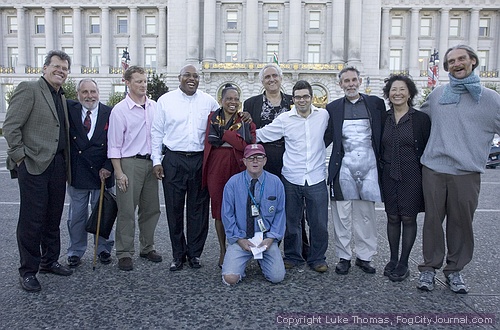 Mayoral candidates (from left to right) Tony Hall, Billy Bob Whitmer, Quintin Mecke,
Lonnie Holmes, Ahimsa Porter Sumchai, h. brown, Harold Hoogasian, Josh Wolf,
George Davis, Wilma Pang and Grasshopper Kaplan.
Photo by Luke Thomas
From the Mayoral Candidates Collaborative
October 23, 2007
SAN FRANCISCO - On October 31 thousands of revelers will flock to the Castro for the historical Halloween celebration, but as most city residents are already aware, this year's Halloween in the Castro has officially been cancelled. It's uncertain whether those coming to visit ever received the memo and how many will choose to ignore it, but this Friday, October 26, at 5:00 p.m., the 2007 mayoral candidates will be gathering at Harvey Milk Plaza (Castro MUNI Station) to participate in their 11th debate as the 2007 Mayoral Candidates Collaborative.
For the past 10 weeks, the San Francisco mayoral candidates have met in front of City Hall to debate the issues. This week they have decided to bring the forum to the Castro in an effort to bring attention to the questionable planning for this year's annual Halloween in the Castro celebration.
Ted Strawser, who founded SFPartyParty.com, will be moderating the debate and the forum will focus on Halloween in the Castro and how the city should work to facilitate community events as a whole. The weekly candidates collaborative will return to its usual location in front of City Hall for a final forum and straw poll on November 2.
Over the course of the debate series, nearly every candidate has participated with the majority taking part in every single forum. At least 9 candidates are expected to attend this Friday. The final event on November 2 will conclude the election season with an opportunity for those in attendance to vote for their favorite candidates.
The origins of the Candidates Collaborative can be traced back to the 2004 District Five Board of Supervisors' race when "Diamond Dave" Whitaker envisioned a forum through which candidates could unite around the issues they share, build alliances and provide a forum for all the candidates. With the help of Julian Davis' leadership, the first Candidates Collaborative proved an amazing success and nearly all of the 22 candidates participated, including Supervisor Ross Mirkarimi.
This years' Candidates Collaborative is dedicated toward working together to ensure that everyone's voice is heard. The debates have been attended by an eclectic mix of San Franciscans and have featured moderators from different media outlets as well as various community leaders.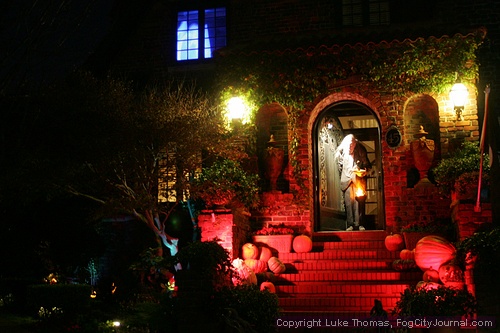 Contact: Josh Wolf (415)794-2401
wolfformayor@joshwolf.net
####