Mo' Better Blues avenge B.O.S. Hogs
Crowned season champions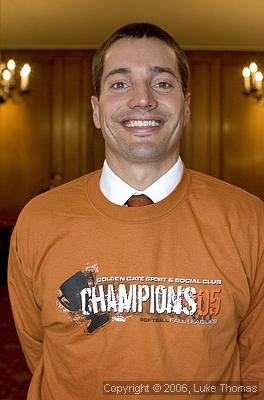 Wade Crowfoot, Mo' Better Blues manager
and team spiritual leader
Photo(s) by Luke Thomas
By Luke Thomas
January 11, 2006
A beaming Wade Crowfoot, manager of the Mayoral Mo' Better Blues softball team, dons a Golden Gate Sport and Social Club championship t-shirt on the morning after Mo' Better Blues exacted revenge against a crushed B.O.S Hogs team.
The two fiercely competitive teams met during the regular season on December 5, 2005. In that clash of titans, the BOS Hogs eased to a comfortable victory capping a pristine unbeaten season record.
But it was the Mayor's Mo' Better Blues team that came away with the season's highest accolades and lasting bragging rights, defeating its rival B.O.S Hogs by a score of 10-7 in the divisional playoff championship game.
"I have no idea how we managed to defeat the Hogs. They were rock solid all season and seemingly invincible, but somehow we managed to eek out a victory when it really mattered... and here we are now, season champions," Crowfoot explained.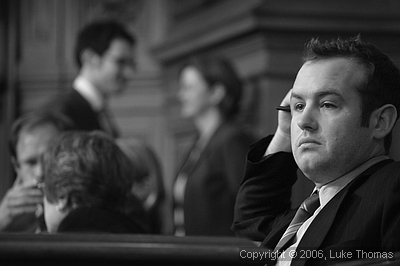 The agony of defeat in the facial expression
of B.O.S Hogs team manager, Boe Hayward,
at a loss for words during yesterday's Board of Supervisors meeting.
####