Morales awaits May hearing on death penalty constitutionality

Both sides shocked by last-minute execution postponement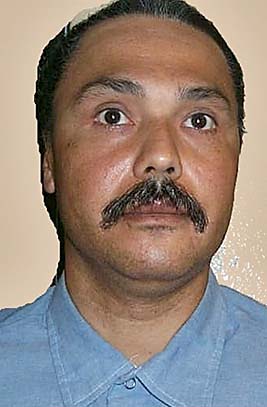 Michael Morales, Department of Corrections photo
By Laurie Isola, Bay City News Service
February 22, 2006
Condemned inmate Michael Morales, who was scheduled to be put to death Tuesday night at San Quentin State Prison, was moved back to his cell on death row Tuesday evening after his execution was postponed indefinitely, according to a prison spokesman.
San Quentin spokesman Vernell Crittendon said the state was unable to find a licensed medical professional to administer the lethal injection as required by a federal judge's order.
Morales was originally scheduled to be executed at 12:01 a.m. Tuesday but his execution was moved to 7:30 p.m. Tuesday after two anesthesiologists declined to participate because of ethical concerns.
U.S. District Judge Jeremy Fogel ruled Tuesday that the execution could proceed Tuesday night, provided the lethal chemical that was to be used be administered by a medical professional licensed by the state to inject medications intravenously. That requirement apparently spared Morales his life Tuesday night.
Crittendon said San Quentin Warden Steven Ornoski made the decision to indefinitely postpone the execution at about 5:45 p.m.
"After lengthy discussions, the decision has been made that the state cannot proceed with the execution under the conditions set by the district court,'' Ornoski's statement read.
Crittendon said prison officials expect that an evidentiary hearing will take place May 2 or 3 on the constitutionality of the state's lethal injection process.
Crittendon said he had spoken with Morales about the postponement.
"He was quite relieved to find that he was not going to be executed,'' he said.
However, the witnesses, who were to include family members of Morales' victim, Terri Winchell, were upset by the news, according to Crittendon. "They took this very hard,'' he said.
Morales, of Stockton, was convicted in 1983 of raping and murdering 17-year-old Lodi resident Winchell in 1981.
Meanwhile State Assemblyman Joe Nation, D-Sonoma/Marin, called on Gov. Arnold Schwarzenegger yesterday to declare a statewide moratorium on the death penalty.
Nation cited the withdrawal of participation for ethical reasons Monday night of anesthesiologists from the execution of San Quentin Prison inmate Michael Morales.
"Last month, there were medical procedural complications surrounded (sic) the lethal injection of Stanley Williams,'' Nation said. "We are talking about the state-sanctioned taking of human life and until we have answers to the serious questions that have been raised, I believe it's irresponsible to continue.
"A declaration by the governor, until a non-partisan commission as outlined in Assembly Bill 1421 (Koretz) can evaluate the validity of the death penalty in California, is not only morally ethical but sound public policy,'' Nation said in a statement.
Nation said the question regarding the Morales execution is not Morales' innocence or guilt but whether or not the death penalty is a humane form of punishment.
He said Schwarzenegger should examine capital punishment and its "judicial, fiscal and moral impact.'' Nation is running for Rep. Lynn Woolsey's seat in the House.
Those on both sides of the death penalty debate may have been shocked by the last-minute postponement of condemned inmate Michael Morales' execution. But those who make their living at San Quentin State Prison took the delays in stride.
Last-minute reprieves and legal turnabouts are things for which they prepare.
Prison Sgt. Eric Messick said, "We've dealt with this before. Not the same issue, but we've had delays before."
He continued, "On Feb. 9, 2004, we had a stay of execution in the hours just before the scheduled midnight execution of Kevin Cooper."
Cooper, convicted of the 1983 hatchet murders of four people, remains on death row.
Robert Alton Harris' 1992 execution was delayed by a series of four stays of execution issued by individual judges. Harris was scheduled to be executed at 12:01 a.m. on the morning of April 21. Instead, the convicted murderer finally faced the gas chamber just after 6 a.m.
"We were able to keep our security levels together and our staffing levels where they needed to be without too much difficulty," Messick recalled.

Copyright © 2006 by Bay City News, Inc. -- Republication, Rebroadcast or any other Reuse without the express written consent of Bay City News, Inc. is prohibited.
####