Morales execution halted
State of California unable to meet Federal Court order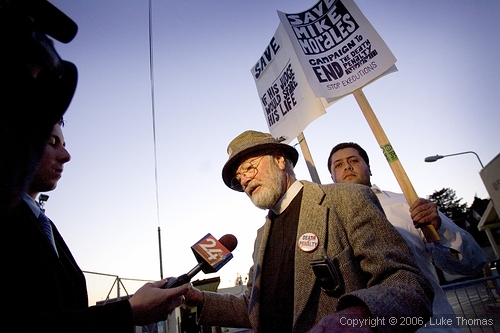 Religious leaders and protestors join a small rally outside San Quentin prison
to voice opposition to the death penalty. Moments before it was announced
Morales' execution had been halted.
Photo(s) by Luke Thomas
By Pat Murphy and Luke Thomas
February 21, 2006, 7:00 p.m.
The execution of Michael Morales did not occur tonight due to a Federal Court order the State of California certified it could not meet.
Morales, 46, was originally scheduled to be executed by a three-drug lethal injection.
Convicted murderer Morales was scheduled to die at 12:01 a.m. today, but the time was pushed back to 7:30 p.m. due to anesthesiologists' refusal to participate.
Throughout today the State sought permission to administer one five-gram injection of sodium pentathol rather than the usual three-injection series which begins with anaesthesia.
Federal Judge Jeremy Fogel granted the request this afternoon but ordered the injection be administered by medical professionals.
"Accordingly, while defendants may proceed with the execution this evening using only sodium thiopental, they may do so only if the sodium thiopental is injected in the execution chamber directly into the intravenous cannula by a person or persons licensed by the State of California to inject medications intravenously. The dosage used shall be at least five grams of sodium thiopental to be followed by a 20 cc saline flush as provided in Protocol No. 770,'' Fogel wrote in a ruling issued this afternoon.
That requirement apparently spared Morales his life tonight.
Shortly before 6:30 p.m. the California Attorney General's Office announced the State could not assure medical professionals would administer the injection.
Crittendon said San Quentin Warden Steven Ornoski made the decision to indefinitely postpone the execution at about 5:45 p.m.
"After lengthy discussions, the decision has been made that the state cannot proceed with the execution under the conditions set by the district court,'' Ornoski's statement read.

Crittendon said prison officials expect that an evidentiary hearing will take place May 2 or 3 on the constitutionality of the state's lethal injection process.

The announcement halted the 7:30 p.m. scheduled execution now thrown into indefinite delay.
Defense attorneys are expected to appeal to Federal Courts on the basis of constitutionally prohibited "cruel and unusual" punishments.
Morales, of Stockton, was convicted in 1983 of raping and murdering 17-year-old Lodi resident Winchell in 1981.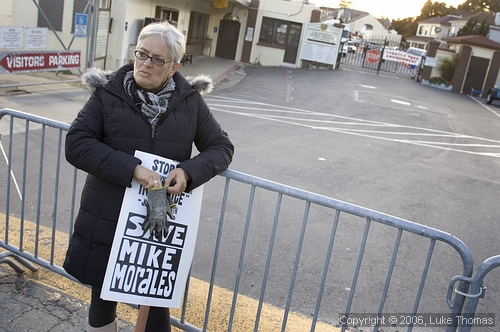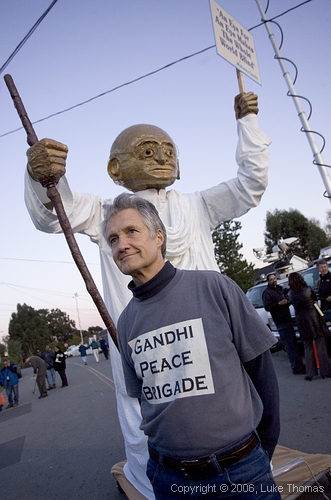 Bay City News Service contributed to this report.
####