Mayor Newsom's statement
on the passing of legendary
community activist Mary Rogers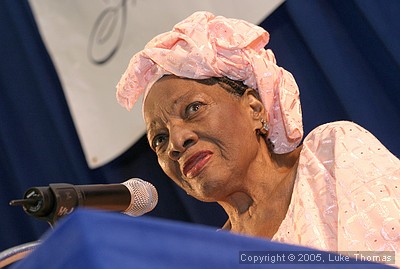 Mary Rogers at the ceremonial groundbreaking
of the Fillmore Jazz Center construction project, 10/11/5
Photo(s) by Luke Thomas
From the Mayor's Ofiice of Communications
March 4, 2006
San Francisco - Mayor Gavin Newsom issued the following statement on the passing of longtime community organizer and activist, Mary Rogers:
"Mary Rogers will always be known as the true matriarch of community activism in San Francisco. Blessed with a nurturing and ever-generous spirit, she unflinchingly came to the defense of those in need of a voice and a hand.
She helped put a human face on daunting issues facing fellow members of the African-American community and beyond.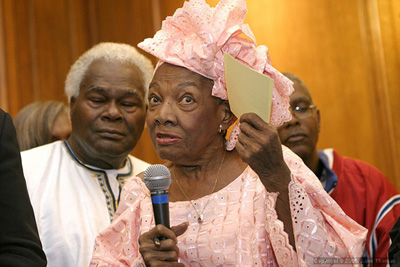 Mary Rogers holds sway in the Mayor's office during a press conference to announce CitySafe, 8/5/5.
Her inspirational and delightful presence at endless community meetings will forever be missed but never forgotten. She leaves behind the singular legacy of her dedication and the belief in the possibility of a better future for our children.
On behalf of the City and County of San Francisco, I humbly express my heartfelt condolences to the friends and family of the beloved Mrs. Rogers."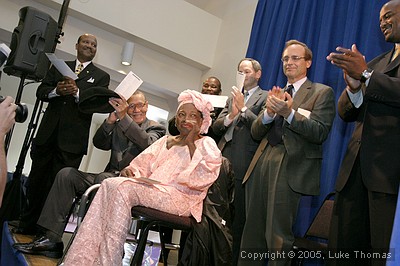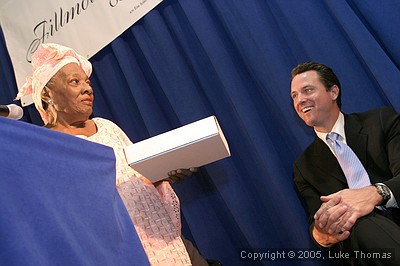 ####