Supes approve special events permit tsar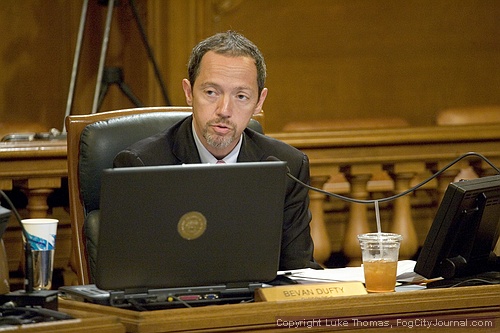 San Francisco supervisors approved an ordinance Tuesday establishing the position of Events Manager to oversee and manage the issuance of special events permits.
The legislation was sponsored by District 8 Supervisor Bevan Dufty.
Photo by Luke Thomas
February 7, 2008
San Francisco Supervisors approved an ordinance Tuesday establishing a new Entertainment Commission position to oversee and manage the issuance of special events permits.
District 8 Supervisor Bevan Dufty, whose district includes the Castro District, sponsored the legislation to help prevent violence during Halloween celebrations.
In 2006 nine people were shot during the popular Halloween event that attracts as many as 250,000 revelers to the streets of San Francisco. In 2002 five people were stabbed.
Following the shootings in 2006, city officials proclaimed the Castro District a 'no-party zone' and attempted to move the Halloween party to other areas of the city where crowd control would be more manageable. Those plans, however, fell through.
"We took this whole train that was running off the track and stopped it," Dufty told The Chronicle at the time. Planning since then has concentrated on bringing celebrations safely back to the Castro and the city.
The new position could help to revitalize such celebrations, Dufty suggested, stating "San Francisco could have a world class Halloween." He cited Paris' Nuit Blanche event as an example of how large-scale city events can be successfully organized to prevent violence.
Dufty said the new oversight manager, who will receive a salary of $45,000, will be responsible for the promotion and safety of city events as well as putting into action the City's "ambitious to-do-list" of future events.
--
####