Newsom moves to redesign homeless shelter services
"We must accelerate the struggle against homelessness
by redesigning our shelter system"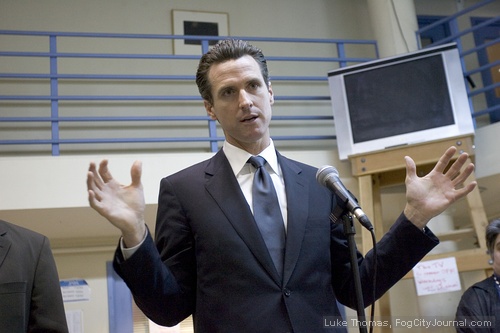 San Francisco Mayor Gavin Newsom held a press conference yesterday at a homeless shelter operated by St. Vincent de Paul Society to announce plans to centralize homeless shelter support services.
Photos by Luke Thomas
February 15, 2008
Mayor Gavin Newsom yesterday announced plans to redesign San Francisco's two largest emergency shelters, Episcopal Community Service's Next Door and Multi Service Center South, making them centralized providers of homeless support services.
The two shelters totaling 560 beds will offer a range of support services including educational programs, job seeking assistance, and counseling.
Central to the redesign are improvements to shelter healthcare for the sick and disabled, providing increased respite beds, onsite medical care, and transport for bringing clients from the street.
"We must accelerate the struggle against homelessness by redesigning our shelter system so that they are no longer just refuges of last resort, but spaces where homeless San Franciscans can find the resources they need to exit homelessness," said Mayor Gavin Newsom.
Newsom believes an integrated care system will accelerate clients' movement into stable housing situations, pointing to the 8-week turnaround already shown at the City-funded McMillan Drop-In Center.
For those who don't already have stable housing, the current continuum care model isn't working, Newsom said.
"It is just all spokes in a wheel, spokes leading to someplace else. You've got this non-profit here, this city agency there. It's all over the map," Newsom explained.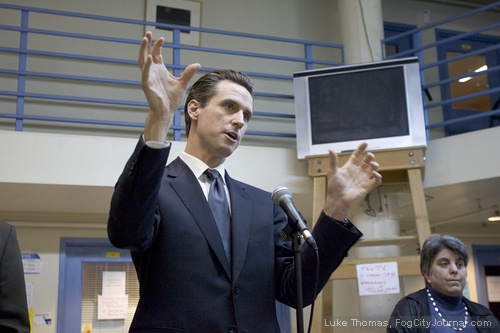 Under this system "the issue of poverty is only further exacerbated" and places homeless people in "comedic" cross-town struggles to get support, Newsom continued.
Newsom indicated that Project Homeless Connect, a bi-monthly one-stop-service provision established in 2004, demonstrates the efficacy of integrated support services.
"It's been a big success and I'm very proud of it," Newsom said, "[but] it's only every six weeks or so. The idea now is to make Project Connect more permanent, to make it a day-to-day experience so that people who need something don't have to wait six weeks."
Shelter Monitoring Committee Chair Quintin Mecke expressed concern that provision of these services would come at the cost of general shelter services.
"Medical respite is just one particular need. You're lowering the number of beds available to everyday homeless individuals," Mecke said.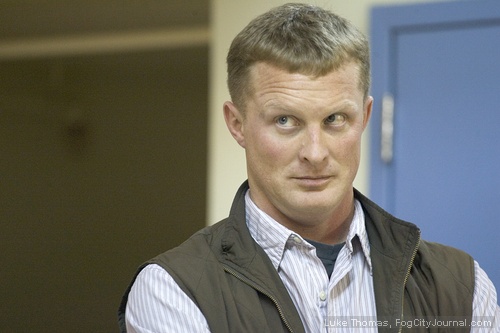 Shelter Monitoring Committee Chair Quintin Mecke
The availability and quality of shelters should be improved first, Mecke argued: "It's health and hygiene, it's toilet paper, it's soap, it's towels… There's a whole range of issues."
Newsom said these arguments missed the point. Why fix the plumbing, when what you want to do is rebuild the house, he argued.
"We could spend tens of millions of dollars on patchwork, but we're not solving any problems here," Newsom said.
San Francisco needs a model that "focuses on stabalising individuals and providing them the wraparound services onsite that deal with the reasons they were out on the streets in the first place," Newsom said.
With little assistance from Federal or State agencies, San Francisco expends as much as $104 million per year from the City's general fund on homeless programs.
"I'm not sure if we're getting even one dollar of Federal support into the emergency shelter system," responded Homelessness Policy Director Dariush Kayhan to Fog City Journal inquiry.
"Frankly, the Federal government has not been there for us," Kayhan added.

Homelessness Policy Director Dariush Kayhan
Former Board of Supervisors President Angela Alioto, however, disputed Kayhan's claim stating that through the efforts of the San Francisco Ten Year Plan Implementation Council (TYPIC), a record $19 million in Federal funds has been obtained under the McKinney-Vento Act.
"We received basically $19 million. We've received more Federal funding in the last four years than the city (gained) in the last 50 (years)," Alioto said.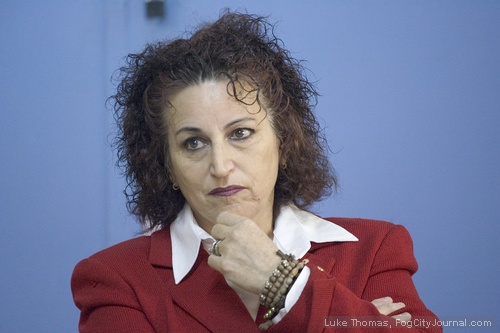 TYPIC Chair, Angela Alioto.
Luke Thomas contributed to this report.

--
####