Sandoval seeks to bring diversity to Superior Court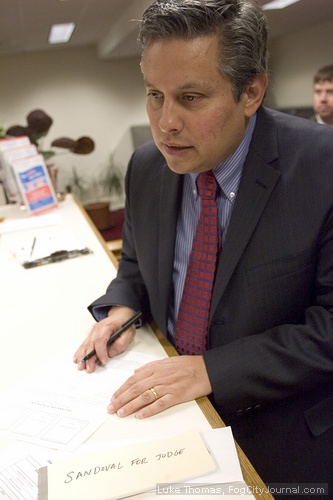 District 11 Supervisor Gerardo Sandoval filed papers Thursday
at the San Francisco Department of Elections officially declaring
his candidacy for Superior Court Judge.
Photo by Luke Thomas
February 2, 2008
District 11 Supervisor Gerado Sandoval signed documents at City Hall Thursday launching his campaign to become a Superior Court judge and to bring more diversity to the bench.
Sandoval argues there is an "appalling lack of diversity" amongst the 63 judges currently serving in the Superior Court.
"You have judges who predominantly come from downtown law firms where they practice business law and whose clients are large corporate entities," Sandoval told Fog City Journal.
Sandoval said he believes that these judges' backgrounds "do not adequately reflect San Francisco," which prevents them dispensing effective justice. "You often hear attorneys who represent small clients complaining that the judges do not have the appropriate sensitivity to their cases," he said.
"The law is not created in a vacuum. The law is not fact, but rather reflects the life you have had," Sandoval continued. "When judges are appointed to the bench who are monolithic in background it's a disservice to the public and government."
Sandoval said the Superior Court should include different perspectives to properly reflect the community.
"We need a bench that has lawyers from family law practice as well as corporate law, people who come from juvenile law practice as well as criminal law, people who work in small practices as well as big practices," he said.
He clarified that he isn't calling for a more progressive court, saying "It's not a question of Progressive or Republican or Democrats but rather, it's a question of different points of view… you need republicans, you need progressives, you need people of all types."
Sandoval criticized the current system of Governor-appointed judges who continue to serve unless challenged at the end of each 6-year term, saying this prevents diversity in the court.
"The last four governors were not very likely to give you [a diverse] kind of experience and viewpoint," he said.
This "not particularly democratic" selection is maintained because "very few appointments are challenged," states Sandoval on his website. He believes elections must be used to achieve a more diverse judiciary, telling Fog City Journal that "Judicial appointments by governors have left us no choice but to exercise the safeguard given to us under the California Constitution of going to the voters."
Sandoval, who terms out of his District 11 seat on the Board of Supervisors this year, will challenge incumbent Republican Thomas A. Mellon who has been serving for 12 years. Mellon was appointed in 1994 by former Governor Wilson after 18 years practicing private business litigation.
"I'm sure he will put up a good fight," Sandoval commented, recognizing that Mellon has reached his current position because he has significant resources and friends.
"But certainly I feel good about my chances," Sandoval added. He indicated how his role as Supervisor has helped prepare him: "We write laws here [at City Hall], that's what we do, and I'm going to take that experience to the bench….the work that we do is a quasi judicial function."
Sandoval's campaign is endorsed by seven members of the Board of Supervisors, including Tom Ammiano, Bevan Dufty and President Aaron Peskin, and by San Francisco State Senator's Carole Migden and Leland Yee.
Should he be elected, Sandoval has stated he will complete his full term as Supervisor before joining the judiciary in January 2009.
Judicial elections will take place on June 3rd.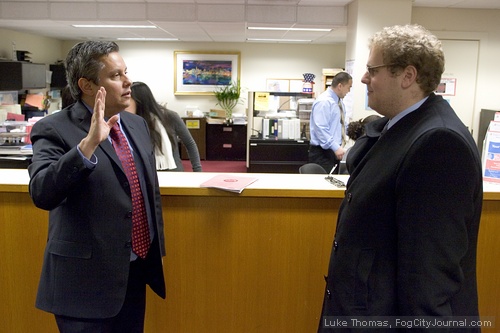 Sandoval pledges his oath of office to campaign staffer Max Seigel.
More information
--
####