Zoo corrects grotto safety design flaw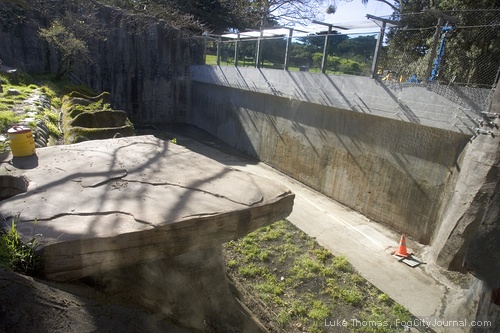 Workers near completion of safety modifications made to the big-cat exhibit at the San Francisco Zoo in response to a fatal attack by a 250-pound Siberian tigress that managed to escape its grotto Christmas Day, killing Carlos Sousa, Jr. and mauling two friends, before being shot dead by police.
Photo by Luke Thomas
February 11, 2008
Construction workers are near completion of a safety design overhaul of the big-cat exhibit at the San Francisco Zoo.
The $1 million renovation seeks to address safety failings exposed after a tiger managed to escape its enclosure on Christmas Day, killing Carlos Sousa Jr, and mauling his two friends, Kulbir and Paul Dhaliwal.
Tatiana, the 250-pound Siberian tigress, was shot dead when police arrived on scene.
The modifications include raised walls, electrified wires and glass barriers bringing into compliance the height of the moat wall -- previously 12.5-feet -- to a total height of 19-feet, above The Association of Zoos & Aquarium's guideline of 16 feet and 4 inches.
Construction workers have been "working twenty four hours a day" to complete the alterations, said Zoo spokesperson Paul Garcia. Following a period of animal re-acclimatization, the zoo hopes to re-open the exhibits within three weeks.
A panel of zoo experts visited the zoo Saturday to report on whether the modifications have sufficiently improved public safety. Zoo management refuted criticism the panel has been handpicked to provide a soft report.
"They work for well-established organizations," Garcia said.
"We're looking for, and we welcome suggestions, because we want to make this one of the best zoo's in the world and we want Bay Area residents to be proud of the zoo," Garcia added.
Alongside safety concerns, the escape also raised broader questions about the zoo's function.
It's "a wake-up call alerting us to fundamental problems," said Suzanne Roy of In Defense of Animals (IDA). A study by the group found enclosures to be an "impoverished environment…very stark and sterile."
"When these exhibits first opened in the 1940's these were considered modern exhibits," responded Garcia. "Back in the day, most of the zoos had big cats in a cage-like environment."
"San Francisco Zoo was one of the first zoo's to really create this environment," Garcia said.
The IDA denounces the zoo's current treatment of animals as outdated, citing "a pressing need to transform [the zoo] into an institution that places priority on the well-being of animals."
District 6 Supervisor Chris Daly said the zoo "should be transitioned to a rescue zoo."
Garcia contends the zoo already acts as a sanctuary. "We do also serve as a rescue center," he said. "The greatest story I can tell right now is of our grizzly bears…just three years ago they were facing an untimely death."
While recognizing zoo efforts, IDA's Deniz Bolbol said more must be done.
Garcia highlighted the zoo's educational role, saying "It's more or less an education classroom if you think about it - over 18,000 schoolkids come to visit. We participate in after school programs and bring some of our small animals."
Bohbol contends that it isn't true education to observe "stressed behavior" of animals in captivity.
"The vast majority of people don't even know what they're looking at," she said.
--
####