- NOW in FOG CITY JOURNAL -
NOTE: For subscribers who cannot read HTML-formatted text, click here

---
Falun Gong out of San Francisco New Year's Parade
Group lawsuit claims religious discrimination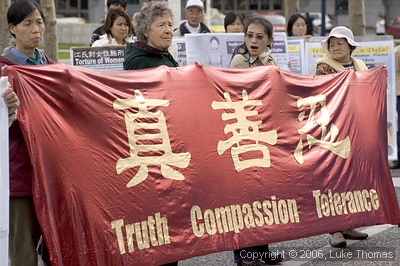 Photo(s) by Luke Thomas
By Brent Begin, Bay City News Service

January 19, 2007
SAN FRANCISCO (BCN) - Members of a spiritual movement forbidden in China hope a lawsuit filed a year ago will apply enough pressure on San Francisco leaders to allow the group to march in the annual Chinese New Year parade.
Falun Gong practitioners in San Francisco claim in a lawsuit that they have consistently been denied entry into the annual parade based on the basis of religious discrimination.
Full story, click here.
---
California hospitals will miss earthquake preparedness deadline according to Rand report
By Tamara Barak, Bay City News Service

January 19, 2007
Almost half of California's hospitals will fail to meet the state's earthquake safety requirements by the 2013 deadline, according to a report released Thursday by the California HealthCare Foundation.
The report, conducted by the RAND Corporation as a follow-up to a 2002 study, found upgrading hospitals to meet the deadline could total as much as $110 billion.
Full story, click here.
---
Is the mainstream American press
in cahoots with the Pentagon?
Horror story of 6 murdered Iraqi girls and their mother
by U.S.soldiers brushed aside
Special to Fog City Journal
January 18, 2007
On a cold and foggy Umbrian night in December 2006, I was preparing to go to a small dinner party in the center of Trevi, the roman hilltop town next to Assisi. I walked over to turn off the TV when I heard the BBC talking about Iraq. The announcer's voice was trembling when he said, "six little girls ranging in age from 6 months to 8 years old were shot to death in their home. An unidentified woman was lying next to them grasping the baby."
Full story, click here.
---
Letters
- Americans are not getting the complete story
Letters, click here.
---
Bay Area Weather Forecast

Current satellite photo courtesy NOAA Satellite Service

Current radar image courtesy NOAA Satellite Service

Weather, click here
---
More Fog City Journal stories, click here.