Overheard in Fog City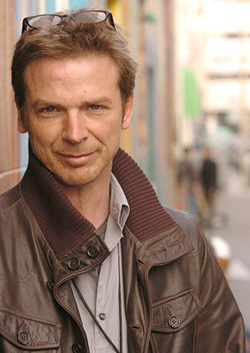 Luke Thomas, Fog City Journal publisher.
Photo by Adam Aufdencamp
By Luke Thomas
December 16, 2006, 9:00 a.m.
It's official: Leno will challenge Migden - Let the mudslinging begin
Correction, December 18: It's now unofficial that Leno will challenge Midgen
for the District 3 seat, but you can bet the farm it will be made official soon.
Read Leno's letter of correction here.
California District 13th Assemblymember Mark Leno has made it official: he will challenge California Senator Carole Migden for the 3rd Senate District seat in 2008. Leno made it official last night on the occasion of the annual Harvey Milk Club holiday season soiree.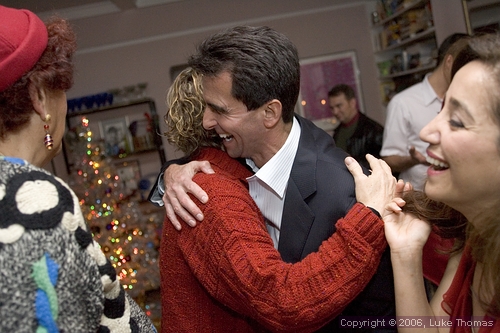 Mark Leno receives holiday season hugs from Debra Walker after officially proclaiming he will challenge Migden for the California District 3 senate seat in 2008..
Leno, who terms out of office next year, had been at the source of much speculation about his political future and considered by some as a possible contender against Newsom in next year's race for mayor.
Instead, Leno has set his sights on Migden who shares some difficult history with Leno dating back to her 2002 endorsement of Harry Britt over Leno for assembly, a race Leno went on to win.
Leno made it clear to Fog City Journal he has not forgotten that betrayal.
Furthermore, a David Binder poll commissioned by Leno suggests Leno will comfortably upset Migden. Leno declined to comment on the poll details but said he was "very encouraged" by the results.
+ + +
Migden left the party by the time Leno arrived thus averting some dramatic theatre and potentially explosive moments between the two.
According to party regulars Migden last showed up at the annual Christmas cheer-fest ten years ago and some viewed her unusual attendance last night as a move to shore up support for the Harvey Milk Club endorsement, an endorsement expected to divide Harvey Milk Clubbers who have historically endorsed both Leno and Migden in past races.
Commenting on Leno's challenge to Migden, Migden told Fog City Journal, "He's a little nutty… and he's out of a job. What else is he going to do?"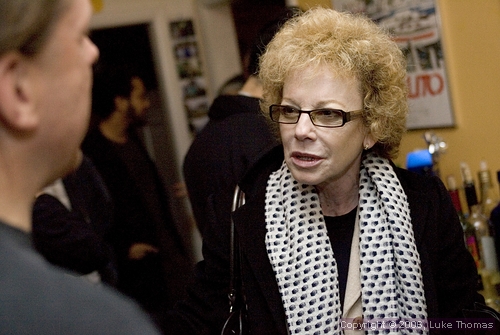 Senator Carole Migden
Leno, responding to Migden's 'nutty' comment said, "there's nothing nutty about it. Migden doesn't live in her district and we need leadership."
With Leno's official announcement coming so early in the political season, the two candidates have ample time to load up their guns and prepare for battle in what could be one down and dirty mud-fest.
Advice to both candidates: You don't need big endorsements to win races these days. Just ask Supervisor Ed 'come-from-behind' Jew and College Board Trustee John 'squeaker' Rizzo about winning elections by connecting directly with voters in person.
Alioto prepares for war
Recently renamed Nancy Peskin, wife of District 3 Supervisor Aaron Peskin, formally Nancy Shanahan, is rumored to be preparing for a run for the District 3 Supervisor seat when her husband terms out of office in 2008.
Shanahan, Historian for the Telegraph Hill Dwellers Association, has met the ire of former San Francisco Board President Angela Alioto over Alioto's St. Francis of Assisi replica chapel project scheduled for completion in October 2007.
Tensions between the two began with Shanahan imposing costly construction adjustments on Alioto's chapel project; amendments Alioto views as being designed to stall the project and to hide the chapel's façade from public view.
Alioto says Shanahan's shenanigans are an example of "political corruption at its worse" and says Shanahan is abusing her position to play politics with anyone she deems a threat to her political aspirations in the district.
A powerful attorney and litigator with a reputation for taking no prisoners, Alioto told Fog City Friday she is considering legal action against Shanahan and the Telegraph Hill Dwellers Association.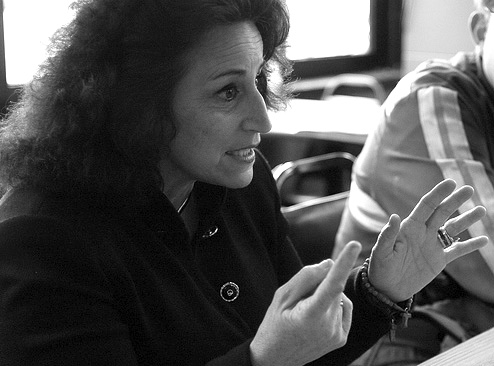 Angela Alioto at yesterday's weekly Bulldog Salon luncheon.
Photo by Adam Aufdencamp
And, just to make things even more interesting for political theatre dwellers, Alioto says she will personally manage a political campaign against Shanahan if either of her sons, Joe or Gianpaolo Alioto-Veronese, or her nephew, Joseph, decide to run against Shanahan for District 3 Supervisor.
DCCC Chair Scott Wiener fires DCCC Administrator Director Donald Price
Wiener's reason for firing Price, according to Price: 'We [DCCC] are going in a different direction.'
What Price believes to be the real reason: "I'm not white, not political and not progressive."
A DCCC source close to the matter told Fog City on Sunday, "Price was fired for cause related to his performance and his firing has nothing to do with his race or his politics."
Mirkarimi on latest attempt by Newsom to derail BOS Foot Patrol legislation:
"He [Newsom] is unravelling. He's got to be consistent with his first veto attempt, but it's politically misguided."
And in other news...
Fog City Journal publisher Luke Thomas and San Francisco Chronicle staff writer Lance Williams were honored yesterday by the San Francisco Neighborhood Network for "cutting edge journalism."
Thomas, in his acceptance speech, accepted the prestigious 'Enny' award on behalf of all Fog City Journal contributors who, he said, have been pivotal in Fog City Journal's success.
Williams, who faces federal prison in February if he and fellow writing partner Mark Fainaru-Wada refuse to disclose their source of leaked BALCO grand jury testimony, says he and Fainaru-Wada are prepared to go to prison to protect their source and to protect the first amendment freedom of the press provision cemented into the U.S. Constitution.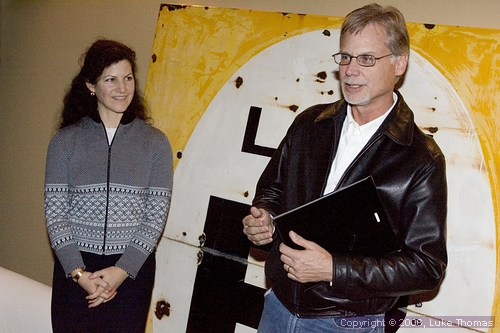 San Francisco Chronicle staff writer Lance Williams receives his 'Enny'
from FCJ i-Team investigative journalist Daniela Kirshenbaum.
####