Overheard in Fog City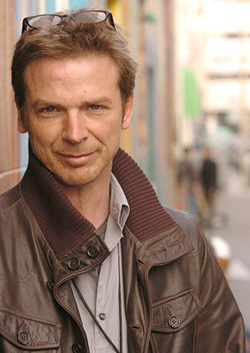 Luke Thomas, Fog City Journal publisher.
Photo by Adam Aufdencamp
By Luke Thomas
January 8, 2007
Matt Gonzalez said to have said…
… he's going to run for Mayor! You heard it here first (unofficially of course).
The million dollar question remains, for now, unanswered: When will Gonzalez announce?
According to an elected confidant and fellow political missionary, Gonzalez should declare now to begin the fundraising effort.
Other brothers of family crest and graduates of Sun Tzu teachings opine mid-July is the opportune time to Blitzkrieg Bop.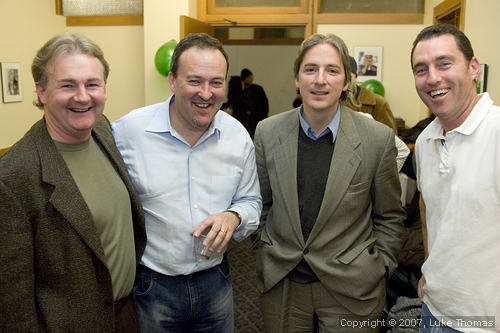 Former Board President Matt Gonzalez with RBA clan members Angus McCarthy,
Richard Hart and RBA Chieftain Sean Keighran.

School Board shifts to the left with the feminine touch
With the swearing in of Board Members Jane Kim, Hydra Mendoza and Kim-Shree Maufus, Friday, the San Francisco School Board has decidedly shifted to the left.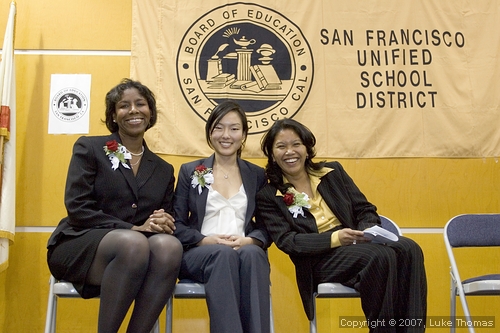 San Francisco School Board members Kim-Shree Maufus, Jane Kim and Hydra Mendoza.

Whereas before, when a more conservative body dominated the board, the new seven-member panel is now comprised of four solid progressive members including Mark Sanchez, Kim-Shree Maufus, Jane Kim and Eric Marr.
The board has also made a shift to the political anima which should bode well in protecting San Francisco public education by working with the city to help push and prioritize affordable housing for low-income families.

Daly throws a party for Jane Kim
Following the San Francisco School Board swearing in ceremony, Friday, Supervisor Chris Daly threw a lavish City Hall soiree for newly elected board member Jane Kim. As many as 300 party goers attended the merry fest, feasting on Asian delicacies and imbibing cocktails named after Kim and Daly.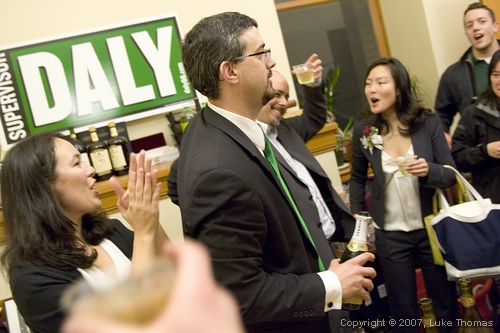 Chris Daly toasts Jane Kim (right) joined by Sarah Low Daly (left) and School Board Member Mark Sanchez.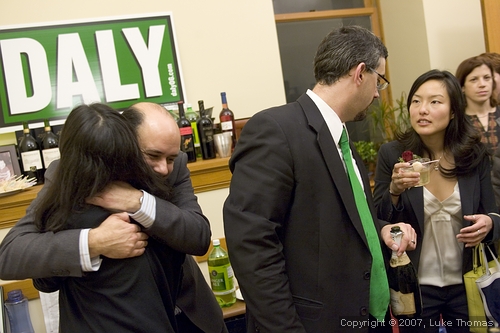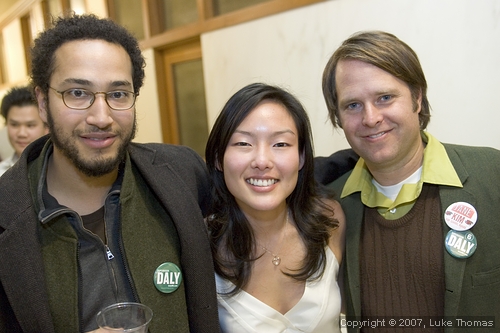 Julian Davis, Jane Kim and Andrew Blue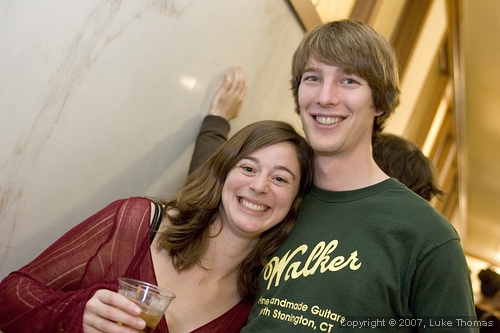 Seth Walker and fiance Deirdre Lehn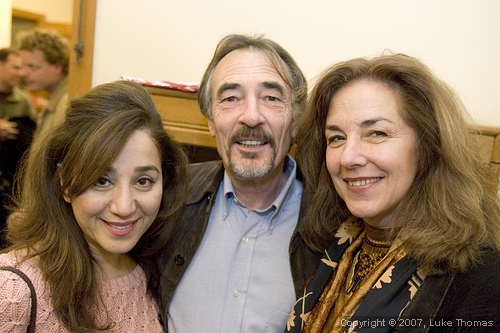 Sasaneh Solimani RN BSM, Political Consultant David Sloan and Publisher Shima Moore

It's Question Time
Mayor Gavin Newsom's been taking some heat lately for dodging the will of the voters who passed a non-binding ordinance requesting the Mayor of San Francisco to attend Board of Supervisor meetings, to answer questions posed by Supervisors.
56 percent of San Francisco voters said it should be so.
Now, since we don't live under a parliamentary system (and that's a real shame) where Prime ministers all around the world routinely engage in rich and artful debate, making a version of Question Time that works with the present form of San Francisco government is going to be a little like putting a big circle into a little square.
Nevertheless, the public hath spoken and Newsom cannot afford to snub voters in an election year.

Pelosi says no to Bush troop level increase in Iraq
After almost 500 billion dollars has been wasted on the war in Iraq, Pelosi is now standing up to Bush and saying"no blank check" for Iraq, suggesting the new congress could use its authority to hasten an end to the war.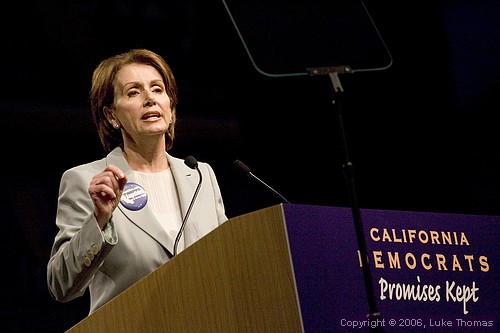 Speaker Nancy Pelosi. File photo.
With Pelosi now elected Speaker and congress firmly in the hands of Democrats, Pelosi could also begin impeachment proceedings against Bush and Cheney and hasten her path to the presidency, if only for a short time before voters go to the polls to elect a new president in 2008.
But, impeachment is unlikely since Pelosi committed herself to taking impeachment off the table.
Meanwhile, 53 percent of Americans, according to a Zogby poll, believe Bush should be impeached; 59 percent of San Franciscans voted for Measure J calling for the impeachment of Bush and Cheney; and 1000 Americans gathered at Ocean Beach, Saturday, in the heart of Pelosi's constituency, to spell out the message "IMPEACH".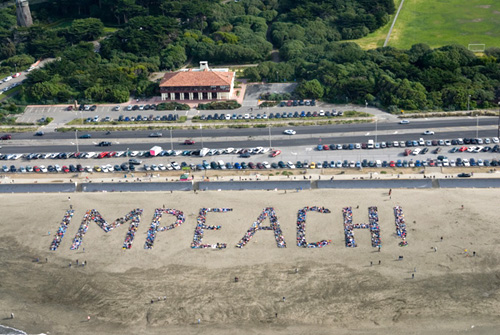 Photo by John Montgommery, Beach Impeach Project.
####