Overheard in Fog City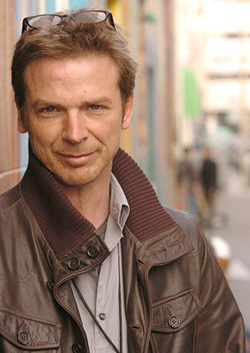 Luke Thomas
FCJ Publisher and Editor-in-Chief
Photo by Adam Aufdencamp
By Luke Thomas
May 24, 2007, 3:45 p.m.
Tony Hall files to run for Mayor of San Francisco
Former District 7 Supervisor Tony Hall has, today, ended months of speculation about his intent to run for Mayor of San Francisco.
Hall called Fog City Journal this afternoon from City Hall indicating he was in the process of filing the required papers at the Department of Elections.
Asked what Hall's message and platform will consist of, Hall responded: "To put it simply, to solve the problems that have been ignored... the major problems of this city for the last three and a half years.
"There's a whole host of problems, but we can start with the major ones. Homelessness, his [Mayor Gavin Newsom] Care Not Cash has been a colossal failure to the point where he's now warehousing homeless people up at Laguna Honda to camouflage the failings of Care Not Cash.
"Crime. Violent crime is up thirty percent by anybody's statistics. The homeless count, of course, is up by twenty-five to thirty percent by Gavin's own statistics.
"The big issue for me, with seven children and an extended family, which goes to a lot of San Franciscans, is the livability and affordability of this town.
"We're losing our middle class. San Francisco is becoming a town of the rich and the poor through this mayor's policies. For the last three and half years this town has been pieced off, piece by piece, to the wealthy, highest special interest donors to his campaign. That's got to stop. That's very un-San Franciscan."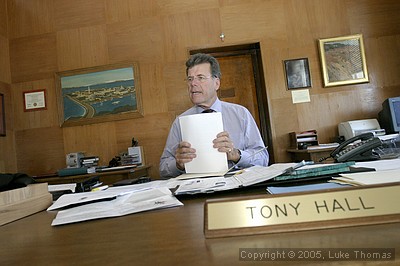 Tony Hall
Reached by phone for comment, Newsom Campaign Manager Eric Jaye welcomed Hall into the race.
"First of all, welcome to the race. We look forward to a vigorous debate. That's what campaigns are all about," Jaye said.
"The Mayor looks forward to presenting his record, his vision, his plan to make San Francisco even better in the next four years.
"The attacks Supervisor Hall leveled today... we hope those are not indicative of the type of campaign he intends to run."
####