Overheard in Fog City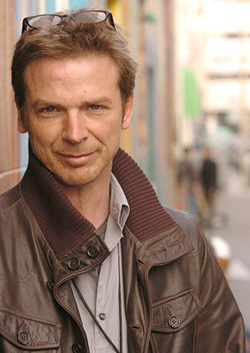 Luke Thomas
FCJ Publisher and Editor-in-Chief
Photo by Adam Aufdencamp
By Luke Thomas
September 19, 2007, 11:00 a.m.
Has Ballard impeached himself?
Newsom Communications Director Nathan Ballard may have impeached his credibility over questions raised about whether the Newsom administration consulted with the City Attorney's office before distributing a request for letters of resignation from commissioners and department heads.
The request for resignation letters has drawn criticism for creating legal problems as well as creating unnecessary anxiety, morale and loyalty problems among staffers and commissioners.
On Friday Ballard told Fog City Journal that the Mayor's Office consulted with the City Attorney's office, "all along the way."
However, Ballard admitted on Monday to Bay Guardian City Editor Steve Jones that "Newsom had not contacted the City Attorney's Office before announcing his plan, nor had he sought any outside legal advice."
Yesterday Ballard contradicted Jones claiming the Newsom administration consulted with the City Attorney before sending out the letters.
"Before the actual letter went out from the Mayor's Office, the City Attorney had been consulted in depth. Absolutely 100 percent, I witnessed it," he said.
When pressed further about the City Attorney's involvement with the letter, Ballard said: "The City Attorney's office was involved in the drafting of that letter."
Although the City Attorney's office declined to comment about its involvement with the letter under protection of "attorney-client privilege," a source inside the City Attorney's office indicated Newsom's letter created a "mess" for the City Attorney.
The City Attorney, according to the source, is preparing a disposition brief to address the legal concerns created by Newsom's request for resignations and, perhaps, will indicate to which extent the City Attorney was involved in drafting the letter.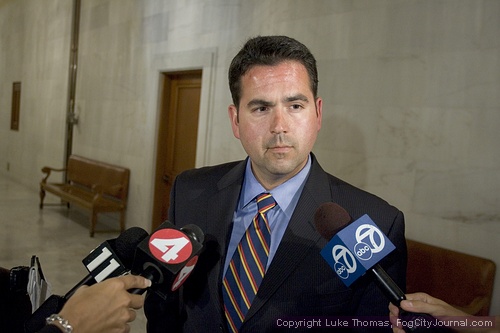 Newsom Communications Director Nathan Ballard.
Chicken John Rinaldi awaits public financing decision
Mayoral candidate Chicken John Rinaldi could find out today if his mayoral campaign has qualified for the first tier of public financing. Rinaldi received notice from the Ethics Department on Friday that $20,000 worth of campaign contributions were rejected. Rinaldi must prove that $25,000 of the contributions were donated from San Francisco residents to qualify for public financing.
"They rejected my filing and they asked me to re-file with the Paypal information. Tomorrow I'll resubmit by 5 O'clock," Rinaldi said yesterday. "They approved $5,000 and rejected $20,000 because of the Paypal problem. Some more than $14,000 of that is Paypal. If I don't get the public funds, it's because I couldn't satisfy the burden of proof."
According to a reliable source, Rinaldi has stated that should he qualify for public financing, he will use the funds to build a massive art structure and throw lavish parties for his supporters.
Questions about Rinaldi's motives for running for mayor have been raised. By his own admission, Rinaldi is not running to win or to go negative to actively challenge Newsom. He refuses to attend debates and admits lacking understanding of the most pressing issues facing San Francisco.
Rumors have long swirled that Mayor Gavin Newsom, upon likely re-election, will appoint Rinaldi to the Arts Commission.
Rinaldi denied suggestions of collusion with Newsom but conceded, "I could use a job. I need health insurance."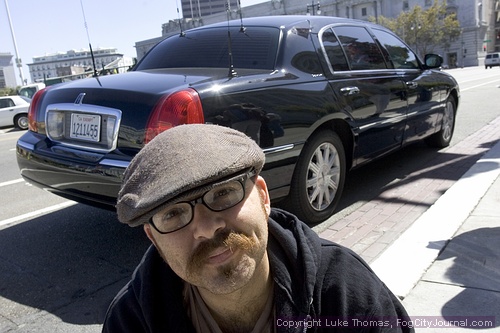 Chicken John Rinaldi
Alioto Veronese Kicks Off Senate Bid with Rally in Bayview-Hunters Point
San Francisco Police Commissioner Joe Alioto-Veronese yesterday kicked off his District 3 Senate bid at the Huntersview housing complex in Bayview-Hunters Point.
Alioto-Veronese, the grandson of former San Francisco Mayor Joseph L. Alioto, was introduced by his mother, former San Francisco Supervisor Angela Alioto. He was joined by campaign supporters, residents, and community leaders.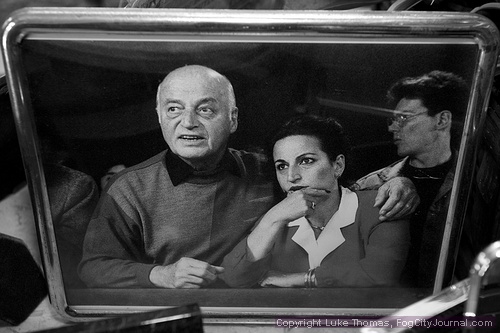 Former San Francisco Mayor Joseph L. Alioto and former Supervisor Angela Alioto.

"For many years there has been a silent tragedy here in Huntersview. First, when the Navy moved out, they left their toxic soil for our children to play in here in this neighborhood, and the government was silent," Alioto-Veronese said. "Then, when PG&E moved in, they moved in with their toxic plumes in the air so your children could breath in. Government was silent until Angela Alioto stepped up to the plate."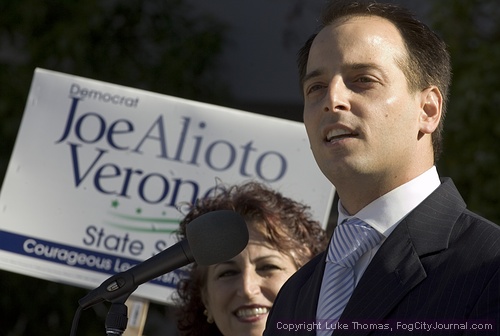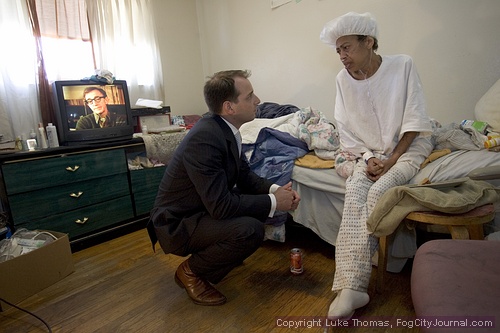 A woman who has been afflicted with respiratory problems is consoled by Alioto-Veronese.
"Then, when HUD moved in with these buildings here and let them dilapidate so that you can all live in them while the sewage comes up to your kitchen sink... the government has been silent. And now with Lennar with their toxic plumes...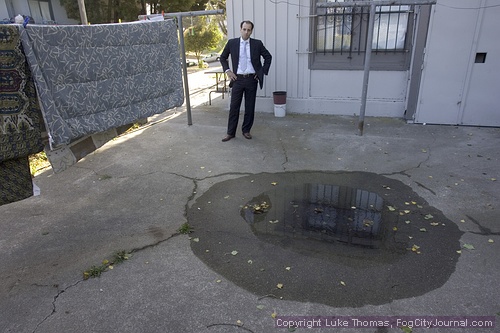 Raw sewage seeps into the backyard of a house in the Hunterview housing complex.
"But not anymore because my law firm, my mother's lawfirm, we are standing together with the nieghbors here in Huntersview in Hunters Point and we are going to fight Lennar. We're going to take them to their knees like we have done with all the corporations that we have gone up against."
Alioto-Veronese faces incumbent Senator Carole Migden and Assemblymember Mark Leno in the race.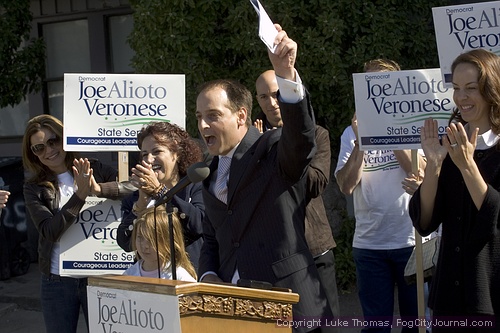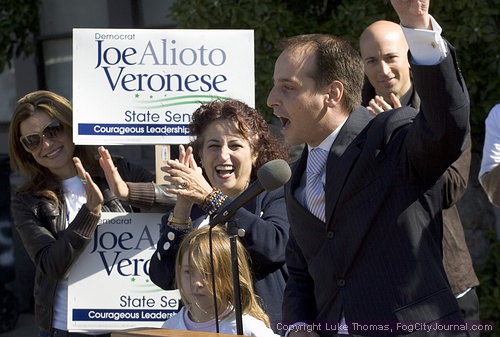 ####