Overheard in Fog City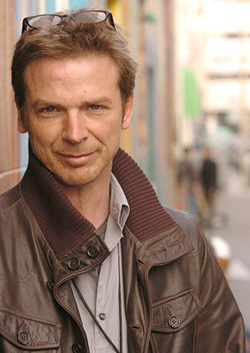 Luke Thomas
FCJ Publisher and Editor-in-Chief
Photo by Adam Aufdencamp
By Luke Thomas
September 27, 2007 3:00 p.m. (Updated 10:08 p.m.)
Fortner to resign
San Francisco Housing Authority Executive Director Gregg Fortner will formally tender his resignation at today's regularly scheduled commission meeting, according to a reliable source.
Fortner has been under pressure to resign following Mayor Gavin Newsom's criticism of the agency's performance problems.
Insiders are tipping Commissioner Millard Larkin to replace Fortner though Commissioner Amos Brown is said to be exerting pressure to win the nomination.
The Housing Authority Commission, which has has the authority to appoint and remove the agency head, is scheduled to meet at 4:00 p.m. at 440 Turk Street.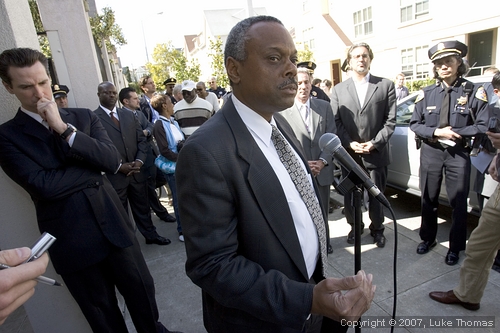 Housing Authority Director Gregg Fortner
Update 10:08 p.m: Fortner tenders his resignation, effective Jan 4, during a closed door session of the San Francisco Housing Authority Commission meeting, releases statement:
"Over the last two weeks, City Hall staff has expressed to me the Mayor's feeling that it is time to make a change in the leadership at the San Francisco Housing Authority. I agree.
"Therefore, my last day with the agency will be January 4, 2008 after seven (7) years of service.
"There are many factors contributing to this decision. For me, the proverbial 'straw' was the editorial cartoon printed in the San Francisco Chronicle on September 1, 2007. The cartoon was offensive to me both professionally and personally. Additionally, the degrading racial imagery contained in this cartoon shows an incredible insensitivity to the struggles and history of the African-American people in this country. Although City Hall apparently has little control over what is presented in the media, recent public behavior by City Officials contributed to a perception that such political satire was appropriate and acceptable.
"Over the next three months, I will work diligently to facilitate a smooth transition to the City's new direction. During this time, I wish to express my deepest and most sincere gratitude to the residents of Public Housing and Section 8, the Housing Authority Commission, the staffs of Speaker Pelosi and Senators Feinstein and Boxer, HUD officials in DC and here in San Francisco, the many business and community partners working with the Housing Authority, and the numerous public and private entities that have helped us survive the challenging environment in which we must operate. Most of all, I wish to thank the outstanding staff of the San Francisco Housing Authority who have performed far beyond any reasonable expectation in an environment defined by diminishing resources and increased expenses."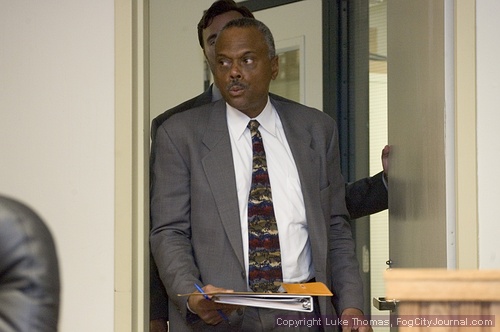 Fortner emerges from a closed door session following his resignation
as Executive Director of the San Francisco Housing Authority.
Hall endorses Holmes for Mayor
Former Supervisor Tony Hall, who recently ended his candidacy for mayor of San Francisco, has endorsed Lonnie Holmes.
"We certainly appreciate the support of Tony Hall and his supporters as we continue to move closer to City Hall," Holmes said in a statement.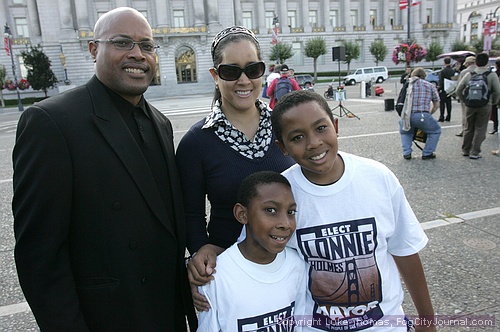 Family man Lonnie Holmes with his exuberant wife Paris and their budding sons.

####