Brown grants San Francisco City Attorney
application to remove Ed Jew from office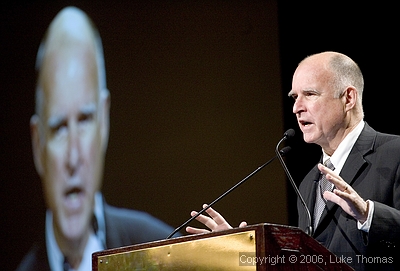 California Attorney General Jerry Brown
Photo by Luke Thomas
From the Office of City Attorney Dennis Herrera
October 18, 2007
California Attorney General Edmund G. Brown Jr. issued an opinion today granting City Attorney Dennis Herrera's application for leave to sue in quo warranto to remove Supervisor Ed Jew from the San Francisco Board of Supervisors for his failure to comply with the City Charter's residency requirements to seek or hold the office. Supervisor Jew is currently suspended from the Board during the pendency of official misconduct proceedings initiated by Mayor Gavin Newsom on Sept. 25, 2007.
In response to the Attorney General's Opinion, Herrera issued the following statement:
"I am gratified that following careful consideration, Attorney General Brown reached the same conclusion I did: that both the public interest and significant questions about Supervisor Jew's residency warrant resolution in a civil trial.
"In light of the Ethics Commission's preliminary hearing tomorrow into official misconduct charges against the supervisor, I intend to carefully evaluate our legal options. In the coming days, I will decide how best to represent the City's interest in concluding a crisis that has clouded the legitimacy of San Francisco's representative government for too long."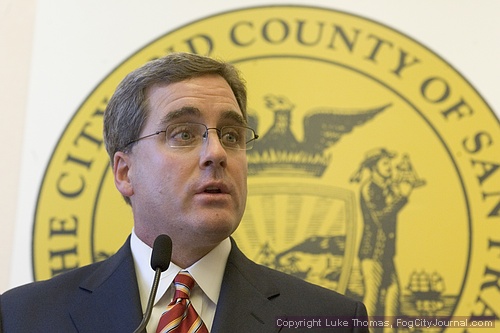 San Francisco City Attorney Dennis Herrera
Brown's decision comes on the eve of a preliminary hearing to be held by the San Francisco Ethics Commission into charges of official misconduct by Supervisor Jew. The City Charter requires the commission to conduct a hearing on the charges, and then forward its recommendation to the Board of Supervisors to decide whether the charges are sustained and the official removed from office. Tomorrow's preliminary hearing, which will deal with procedural and scheduling issues for the matter, is scheduled for: Friday, October 19, 2007 at 1:30 p.m. in Room 416 of San Francisco City Hall.
Questions regarding the Ethics Commission or its process should be directed to John St. Croix, Ethics Commission Executive Director, at (415) 252-3100. The Media and Technical Contact for the hearing is Rohan Lane, City Hall's Media/Security Systems Manager at (415) 554-7485.
####