Threat of Federal Civil Rights Action
Tailors Misconduct Charges to Residency Dispute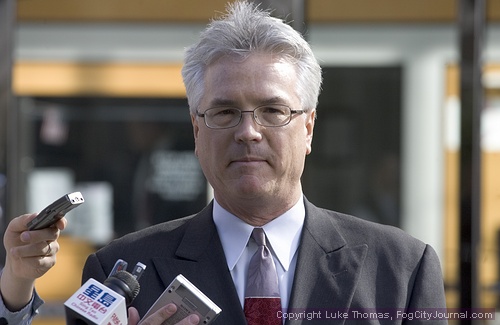 Attorney Steven F. Gruel
Photo(s) by Luke Thomas
From the Law Offices of Steven F. Gruel, attorney for suspended Supervisor Ed Jew
September 26, 2007
Attorneys for Supervisor Ed Jew have now had the opportunity to obtain and read Mayor Gavin Newsom and Mr. Herrera's Written Charges of Official Misconduct filed yesterday with the San Francisco Ethics Commission and Board of Supervisors.
The alleged "Official Misconduct" by Supervisor Jew is limited to the ongoing and stale residency allegation already pending with the California Attorney General and in San Francisco Superior Court.
"Apparently, and without us having to file in federal court, the threat of federal intervention caused the Mayor and Mr. Herrera to openly concede that they have no real 'evidence' of any wrongdoing stemming from the federal charges, " said Steven F. Gruel, one of Supervisor Jew's attorneys.
"Plus, the clear fundamental due process concerns we repeatedly voiced and which would have been material to a federal lawsuit will be addressed by the San Francisco Ethics Commission for the Removal Hearing. We'll wait and see."
Nevertheless, given that the only charges of alleged misconduct center on the residency issue reveals that Mr. Herrera blatantly side-stepped and ignored the California Attorney General.
Mr. Herrera failed to receive permission from the Attorney General to proceed in Court on his Quo Warranto application to remove Supervisor Jew and consequently has resorted to hometown politics to short-circuit Supervisor Jew's due process rights.
"What he could not achieve through the front door, he stole through the back door," said Gruel. "Unfortunately, the presumption of innocence applies everywhere in the United States except for San Francisco City Hall."
Supervisor Jew and his attorneys continue to weigh all of his legal options as these matters continue.
####