Jew's attorney pens letter to Ethics Commission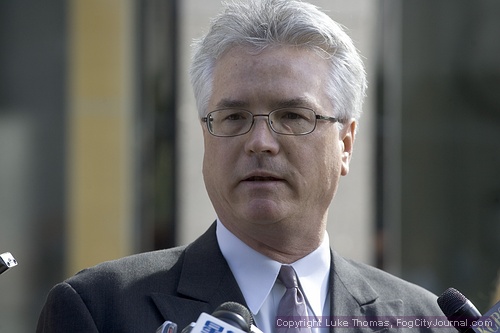 Attorney Steven F. Gruel
Photo(s) by Luke Thomas
From the Law Offices of Steven F. Gruel, attorney for suspended Supervisor Ed Jew
September 27, 2007
John St. Croix
Executive Director, San Francisco Ethics Commission
25 Van Ness Avenue, Suite 220
San Francisco, CA 94102-6053
Re: In The Matter of Charges Against Edmund Jew
Ex Parte Communications / Date Setting
Dear Mr. St. Croix:
I represent Edmund Jew in the above captioned matter.
I have read and heard media accounts that the San Francisco Ethics Commission is considering dates for a special hearing that will discuss the due process safeguards necessary for the removal hearing.
I respectfully request that I have an opportunity to weigh in with my thoughts pertaining to the scheduling of this first hearing before the date is actually set.
Also, I request that you completely cease any ex parte communications with the City Attorney, members of the Board of Supervisors and the Mayor, plus their respective staffs, concerning all aspects of these charges of misconduct, and the appropriate means for the adjudication thereof, until this matter is completed.
A basic precept of due process, of course, is that adverse parties and fact finders do not communicate about an active case in the absence of all interested parties. I see no reason why this simple rule ensuring fundamental fairness should not be followed here.
Please contact me immediately if you do not understand or agree with this request.
Further, please distribute a copy of this letter to your staff and the San Francisco Ethics Commissioners.

Sincerely,

Steven F. Gruel
Attorney for Ed Jew
cc. Edmund Jew
Dennis Herrera, San Francisco City Attorney
Therese M. Stewart, Chief Deputy City Attorney
Linda M. Ross, General Counsel, Mayor's Office

####