Cindy Sheehan launches campaign to unseat Pelosi
Opens San Francisco campaign headquarters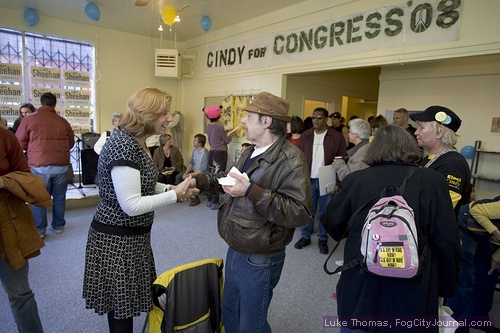 Congressional candidate Cindy Sheehan greets supporters
during the opening of her campaign offices in San Francisco yesterday.
Photo by Luke Thomas
Republished with permission, Independent Media Center
December 9, 2007
Virtually ignored by the establishment media, the famous antiwar activist Cindy Sheehan officially kicked off her campaign to unseat Speaker Nancy Pelosi with the opening of her campaign headquarters yesterday in San Francisco.
The date of her headquarters opening coincided with the date John Lennon was assassinated in New York 27 years ago. Lennon's widow, Yoko Ono, hoped his passing would be remembered by people everywhere imagining a world of Peace and Love.
Former Board President Matt Gonzalez, former Union Local 10 Secretary-Treasurer Clarence Thomas and former mayoral candidate Ahimsa Sumchai attended the campaign kickoff event.

Matt Gonzalez
Photo by Cindy Marcopulos, special to Fog City Journal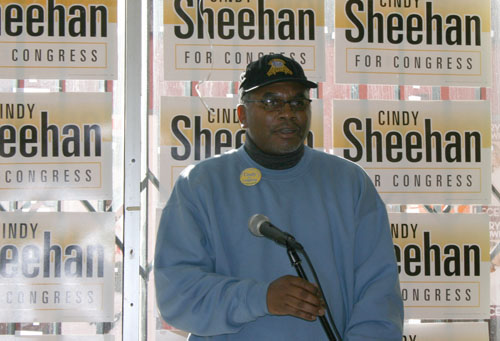 Clarence Thomas
Photo by Cindy Marcopulos, special to Fog City Journal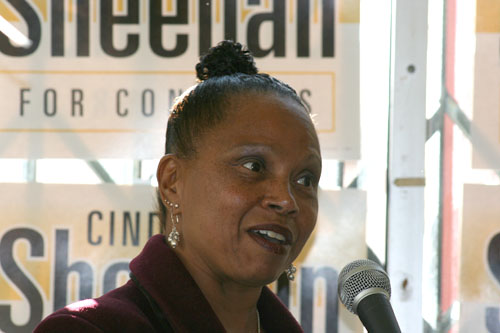 Ahimsa Porter Sumchai
Photo by Cindy Marcopulos, special to Fog City Journal
Except for a short broadcast by Don Knapp of local television station KPIX Channel 5, Sheehan's official opening of her new campaign headquarters in San Francisco yesterday was virtually ignored by the establishment media. There was no coverage in the San Francisco Chronicle. If one searches "Cindy Sheehan" from Google's news page and glances over the search offerings, one might even get the impression that Sheehan has given up her activism. But it isn't so. Far from it.
Especially since yesterday afternoon when many friends and supporters met Sheehan and her surviving children (her son, Casey, was killed in Iraq) at 1260 Mission Street in San Francisco. There, Sheehan addressed the issues that spurred her to directly challenge California District 8 Congressional incumbent Nancy Pelosi, considered by many as the third most powerful person in America behind President George W. Bush and Vice President Richard Cheney.
Pelosi has famously vowed to "keep impeachment off the table," and has disappointed most of her constituents and many people around the nation for not helping bring an end to America's occupation of Iraq. The Washington Post reported yesterday that under Pelosi's "leadership," Democrats will have, for the third opportunity since taking control of Congress, failed to force Bush to change course in Iraq. On Monday, they plan to give Bush a half-trillion-dollar spending package to include billions of dollars for the war in Iraq without timelines for the withdrawal of combat forces.
During a speech a the office opening event, Sheehan expressed her contempt for such measures which suggest Democrats are colluding with the Bush administration and not presenting a true opposition that reflects the will of the people -- particularly in San Francisco where Sheehan is now running as an independent. She also expressed her desire to implement healthy changes which will begin by bringing American troops home from a war that is universally known today as having been founded on lies and deception.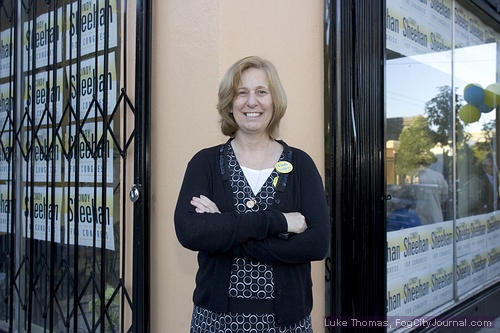 District 8 congressional candidate Cindy Sheehan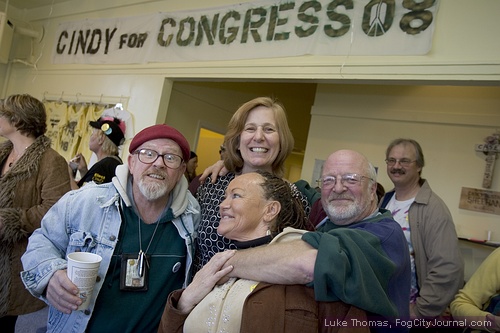 Sheehan is joined by SFBulldog publisher h. Brown, Mesha Monge-Irizarry
and campaign workhorse Patrick Monk.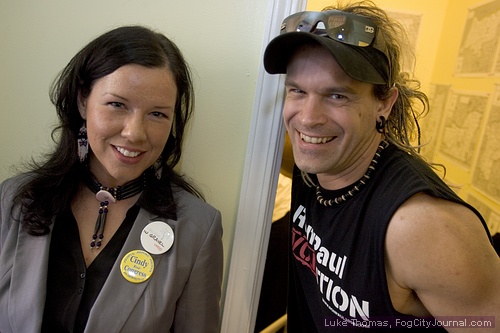 Mike Gravel campaign volunteer Dawn Adams with Ron Paul supporter, Starchild

Imagine

####