Appelate court takes same-sex arguments under submission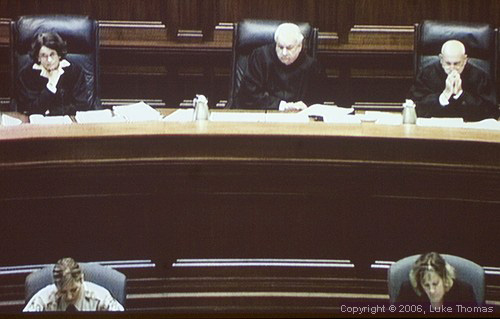 Justices Joanne Parilly, William McGuinness and J. Anthony Kline
preside over the State of California's bid to overturn a lower court ruling
that found a constitutional right to same-sex marriage.
Photo(s) by Luke Thomas
By Jeff Shuttleworth, Bay City News Service
July 10, 2006
SAN FRANCISCO (BCN) - A three-judge panel of the state Court of Appeal today heard four hours of arguments on six related cases which address the question of whether the California constitution gives same-sex couples the right to marry.
The panel took the matter under submission and isn't expected to rule until October.
That ruling is expected to be appealed to the California Supreme Court, a process which would take at least several more months.
But the judges appeared to be skeptical of arguments used by lawyers for the state and traditional values groups in their bid to overturn a lower court ruling that found a constitutional right to same-sex marriage in California.
San Francisco Superior Court Judge Richard Kramer last year struck down California laws requiring marriage to be between a man and a woman.
Kramer said the laws violated the state Constitution in two ways: it discriminated on the basis of sex, and it denied gays and lesbians the fundamental right to marry the partner of their choice.
However, he suspended his ruling during the appeal process.
Today's hearing marks the first time that the constitutionality of the marriage law has been debated in an appeals court, which under California law has the power to set statewide legal precedents.
Glen Lavy, an attorney for the Proposition 22 Legal Defense Fund, which opposes same sex marriages, said procreation is the reason he believes the state is justified in regulating marriages.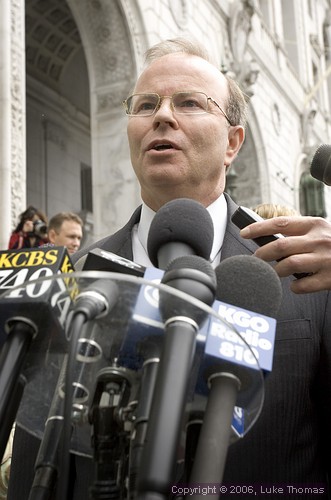 Glen Lavy
Opposite-sex couples can produce their own children but same-sex couples cannot, Lavy said.
Proposition 22 was the initiative passed by California voters in 2000 reaffirming the state's definition of marriage and prohibiting the state from recognizing same-sex marriages from other states.
But Therese Stewart, chief deputy city attorney for the city and county of San Francisco, which supports same-sex marriages, said there are other reasons than having children for couples to get married, such as spiritual reasons and to foster stability and a system of property rights.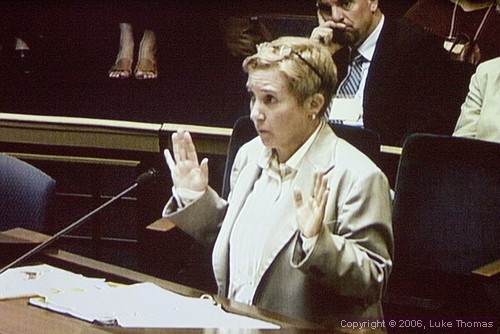 Therese Stewart, Chief Deputy City Attorney for the City and County of San Francisco
To say that procreation is the only purpose of marriage is like saying that marriage is "a sexual trafficking mechanism," Stewart said. Justice J. Anthony Kline said conservative U.S. Supreme Court Justice Antonin Scalia has stated that procreation isn't the sole basis for marriage.
Kline said he's not aware of any laws that say procreation is a litmus test and the only basis for marriage.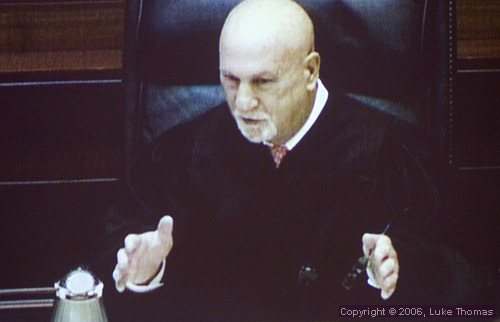 Justice J. Anthony Kline
Copyright © 2006 by Bay City News, Inc. -- Republication, Rebroadcast or any other Reuse without the express written consent of Bay City News, Inc. is prohibited.
####