Giants raising Cain?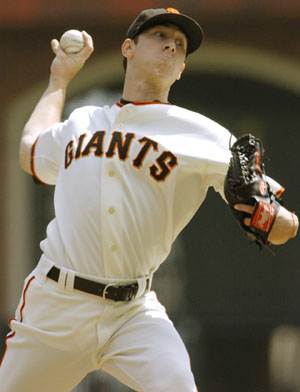 Giants rookie pitcher Tim Lincecum may be on the trading block
as the team is actively discussing acquiring outfielder Alex Rios
from the Blue Jays during the winter meetings in Nashville.
Photos by Stephen Dorian Miner
December 6, 2007
The San Francisco Giants have reportedly been made an offer by the Toronto Blue Jays during the winter meetings in Nashville that may have the team parting ways with one of their top young pitchers.
According to the Chronicle's John Shea, General Manager Brian Sabean had hard-hitting Blue Jays outfielder Alex Rios dangled in front of him, but Toronto wants right-hander Matt Cain, one of the Giants best young pitchers.
Cain had an off year in 2007, but more due to tough luck as the team failed to score runs in most of his starts leaving the 23-year-old holding the bag. Cain is considered one of the best young pitchers in the game - a near perfect blend of talent, 'stuff' and guts.
Rios batted .297, hit 24 homers and knocked in 85 runs last season and would be a more than welcomed replacement for the departed Barry Bonds. Although only a modestly good defensive player in right field, Rios could be a big bat in a lineup that has lacked punch outside of Bonds.
The Giants would be hard pressed to part with Cain and Shea also reported that Sabean would be more willing to part with pitching prodigy Tim Linceum. Drafted by the Giants in 2006, Lincecum - also 23 - came up to the majors last season and dazzled fans and befuddled opponents, sporting a 98-mph fastball.
Sabean has been on record saying he doesn't want to trade any of his young pitchers who are the foundation of the Giants' future. The team plays in a veritable pitchers' paradise and relies on its starters to use the expansive field to their advantage, keeping opposing teams from scoring.
The team is considered to be very active in the trade market this winter. Not only do they need a big bat, they have holes to fill in the infield and potentially need a closer to round out their bullpen.
####