SEIU Local 790 gifts early endorsement to Daly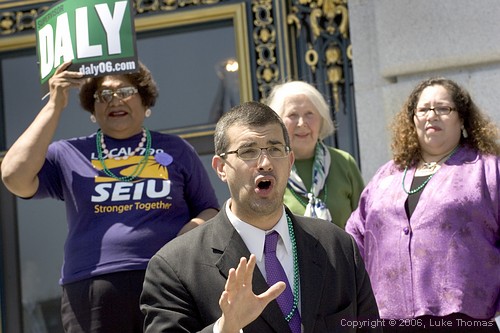 Incumbent District 6 Supervisor Chris Daly received an early endorsement from SEIU Local 790, announced yesterday on the steps of City Hall. Daly honored the endorsement by saying his campaign color is green, his party color is blue, and the color of his blood is now purple.
Photo(s) by Luke Thomas
August 9, 2006
SEIU Local 790 yesterday endorsed incumbent San Francisco District 6 Supervisor Chris Daly for re-election.
The high-noon press conference got underway under a scorching sun and began with a moment of silence in honor and rememberance of former San Francisco Supervisor Susan J. Bierman who died of a heart attack Monday.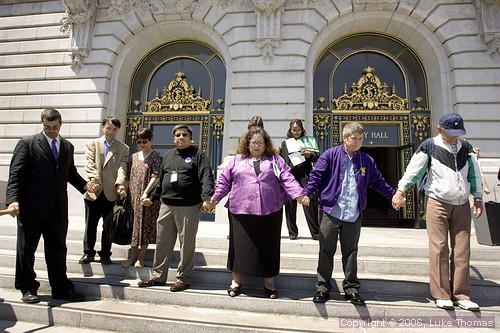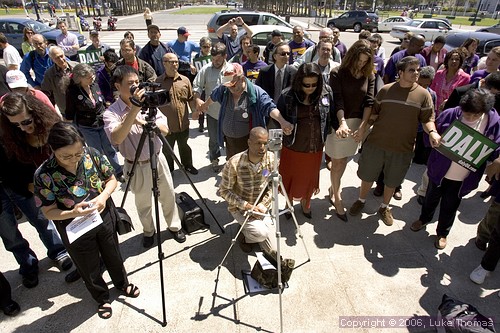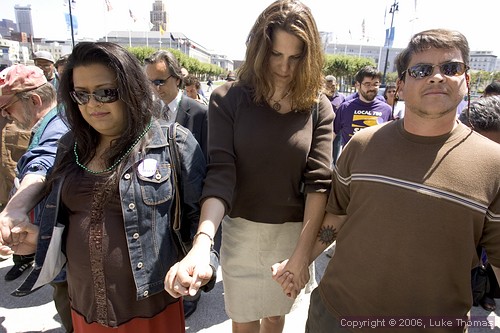 The union describes itself as the largest public sector union in Northern California representing more than 30,000 workers.
"SEIU is proud to stand with the Sierra Club and with the Tenants Union in also doing early endorsements for Supervisor Chris Daly," SEIU San Francisco Regional Vice President Guillen told supporters Tuesday in a 1:00 p.m. City Hall steps rally.
District 5 Supervisor Ross Mirkarimi pointed to mediocrity as the alternative to Daly.
"I'm very proud to be standing here with SEIU and Chris Daly," said Supervisor Ross Mirkarimi.
"Chris Daly has been championing all the things we care about. Now it is incumbent upon us to work very hard to beat back the mediocrity that they're trying to throw into District 6 and into San Francisco."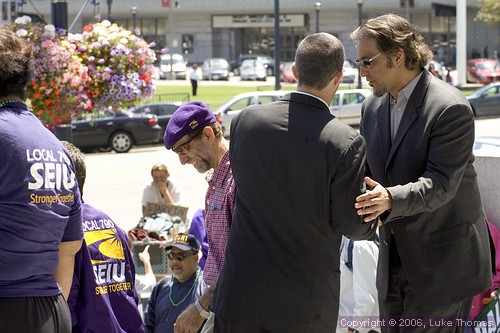 Supervisor Ross Mirkarimi (right).
Daly led successful efforts to improve the lives of the marginalized, including the transgendered community, a representative of the Harvey Milk LGBT Democratic Club asserted.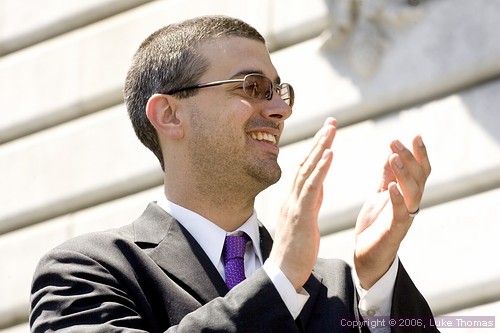 "This year we passed a $300,000 budget on transgender economic initiatives and this is the first of its kind in the City and we would not have been able to do it without Supervisor Daly's support," said transgender woman Cecilia Cheung.
One longtime San Francisco Democratic Party leader pointed to Daly's work on delivering health care and a living wage to workers.
"A lot of people in San Francisco don't stay tuned long enough to find out what he's for," said Jane Morrison, past president of the San Francisco Democratic County Central Committee.

Jane Morrison
"The Living Wage (ordinance) for instance. A lot of businesses say they will have to move out of town if we require them to give their employees a living wage.
"Why would anybody try to run a business and not share health care or what they need to live on for food and housing?
"Chris makes sure they have to do it."
Visit Re-Elect Daly website.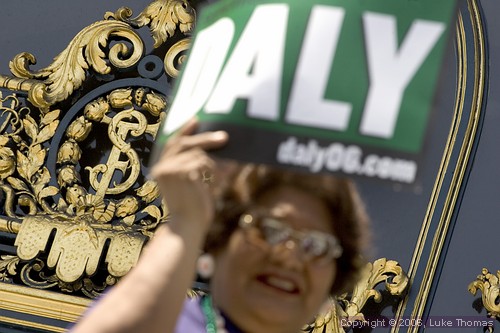 ####