Heart attack claims former Supervisor Sue Bierman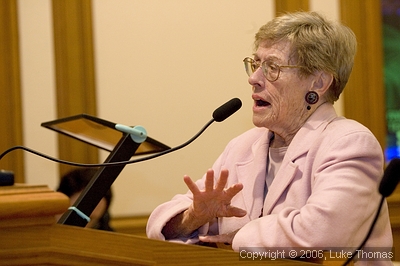 Sue Bierman, RIP, appears before the Rules Committee on January 26
in opposition to a proposal to revamp the Port Commission.
Photo(s) by Luke Thomas
August 7, 2006
San Francisco Port Commissioner Sue Bierman died today at the age of 82.
Friends of the Bierman family reported she died of a heart attack shortly before 3:00 p.m.
Commissioner Bierman was driving when the heart attack struck resulting in her car crashing into a fireplug in the 1200 block of Shrader Street.
Efforts to resuscitate Bierman at San Francisco General Hospital were unsuccessful.
Bierman served the City, and her beloved panhandle neighborhood, for more than 45 years.
After serving on the San Francisco Planning Commission for 16 years Bierman successfully campaigned for a seat on the San Francisco Board of Supervisors. She served two terms on the Board. Term limits prevented her from running for a third term.
Memorial arrangements have not yet been announced.
####