Solem & Associates mark 30th anniversary
at City Hall soiree
Still playing after all these years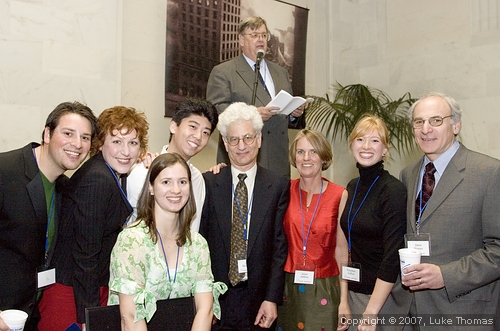 Solem & Associates co-founder Don Solem delivers a speech at San Francisco City Hall, Thursday, marking the 30th anniversary of the founding of the public relations firm.
Photo(s) by Luke Thomas
From Solem and Associates
March 3, 2007
San Francisco - Public relations guru Don Solem marked 30 years since he formed the award-winning public relations and public affairs firm, Solem & Associates, at a City Hall celebration on Friday.
Politicians, journalists, heads of business and labor, and community leaders gathered to celebrate one of California's consummate insiders in politics, public relations, and public policy for the anniversary.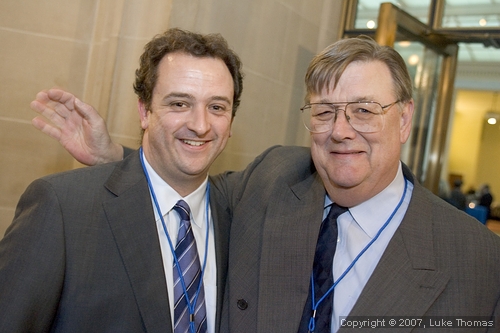 Supervisor Sean Elsbernd and Don Solem

Mayor Gavin Newsom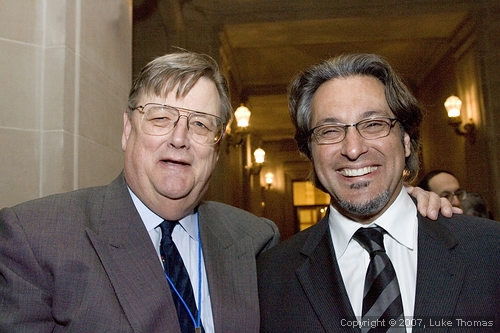 Supervisor Ross Mirkarimi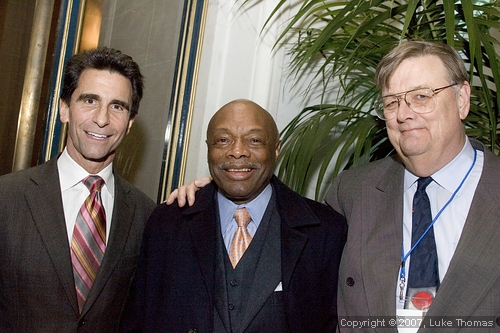 Assembymember Mark Leno and former Mayor Willie Brown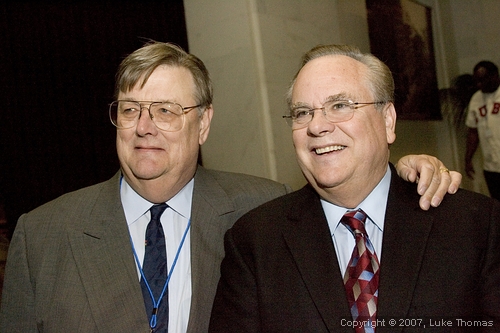 California Attorney General Bill Lockyer
"A list of Solem & Associates clients over the years looks like a 'who's who' of leading corporations and government agencies in California," said former State Assembly Speaker and San Francisco Mayor Willie Brown.
"It also includes a bevy of non-profits, reflecting how Don and the firm have helped influence change for the big guys and the little guys."
Don Solem formed Solem & Associates in 1976 with his wife, Anne, with the aim of creating a business on the nexus of public policy and communications. His broad experience in politics and record of developing winning strategies are the foundation of the firm's success and the reason he is still sought for political advice.
Some of the firm's most notable achievements include beginning, promoting, and expanding the recycling movement in California for the California Solid Waste Management Board, and introducing FasTrak in California.
"Don hit every pitch," said Rep. George Miller (D-CA). "He's been involved in about 300 political campaigns, which helped to form his vast political network and encyclopedic knowledge of issues that affect our society."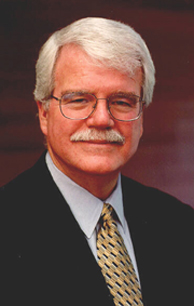 Rep. George Miller (D-CA)

For three decades, Solem & Associates has provided expertise and counsel in politics, energy, public utilities, telecommunications, healthcare, transportation, and land use. The firm's clients have included such corporations as Pacific Gas and Electric Company, Catholic Healthcare West, and Lucasfilm, Ltd., as well as non-profits such as the Institute on Aging and the Sausalito Art Festival.
Recent work by Solem & Associates includes providing communications strategy, media relations, and public policy for last April's 100th Anniversary Earthquake Conference, for the Bay Area's first "Smart Carpool" toll lane in the East Bay, and for reducing diesel emissions from trucks and buses.
"Don is one of San Francisco's pre-eminent personalities," said Mayor Newsom. "His influence is undeniable."
In San Francisco, Solem & Associates has worked with every mayor since Joseph Alioto- George Moscone, Dianne Feinstein, Art Agnos, Frank Jordan, Willie Brown, and Gavin Newsom- and on the issues and events that have shaped the city: Super Bowl victory parades and Herb Caen Day, Muni, Mission Bay and Lucasfilm's Digital Arts Center in the Presidio, the 50th anniversary of the founding of the United Nations, World Environment Day, and, last year, shutting the Hunters Point Power Plant.
"My passion is communications and how it can affect change," said Don Solem, President of Solem & Associates.
"I feel fortunate that my career has introduced me to so many wonderful people, many of whom have become life-long friends. I love what I do. I'm excited for the future of California and the future of Solem & Associates."
Prior to establishing Solem & Associates, Solem served as Executive Director of the California Democratic Party in 1969 and 1970, and also served as chief of staff for the State Senate Floor Leader, the late George Moscone. Don's wife, Anne Solem, a two-term mayor of Mill Valley, was a senior partner of Solem & Associates for 27 years. Both are graduates of the University of California at Berkeley.
Solem & Associates is a San Francisco-based public affairs and public relations agency founded in 1976. The agency specializes in public affairs programs, strategic communications planning, press relations and news making, community organizing and outreach, governmental relations, crisis management, lobbying, public opinion research and political campaign management.
Solem & Associates is a member of Worldcom Public Relations Group, the world's largest consortium of independently owned public relations firms.
####