Sixth annual Green Festival opens in San Francisco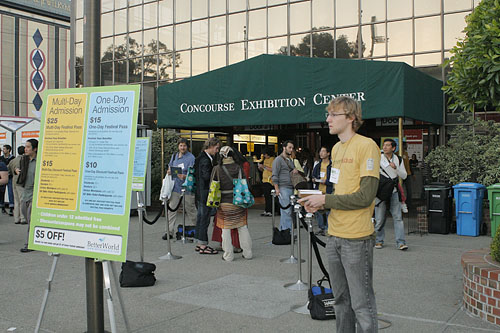 The 6th San Francisco Green Festival began Friday and continues through Sunday
at the Concourse Exhibition Center at 8th and Brannon Street.
Photos by John Han
By Stephanie Rice, special to Fog City Journal
November 10, 2007
San Francisco's 6th annual Green Festival kicked off Friday, bringing thousands of environment-conscious citizens from around the world to the Concourse Exhibition Center in the South of Market district.
The event, co-sponsored by Global Exchange and Co-op America, features hundreds of green businesses, community groups and speakers. Festivities will continue through the weekend, coming to a close with a performance by the Social Prophet Choir Sunday evening.
"The green festival has something for everyone," said Kevin Danaher, Global Exchange co-founder. "You'll see people from every community leading the way to a greener, healthier future."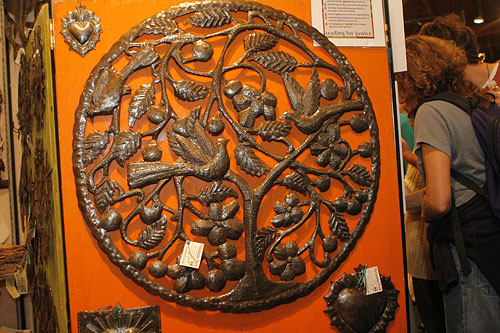 Hand chiseled Haitian artwork recycled from 55 gallon oil drums.
Pachamama World - A Fair Trade Place, Sonoma County.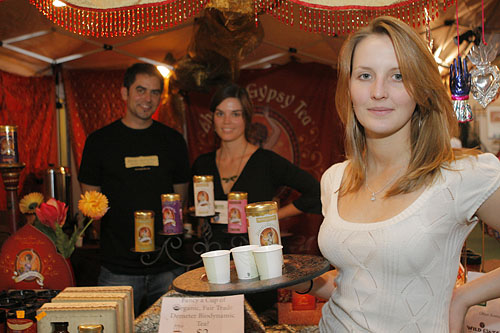 Lindsey Moore of Zhena's Gypsy Tea in Ojai, California, sells 100% organic fair trade tea. The tea is grown mostly in India, Sri Lanka and China where workers receive healthcare, maternity leave and fair wages.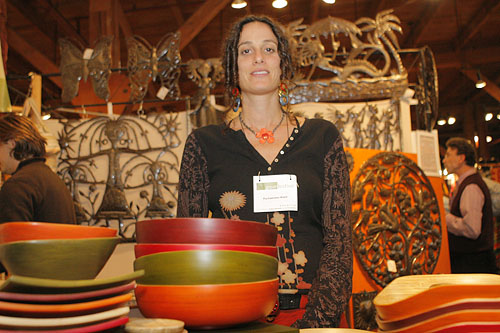 Dana Gaffran, owner and founder of Pachamama World - A Fair Trade Place,
displays bamboo kitchenware made by handicapped workers in Vietnam. The Sonoma County based company works with co-ops around the world including Haiti, Columbia and Guatemala to help support community development projects. Emphasis is put on fair trade to counter free trade agreements that are devastating local producer economies.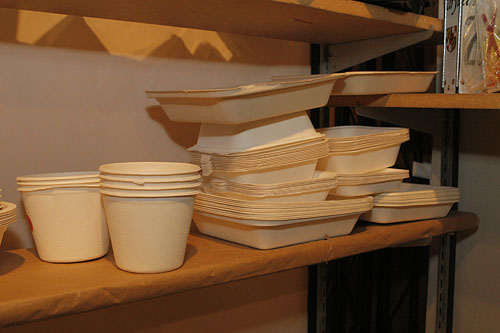 Biodegradable food service products made from sugarcane agricultural waste products
in China. Green Earth Office Supply in Santa Clara sells food service products
and other environmentally friendly office supplies.
Hundreds of green companies have packed into booths at the center, selling everything from bamboo bathrobes to purses made from recycled plastic bags.
Zach Lyman and Henry Gentenaar, co-founders of Reware, were on hand to explain the benefits of solar-powered backpacks, which they sell for $190 to $300. The bags come in a variety of messenger bag and backpack styles and are made completely from recycled soda bottles and carpet padding, Lyman said.
A wide variety of local eateries are also ready to provide vegetarian-friendly faire, including veggie hot dogs, vegan hemp ice cream and acai fruit smoothies. For those who need to de-stress, massages are available for $1 per minute.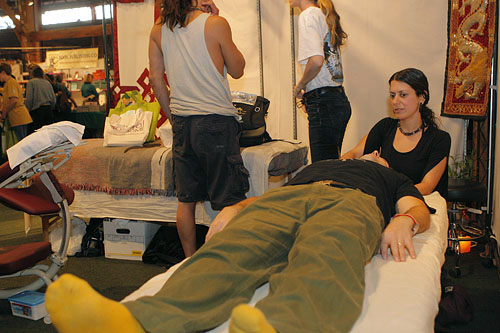 Jamie Bender of Healing Hands in San Rafael provides massage therapy
to an aching passer byl.
More than 150 speakers will give speeches and answer questions over the three-day event. Self-improvement guru Deepak Chopra addressed the crowd Friday evening. Other notable speakers include Sen. Carole Migden (D-San Francisco) on Saturday at 4 p.m. and Democracy Now radio host Amy Goodman on Sunday at 1 p.m. Supervisors Chris Daly and Ross Mirkarimi will also appear Sunday at 3 p.m. to discuss the future of sustainability in San Francisco.
Katie and Jeff Evans traveled from Vancouver, B.C. to attend the festival with friends on Friday.
"It's real eye-opener," Katie Evans said, adding that she was impressed to find out that even items like paint could be made more environmentally friendly.
Jeff Evans said he learned a lot about solar energy and would encourage others to come experience the event.
For a full schedule and ticket prices, visit www.greenfestivals.org.

####