Tensions run high as negotiations on universal health care access funding continue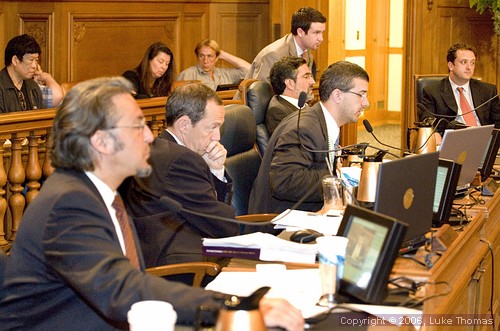 Budget and Finance Committee members, from left, Supervisors Ross Mirkarimi,
Bevan Dufty, Chris Daly, Aaron Peskin, and Sean Elsbernd.
Photo(s) by Luke Thomas
June 26, 2006, 2:30 p.m.
Negotiations with business owners on mandated health care coverage for part-time workers may be complete by the end of July, legislation author Supervisor Tom Ammiano said today.
Ammiano made the remarks following an 8:00 a.m. public hearing on the Worker Health Care Security Act before the Budget and Finance Committee of the San Francisco Board of Supervisors.
"There will be more hearings," Ammiano stated. The next committee hearing on the measure is scheduled July 5.
Although a veto-proof majority of the board already appears certain, the District 9 supervisor said he wants to continue negotiations to broaden stakeholder backing as much as possible.
"I think in good faith you like to get as many people on board as possible," Ammiano told the Sentinel.
"This has been a group effort.
"You know you'll never have 100% agreement especially here in San Francisco but I think we've been deliberate about going step by step to see if we can capture as many as possible the way we see it then all the better.
"If it does reduce possibilities for tension later all the better."
Funds raised by the proposal are necessary for viability of the parallel San Francisco Healthcare Access Plan (SFHAP) co-authored last week by Ammiano and Mayor Gavin Newsom.
Tensions were high at this morning's hearing as all parties recognized the measure as seminal legislation.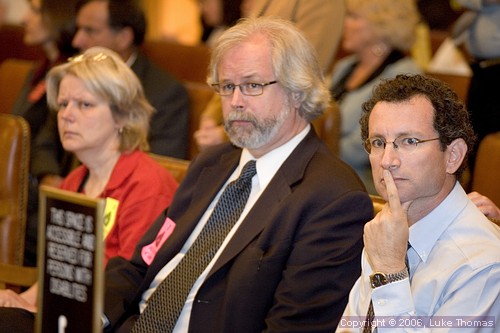 San Francisco Labor Council executive director Tim Paulson, center,
with Ken Jacobs of the Center for Labor Research and Education at UC-Berkeley.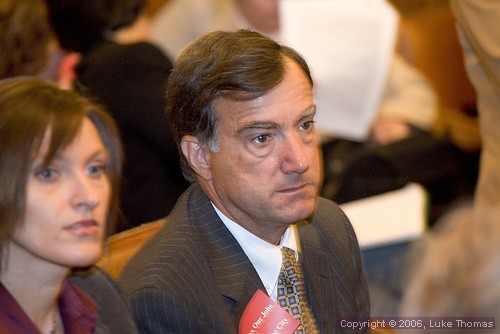 Jim Lazarus, senior vice president of Public Policy
for the San Francisco Chamber of Commerce.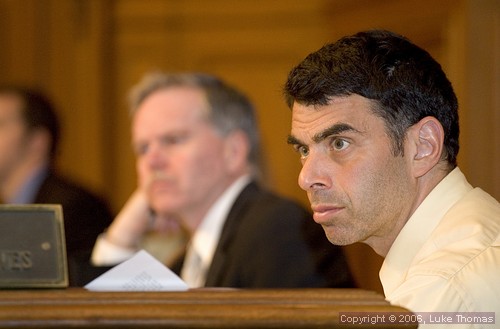 Dr. Mitch Katz, executive director of the San Francisco Department of Health.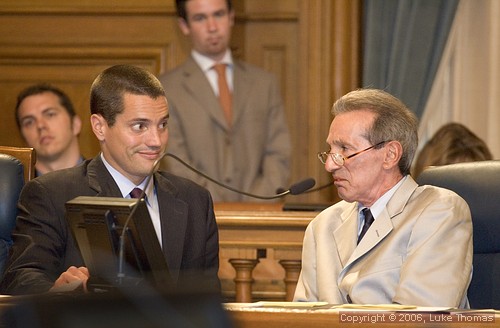 Wade Crowfoot, mayoral liaison to the Board of Supervisors,
in conversation with Supervisor Tom Ammiano.
Ammiano explained how the Worker Health Care Security Act and the separate San Francisco Healthcare Access Plan are related.
"These plans are both joined at the hip," Ammiano told committee members this morning.
"The Worker Health Care Security Act is not the ugly stepsister of this wonderful concept that we are putting forth. They both depend on each other.
"My office has been working for over a year and a half to address the issue insuring the working poor and thanks to the good work of the Mayor's Office Universal Health Care Council we have a comprehensive legislative package that addresses perhaps the most pressing issue of this day in the nation."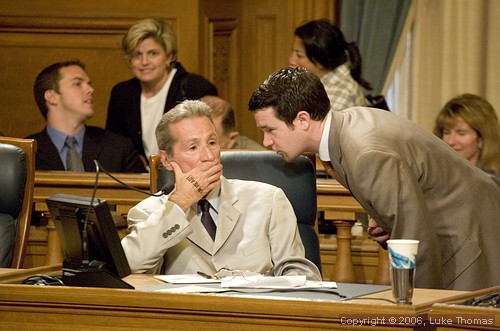 District 9 Supervisor Tom Ammiano receives briefing
from his legislative aide Zachary Tuller.
Total SFHAP costs are estimated at $198 million paid by redirecting $104 million City funds now spent on the uninsured and $56 million newly raised from SFHAP beneficiary co-payments.
The Worker Health Security Act would fill the remaining gap of $28 million from mandated business owner payment for part-time employee health insurance coverage.
SFHAP is not health insurance as it may only be used in San Francisco. The Worker Health Security Act would cover some 16,000 part-time workers with health insurance access.
Currently 82,000 residents and workers are eligible for SFHAP.
A spokesman for the Labor Council asked for both measures to be merged into one proposal.
"We really urge you to look at both these pieces of legislation closely and I would like to put on record right now that we would like to be able to put both these pieces of legislation together as one piece," requested Tim Paulson, executive director of the Labor Council.
"Those of us who were on the Universal Health Care Council that the mayor appointed as well as those of us who have been pushing for Supervisor Ammiano's legislation know that these things cannot work unless they are completely blended together - the funding mechanism as well as the Department of Public Health reorganization that is going to allow this historic access for all San Franciscans."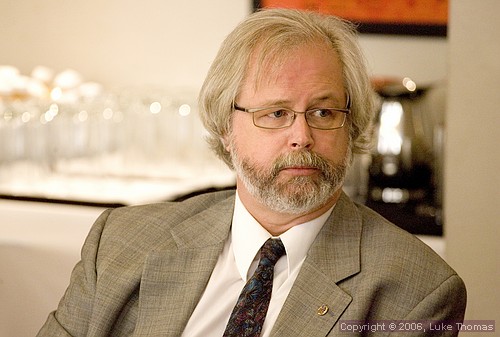 Tim Paulson at the Universal Health Care Council meeting last week.
A spokesman for business interests asked that both proposals be put on hold until cost to business owners is mitigated. The City Controller estimated 500 jobs would be lost citywide as a result of layoffs, and some speakers reported the Worker Health Security Act would force their businesses to close.

City Controller Ed Harrington
"What I am suggesting... is that the Ammiano plan is only one potential funding mechanism," Nathan Nayman, executive director of the San Francisco Committee on Jobs suggested.
"Perhaps we should both plans on hiatus and let's come up with another funding mechanism. We've expressed to you that there are other ways to do this, not just one way," he told the committee.
"It doesn't have to be per hour mandate based upon after the first two hours of working," Nayman later told the Sentinel.
"It can be funded through registration fees.
"It can be funded in a host of way and actually what I would suggest is that we do an audit of the $1.5 billion Health Department.
"It was said earlier today we can get the program started with the $104 million we have right now. Why should we be taxing others?
"I think that from the information we heard today from the Controller's Office any good policy maker would take that information to heart and would pause before going ahead and imposing the tax on people."
Some small business owners despair of their needs being heard, said a member of the San Francisco Small Business Commission.
"There's a lot of things that I'd like to say but I've realized through this process that they're irrelevant," said Commissioner Michael O'Connor who participated on the UHC.
"Our perspective has not been a part of this process.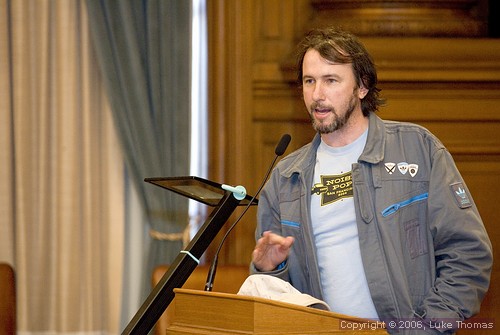 Small Business Commissioner Michael O'Connor
"We're not going to be listened to. Everything's been done. Before the Health Access Council was started everything was done.
"There has been no process and that's firm how I feel," O'Connor said to applause. The audience appeared split 60-40% with pro-Ammiano legislation sentiment predominating.
One health care proponent countered that part-time job loss could be minimized by price hikes San Franciscans would be willing to pay in order to receive health care access.
"San Franciscans are good hearted enough that we won't mind paying a couple of extra bucks," said Susan Cieutat of Health Care For All.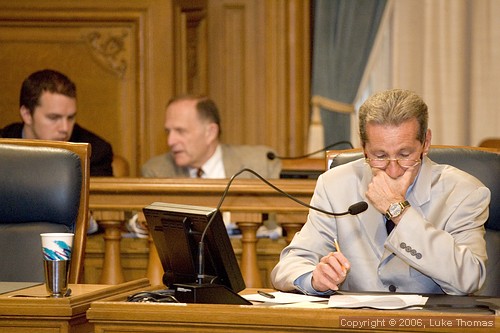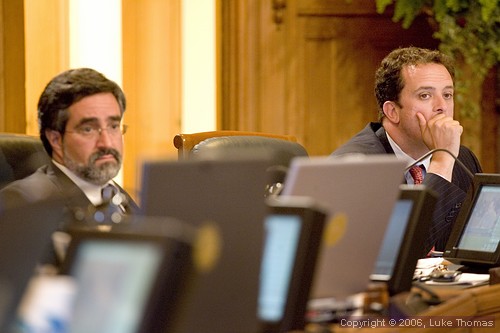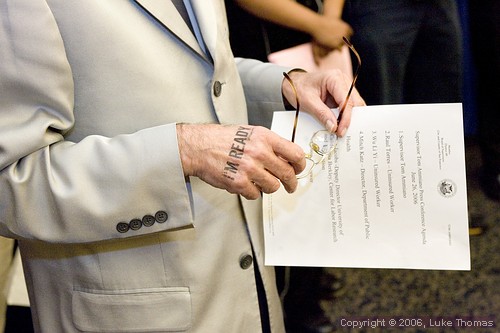 ####