San Francisco honors women making history
Mary Rogers honored posthumously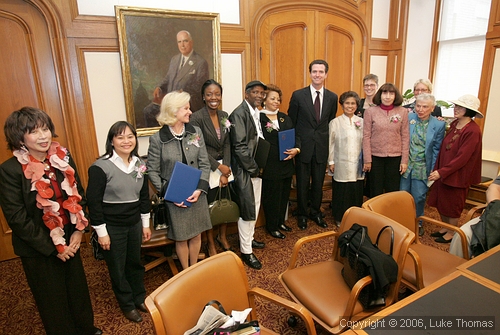 Photo(s) by Luke Thomas
March 8, 2006
The Commission on the Status of Women, Mayor Gavin Newsom and the Board of Supervisors, together recognized 12 women for their outstanding personal achievment and for their commitment to advancing rights for women.
The mission of the San Francisco Commission and Department on the Status of Women is to ensure the equal treatment and foster the socioeconomic, political, and educational advancement of women and girls throughout San Francisco, through policies, legislation,
and programs focusing primarily on populations in need.
Women Making History honorees: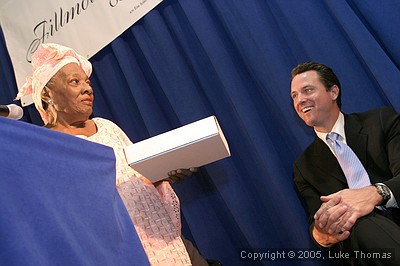 Mary Ellen Rogers honored by Mayor Gavin Newsom,
awarded posthumously. File photo, 10/11/5.
Mrs. Rogers was a woman of compassion and drive who possessed a long and dedicated history of community involvement and activism. She was a cofounder of the Western Addition Community Organization (WACO), the facilitator of the Western Addition Project Area Committee formed in 1969 as the first body in the nation to advise redevelopment efforts from a grassroots community perspective, and was the founding Chair of the Western Addition Citizens Advisory Committee that continues to provide broad-based community input to publicly-funded development initiatives.
Mrs. Rogers worked tirelessly to tear down the barriers that have prevented fair and equitable treatment of African American families, school-aged children, welfare recipients, minority businesses, and community churches. Always the community advocate, Mrs. Rogers served and volunteered on numerous organizations. Her civic activities included serving as Secretary/Treasurer of the National Tenants Association, founding board member of Westside Mental Health Clinic, board member of Agape Outreach Center, Chair of the San Francisco Juneteenth Committee, and parent volunteer at the Raphael Weill Elementary School (later known as Rosa Parks Elementary School). In addition to her numerous volunteer positions, Mrs. Rogers served as a dedicated public servant for San Francisco through her tenure at the San Francisco Redevelopment Agency and the San Francisco Housing Authority, and received numerous awards from a host of national and local elected officials. Over a lifetime, Mrs. Rogers made significant contributions to the Western Addition community, the City and County of San Francisco, as well as the nation.
Mrs. Rogers was a San Francisco treasure, who dedicated her life to community service for the public good. Her legacy is truly a gift to the people of the City and County of San Francisco.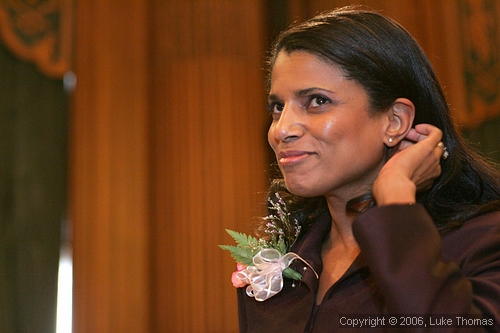 Leilani Battiste honored by Supervisor Jake McGlodrick
Ms. Battiste has been a practicing attorney representing public entities for the past 15 years, and for the past 4 years, Ms. Battiste has served as outside counsel to the San Francisco Community College District. Her focus in international law has been on human rights violations in Africa, particularly genocide. Ms. Battiste is active in local politics and community organizations, volunteering for a number of political campaigns and causes. She is a former Congressional intern to House Minority Leader Nancy Pelosi, and is currently a volunteer to Supervisor Jake McGoldrick. She also serves as a member of the San Francisco Park and Recreation Open Space Advisory Committee.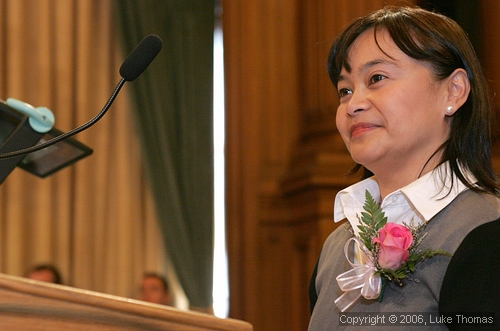 Bernadette Boria Sv honored by Supervisor Chris Daly
Ms. Borja Sy, Executive Director of the Filipino American Development Foundation, has been a key figure rehabilitating the former Delta Hotel on 6th and Mission Streets after a devastating fire to what is now the Bayanihan Community Center. She serves on the boards of numerous community organizations, including the San Francisco Veteran's Equity Center, the Tenants and Owners Development Corporation (TODCO) and the San Francisco Filipino Cultural Centers, working tirelessly to provide culturally appropriate social services through the Filipino value of bayanihan. which means mutual assistance and mutual caring.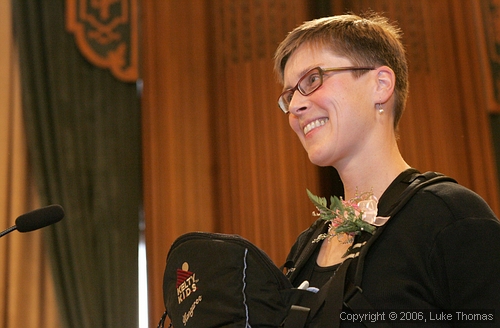 Gillian Gillett honored by Supervisor Bevan Dufty
Ms. Gillett is the Co-Chair of the San Jose/Guerrero Coalition to Save Our Streets, composed of residents, businesses, and organizations dedicated to turning the dense urban area centered on San Jose Avenue and Guerrero Street from a de-facto freeway into a vibrant neighborhood. Throughout 2005, Ms. Gillett lead the development of the Neighborhood Plan, and facilitated the participation of merchants and residents in workshops and surveys on what the neighborhood needs and wants for its own future. This past November, over 100 volunteers replaced concrete medians on Guerrero Street south of Cesar Chavez with low-maintenance, water-wise plants and trees.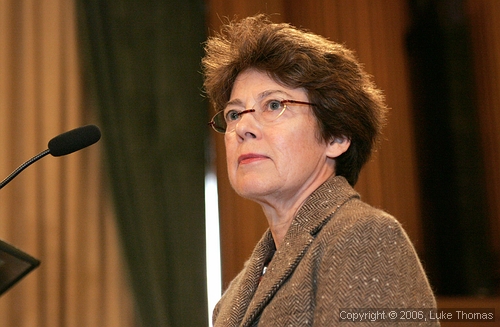 Katherine J. Pattison honored by Supervisor Sean Elsbernd
Upon retirement in 2001, Ms. Pattison followed her passion for exotic animals and her desire to serve the community. She completed the rigorous docent training course and has been leading tours for hundreds of school children, specializing in the Lemur Forest exhibit. In 2003, she was appointed the Docent Liaison to the Board of Directors of the San Francisco Zoological Society. As a member of the Board, she has been instrumental in discussions on budget, animal acquisitions, and dispositions, and has participated on a number of committees including the Joint Zoo Committee, a public forum that includes representatives from the San Francisco Recreation and Park Commission.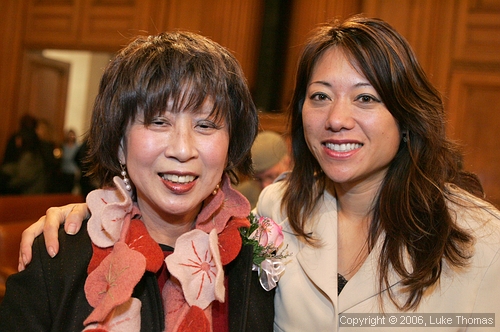 Darlene Mar (left) honored by Supervisor Fiona Ma
A licensed insurance broker, Ms. Mar is a strong advocate of small minority business issues at the local, state, and federal levels, aggressively lobbying for equal participation and open access to opportunities. For over II years, Ms. Mar has dedicated herself to addressing the issue of "no access" and the illusive "equal playing field" for contracts involving minority, women, and local business enterprises. She has served on various advisory committees for supplier diversity and "best practice" programs with the objective of improving public policies on contracting issues, like the San Francisco's 12D Ordinance.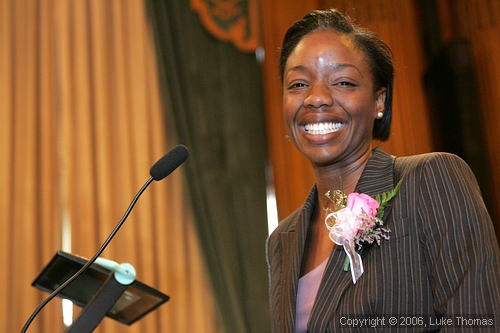 Dr. Nadine Burke honored by Supervisor Sophie Maxwell
Dr. Burke, Medical Director of the Health Parity Programs at the California Pacific Medical Center, is a pediatrician working to improve healthcare for the children of underserved communities. Dr. Burke is opening a pediatric outreach clinic in the Bayview/Hunters Point neighborhood to ensure that the children there have an equal opportunity to grow up as healthy as other San Francisco children. Dr. Burke,serves as volunteer clinical faculty for the UCSF School of Medicine, and is a member of the board of directors for the San Francisco Urban Service Project.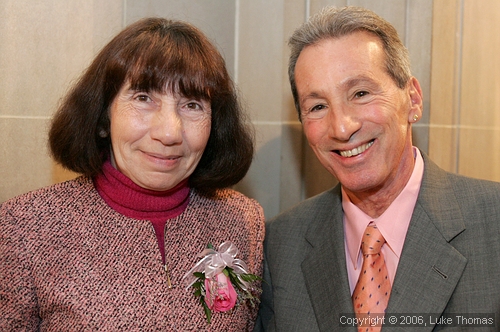 Melba Maldonado honored by Supervisor Tom Ammiano
Under the leadership of Ms. Maldonado, Executive Director of La Raza Community Resource Center, the agency established a reputation for excellence and innovation in the delivery of services to the Latino community in San Francisco. Ms. Maldonado has pioneered programs to help immigrant Latino women, families, and individuals achieve self sufficiency and thrive. Ms. Maldonado has distinguished herself for her involvement throughout the past three decades in civil rights, affirmative action, women's rights, child welfare, family policies, city budget priorities, voter registration, and various peace and jUstice issues. Ms. Maldonado is a member of various community, solidarity, and antiwar organizations.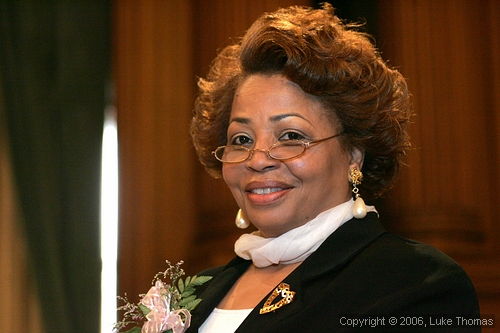 Mattie Scott honored by Supervisor Ross Mirkarimi
Ms. Scott, the mother of a homicide victim, serves as a beacon of hope to others who have lost loved ones and suffered from violent acts. Working to bring mothers, fathers, and community members together to stop the violence, she has organized several programs, including, the Community Action Team March & Rally, the "Peace Zone" neighborhood block parties, fashion shows, and the San Francisco Healing Circle, a support group for families of violent crimes. Through her many marches, prison ministry, and Healing Circle meetings, Ms. Scott has touched countless lives. Ms. Scott is a woman on a mission to heal the mental and physical wounds of a generation.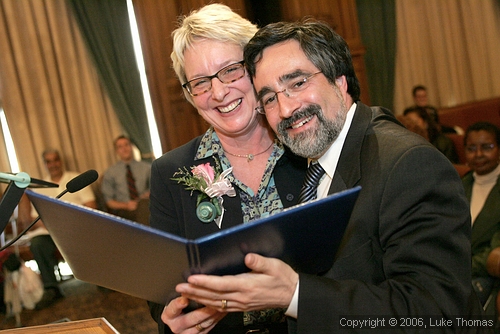 Dr. Diana Tavlor Honored by Supervisor Aaron Peskin
Dr. Taylor is a nurse practitioner, an educator, researcher, and Professor Emerita at the UCSF Department of Family Health Care Nursing. She is formerly the Director of Women's Primary Care Program at UCSF, the first women's health training program in California. Dr. Taylor has been at the forefront of developing the knowledge base in women's health and is currently project director for a statewide project to improve early pregnancy care. Dr. Taylor is an active board member and volunteer clinician at the San Francisco Women's Community Clinic, a free clinic for uninsured and underinsured women.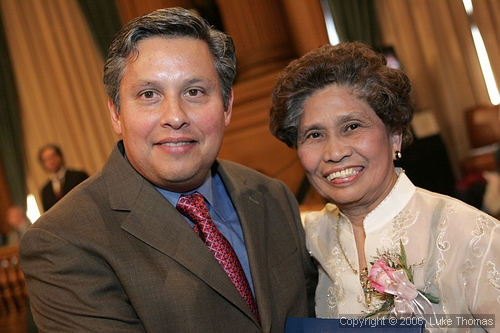 Teresita Gatan honored by Gerardo Sandoval
Ms. Gatan has dedicated her life to advocating for public health issues. She has worked as an Operating Room Technician at the San Francisco General Hospital for over 25 years. In addition to being an advocate for public health issues in San Francisco, she is an active member of SEIU United Healthcare Workers - West (formerly SEIU Local 250), serving as Chief Shop Steward, Negotiating Committee Member, Executive Board Member, and delegate to the Labor Council. She has provided significant advice to Supervisor Sandoval on numerous issues concerning both public health and labor issues.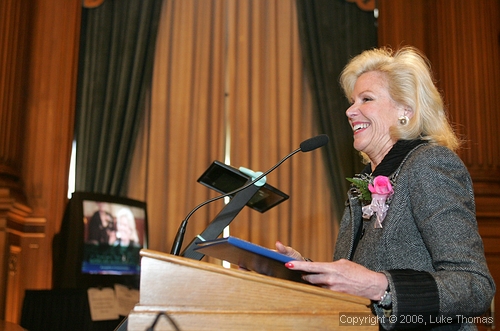 Diane Buchanan Wilsev honored by Supervisor Michela Alioto-Pier
Ms. Wilsey, President of the Board of Trustees of the Fine Arts Museum, successfully chaired the $200 million campaign to rebuild the de Young Museum. Ms. Wilsey serves on numerous boards, including the San Francisco Ballet, the San Francisco Opera, Grace Cathedral, and the UCSF Hospital Foundation. Ms. Wilsey is deeply committed to philanthropic endeavors and the public good, and inspires friends and colleagues to do likewise through her strong leadership and commitment. In addition to her community and civic commitments, Ms. Wilsey is the owner of the Rutherford River Ranch, President of the Wilsey Foundation, and President and CEO of Wilsey Properties.
####