Fog City takes the pulse
of the 2007 San Francisco mayor's race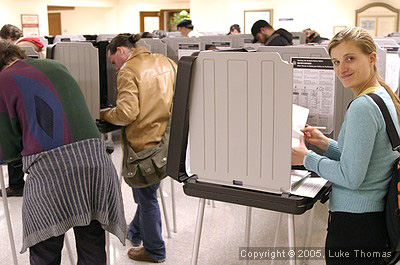 Photo(s) by Luke Thomas

January 26, 2007
Fog City's utterly unscientific survey asked "Who would be your dream mayor?" The answers show how many San Francisco voters love their iconoclastic, pot-stirring candidates, even if they never win.
San Francisco has had protest candidates like Jello Biafra, former lead singer of the Dead Kennedys. He wanted to require businessmen to wear clown suits to work. There have been niche candidates, like Cesar Ascarrunz, owner of Cesar's Latin Palace. And then there are always the anti-candidates who spring from fertile Friscan grass roots, like Tom Ammiano.
This season, political fashionistas are noticing that Chris is this season's new Matt Gonzalez. No, we haven't heard Chris Daly is running. But according to our poll, with a magnificently wide margin of error, Daly has assumed the mighty mantle of the Anti-Candidate. He earned it by blocking Rob Black's breathtakingly expensive attempt to take his supervisorial seat away last year. You'll remember that Gonzalez was so powerful as the anti-candidate during the last mayoral election that he almost grabbed the throne.
These anti-candidates are generally fearless, ready to take on the establishment's choice. They are able to withstand rounds of costly attack ads and columnist snipings. They fill "downtown interests" with dread, who envision sky-high taxes, growth-slowing progressive policies, and unseemly looks and behavior. Ultimately, these candidates don't win, though they come screechingly close.
So far, seven humans - no animals - have filed with the Department of Elections with intent to run against Mayor Gavin Newsom. The brave souls are Rodney Haug, Phillip House, Robert McCullough, Matthew Mengarelli, Frederick Renz, Antonio Mims, and Malinka Moye. Too bad none of them was mentioned by Fog City readers as their dream mayor. Readers, instead, listed such a vast variety of locals we can safely say Fog City has neither a lefty or righty readership, no matter what the editor-in-chief leaks about his leanings.
The big surprise was a virtual vote for Ryan Chamberlain, who acted as spark plugs and pistons in the effort against Chris Daly in the aforementioned epic battle. (Chamberlain himself didn't provide the fuel, which took the form of funding mainly from the SFSOS gang.The reader stated that Chamberlain had the "right constitution" to occupy Room 200. But another reader, when asked, called Chamberlain "a grenade thrower."
On the other extreme was a vote for Ted Gullicksen of the San Francisco Tenants Union; that voter reveled Newsom's comparative weakness in tenants' rights. In fact, there weren't more than one or two who wrote in praising the mayor himself, who is, after all, a candidate. And that is always the trouble in running for reelection: you have a record to run against. That could be why there were votes for former candidates like Michael Hennessy, Susan Leal, Angela Alioto - and even, on a completely different level, Al Gore.
There was also support for proven government officials who lack the flash of a spin through Davos and a lay-out in Vanity Fair, but inspire instead with quiet competence. Budget Analyst Harvey Rose, Controller Ed Harrington, former supervisorial aide Greg Asay and Chief Building Inspector Laurence Kornfield each received one vote apiece, as did Assembly member Mark Leno. And, as always, there was a vote for fun: Ed Moose, we were told, would be great because he is "friends with everyone and completely connected."
Michael Hennessy is widely expected to run in the next mayoral election, in 2011. That sounds awfully far away, but after all the guns that were drawn over Newsom's election the first time, term limits are what will release the rising tide of candidates lining up for the next go-round. Others mentioned in the four-year wait are Jeff Adachi, Kamala Harris, Dennis Herrera, and Aaron Peskin.
There is a dash of hope that Art Agnos and Ross Mirkarimi won't wait, and will try this time. Mirkarimi said he "very much loves his current job as supervisor," but added, "in politics, it's important to be pliable. Anybody would love to be mayor and popularity doesn't speak to the ability to govern."
Tony Hall is mentioned in that same maybe-now list, though our ultra-righty contact mutters that Hall "has a real personality problem." But then, Harris is derided as a Willie Brown acolyte, Herrera as not quite strong enough, and Peskin as relishing his ability to turn friends into enemies.
Nobody was able to give a solid answer on Newsom's current approval rating. His campaign manager stated that the mayor "feels great" about running for reelection and doesn't pay attention to approval ratings - that he's "never satisfied" with his own performance anyway.
With the appalling homicide rate, an adversarial public outlook towards the police department, a nettlesome football stadium issue and some exquisitely photogenic protesters in chicken suits, we weren't surprised that Matt Gonzalez himself was again brought up as a possibility, but only as someone "who has the slightest chance of unseating Newsom."
How about your trusty correspondent's choice, you ask? Who could possibly satisfy the crotchety demands of this writer? It's no secret that I sometimes carry a framed photograph of Eliot Spitzer to meetings with me. The newly-elected governor of New York is smart, independent, and fearless; as Attorney General he was efficient enough to take on everyone from Wall Street to the insurance industry - even the James Beard Foundation. And his hair is no distraction at all.
Note: This writer prides herself on keeping secrets. All submissions have been purged of authorship, and have not/will not be repeated. I can't remember a thing!
More Information
Mayor's new foray into on-line appeal.
Forget the opera. Scroll down for videos showcasing political theater at its best.
####