City launches investigation into Jew's residence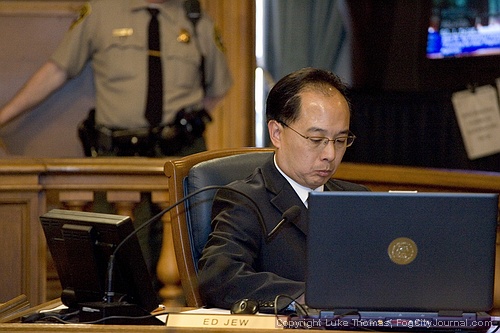 District 4 Supervisor Ed Jew at yesterday's Board of Supervisors meeting, is the focus of a Federal and now, local, investigation. Today, the San Francisco City Attorney's office launched an investigation to determine the embattled supervisor's true residence.
Photo(s) by Luke Thomas
By Tamara Barak
May 23, 2007
While the city launches an investigation into whether Ed Jew lives in the district he represents, the embattled San Francisco supervisor has left the country on what his lawyer says was a pre-planned trip.
Jew's attorney, Steven Gruel, confirmed today that his client is in China. According to Gruel, Jew purchased the tickets on May 1, nearly three weeks before the FBI served search warrants on his properties.
The FBI's public corruption unit is reportedly investigating $40,000 in cash Jew allegedly accepted. In media interviews, Jew has claimed he referred a political consultant to a group of businessmen having permit problems. The businessmen insisted he take the cash in order to pay the consultant, Jew has claimed.
Jew's trip is "a mix of business and pleasure with some associates," Gruel said, adding that the supervisor picked this time to leave because the Board of Supervisors does not meet next week due to Memorial Day.
"He didn't want to go because of all that was going on, but I insisted he go. Quite frankly, I'm trying to deal with the case and his natural instinctive reaction is to try to explain anything to anyone who will listen. For a criminal defense lawyer, you don't want your client talking," Gruel said.
The attorney said he left messages with two FBI agents working the case to clear Jew's travel plans. Neither agent got back to him, he said, so he assured his client it was OK to leave the country.
"It was pretty much with my insistence that he left. I told him it's my job to deal with the investigation, not his job," Gruel said.
Jew, who owns a Chinatown flower shop, is not a flight risk, Gruel said.
"I can tell you - he's got a business here that's been in the Bay Area for 80 years, he has property here, and most importantly, his wife and child are here," he said.
Jew is scheduled to return to the Bay Area June 4, Gruel said.
Meanwhile, San Francisco City Attorney Dennis Herrera today sent a letter to Jew requesting proof that he lives in the Sunset District, which he represents, by the end of the day Tuesday.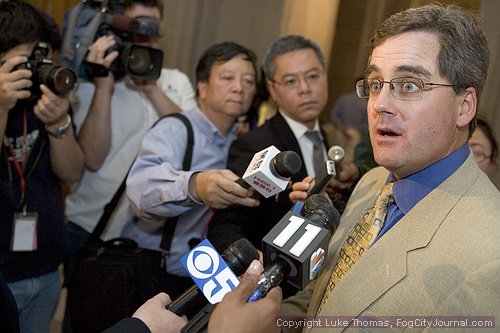 City Attorney Dennis Herrera
Herrera, in cooperation with the district attorney's office, asked for a copy of Jew's 2006 federal and state tax returns, driver's license, vehicle registration, and utility bills from 2450 28th Ave. in San Francisco. Jew claims to live at the Sunset District residence owned by his father.
The city attorney is also requesting statements disclosing whether Jew maintains a homeowner's property tax exemption or a renter's tax credit, and the address of the associated properties.
Herrera's letter warns Jew that if the city attorney's office does not receive the information by the deadline, "we will be compelled to seek to obtain it by other means."
Gruel said he wasn't particularly interested in the matter of Jew's residence.
"I haven't focused on that. My focus is exclusively on the issue of a federal criminal investigation," he said.
Gruel has claimed that the FBI investigation is the result of a misunderstanding. He urged people to not to rush to conclusions about Jew.
"Let's see what the facts are. The truth is in the details. I'm not sure an article in the newspaper is evidence of anything. My job is to unearth and deal with the facts -- not rumor, not innuendo, not reporting," he said.
Copyright © 2007 by Bay City News, Inc. -- Republication, Rebroadcast or any other Reuse without the express written consent of Bay City News, Inc. is prohibited.
####