Supervisors consider new code of conduct
Alioto-Pier, Daly trade in artful subterfuge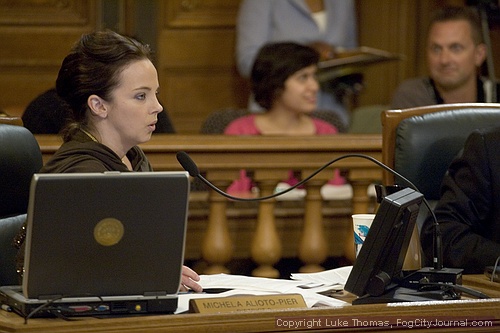 Supervisor Michela Alioto-Pier at today's Board of Supervisors meeting introduced a code of conduct following Supervisor Chris Daly's assertion last week that Mayor Gavin Newsom is a hypocrite for cutting funding to substance abuse programs while Newsom, himself, is enrolled in a substance abuse program.
Photo(s) by Luke Thomas
By Emmett Berg

June 26, 2007
The war of words set off last week by statements Supervisor Chris Daly uttered in a public meeting led today to another supervisor proposing to create penalties for badmouthing at board meetings.
A new code of conduct was needed to ensure the "dignity and decorum that people expect from our public officials," Supervisor Michela Alioto-Pier said.
The motion at today's Board of Supervisors meeting came after Daly, who unsuccessfully proposed major changes to Mayor Gavin Newsom's budget proposal, complained at a board meeting last week about what he described were reduced funding for substance abuse services. The cuts were ironic given what Daly said were the mayor's unresolved questions over allegations of cocaine use.
Newsom angrily denied the suggestion and accused Daly of coarsening politics.
Today, the pushback continued with the mayoral ally Alioto-Pier saying Daly "purposely defamed" the mayor and introduced code of conduct legislation she said would not infringe on the constitutional right to free speech.
Part of the new behavioral guidelines envisioned by Supervisor Alioto-Pier would draw up three levels of penalties - ranging from admonishment to sanction to the most serious, censure - which board members could propose with the collective assent of a majority of supervisors.
The City already has an Ethics Commission and public employee codes of conduct in place. Yet Alioto-Pier said a new code would provide "a way we never had, or frankly, needed before" to police conduct by elected officials.
Daly, in turn, announced to the board a request to City Attorney Dennis Herrera to draw up ethical standards for all city officials.
Though Daly showed self-restraint in not citing anyone by name as his intended target for the ordinance, to observers the ordinance was clearly directed at Newsom and Alioto-Pier.
"I've asked the City Attorney to prepare legislation ordinance to promote the highest possible ethical workplace standards for both elected officials and public employees," Daly said.
"The proposed legislation should include provisions against sexual harassment and preventing hostile work environments by enacting provisions to prohibit fraternization between supervisors, or managers, and their direct employees under their direct supervision," Daly continued.
"Also to prohibit and to enact penalties for intoxication or substance abuse during meetings of advisory bodies, boards and commissions, and legislative bodies... also to promote higher standards of attendance for elected officials and appointed officials at official public meetings," Daly stated..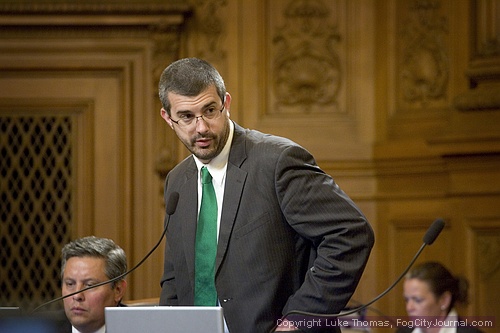 Supervisor Chris Daly
Luke Thomas contributed to this report.

Copyright © 2007 by Bay City News, Inc. -- Republication, Rebroadcast or any other Reuse without the express written consent of Bay City News, Inc. is prohibited.
####